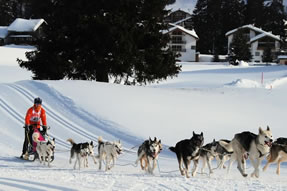 Dogsledding
The Iditarod might be one of the hardest races out there, but a half or full-day of mushing with Continental Divide Dog Sled Adventures is anything but. There are half and full-day tours as well as overnights, where you can stay in backcountry yurt kept warm by a wood-burning stove. Half-day tours can include a lunch or spa treatment at Brooks Lake Lodge, a historic and luxurious lodge only accessible in the winter by skis, snowshoes, snowmobiles, or dogsled. Iditarod veteran (he never won the race, but he did win the Best Cared for Team award and also the Sportsmanship Award) Billy Snodgrass founded Continental Divide Sled Dog Adventures many moons ago.
Jackson Hole Mountain Resort: Tram Rides
Yes, JHMR was recently voted the #1 ski resort on the continent. You don't have to be a skier to enjoy some of our favorite activities there though. You can ride the resort's 100-passenger aerial tram ($29 adults/$15 kids) to the 10,450-foot summit of Rendezvous Mountain and soak up some of the most stunning views of the valley. On clear days, you can see six mountain ranges. Also, the view of the Sleeping Indian from the top of the tram is the best in the valley. Book on-line for a $5 discount per ticket.
We also love a ride up the tram for the hot waffles and hot chocolate served at Corbet's Cabin until 2:00 daily: they do sweet and savory waffles. The former includes a Nutella one.
Warning: While you won't be doing much besides soaking up the views up there, 10,450-feet is high. Even sitting and eating waffles, you might feel the altitude. Your best bet is to do this after you've been in the valley a few days. Also, it can be up to 20 degrees colder at the top of the tram than at the resort's base. Dress accordingly.
JHMR also welcomes non-skiers on its gondola ($20 for a ticket and you get a $10 food coupon), which doesn't have quite the expansive views that the top of the tram does, but it does have more dining options and also terrific views of the double black diamond run, Corbet's Couloir. Couloir restaurant is fine dining and does a prix-fixe dinner. There is also a cafeteria-style restaurant with Rice Krispy treats the size of your face.
Tubing
At King Tubes on Snow King Mountain in downtown Jackson, a lift carries you and an inflated oversized inner tube 200-feet up to the top of a manicured snow track. Sit or lie down on the tube and push off. Seconds later, you're at the bottom.
Tubers must be at least 42 inches tall. Open 2 - 7 p.m. weekdays and 11 a.m. - 7 p.m. on weekends late December to mid-March (conditions permitting).
Jackson Hole and Greater Yellowstone Visitor Center
Even dyed-in-the-wool locals learn something new at the Jackson Hole and Greater Yellowstone Visitor Center. The center on N. Cache St. is a one-stop shop for all the maps, information, brochures, and questions you could need or come up with. You can buy annual passes to Grand Teton National Park and Yellowstone here (but not weekly ones), permits to cut firewood and Christmas trees, and get hunting and fishing permits. There's also a small gift shop and bookstore inside selling locally-themed items and titles. 532 N. Cache Ave.
Dinner Sleigh Ride
Enjoy time on a working Wyoming ranch—and hanging with real working cowboys—and a delicious dinner at the Mill Iron Ranch, tucked into Horse Creek Valley and surrounded by the Bridger-Teton National Forest. Before the dinner, you'll get a sleigh ride through the snowy Wyoming landscape and past a herd of over 1,800 elk. Adjacent to the Mill Iron Ranch is the second largest state-run elk feed ground. The elk spend their winters next to the Mill Iron and then migrate into the nearby national forest in the spring.
After the sleigh ride—and plenty of tall tales from your driver—you'll be welcomed into the Mill Iron's cozy lodge for the valley's best T-bone steak dinner. If steak isn't your style, you can ask (in advance) for chicken or fish. All guides are Wheeldon family members. The Wheeldons founded the Mill Iron in 1921. It's now the fourth generation of the family that's running things. Tell Kim we say, "Hi!"
Teton County Recreation Center
With a pool, indoor basketball court, steam room, sauna, showers, hot tub, and kids' pool, the Teton County Rec Center is popular with locals and visitors year-round. We love the waterslide too!
Jackson Hole Moose Hockey
The Jackson Hole Moose play indoors at Snow King Sports and Events Center. This adult men's Senior A hockey team faces teams from Sun Valley, Park City, and New York many weekend nights –think fast, and full-check skating by former Division I collegiate players and ex-semi-pros. When the Moose aren't playing—or practicing—there are open ice sessions. Moose games go through March.
Nordic Skiing
Former Olympians Hans and Nancy Johnstone opened Turpin Meadows Ranch in the winter of 2013. At the end of Buffalo Fork Road in the northern part of Jackson Hole, Turpin Meadows has some of the valley's best Nordic skiing, which isn't surprising since the Johnstones were both Nordic racers. It has 15km of groomed track with terrain for beginners through advanced cross-country skiers. The ranch also has rental gear. You can really treat yourself and stay in one of the ranch's cozy cabins for the night, or you can come up and ski for the day. Trails are open 9am – 5pm Tuesday – Sunday. They're closed on Monday. $10-$5 to use their track and $30-$15 for ski rentals.
turpinmeadowranch.com/teton-adventures/white-season/ 307-543-2000 Closer to the town of Jackson, Trail Creek Ranch at the base of Teton Pass near Wilson is another exceptional location to Nordic ski. Day passes are $10 and trails are open during daylight hours.
Snowshoeing
From mid-December through March, Grand Teton National Park rangers lead free two-hour snowshoe tours. Tours are three times a week: Tuesday, Friday, and Saturday. They are limited to 20 people and depart from the Taggart Lake parking lot at 1:30 p.m. These snowshoe hikes, which cover between one and two miles and include discussions about winter ecology, wildlife, and the park's geology, are appropriate for all levels, including first-timers. The park even has snowshoes for you, albeit not high-tech ones. To create the feeling of a historic experience, most of the park's snowshoes date from the 1940s and 1950s and are four-feet-tall, racquet-shaped, and made from wood and rawhide. Some of these snowshoes made it into the park's collection via the famous U.S. Army 10th Mountain Division, a light infantry division activated during WWII to give troops special training in mountain skills such as skiing and snowshoeing. Reservations needed; $5 for rental snowshoes;
If you want to go solo, Grand Teton National Park's interior park loop road is a perfect place to snowshoe on your own. Park at the Bradley-Taggart Trailhead. The road is closed in the winter for vehicles and groomed for snowshoeing and cross-country skiing, making it a perfect place for novice snowshoers. The trail is packed, the scenery is stunning—views of the Tetons the whole way—and you'll see plenty of other people. And, because it's out-and-back, you can turn around at any point you get tired. The road usually remains snow-covered until mid-March.
More adventurous snowshoers can park at the Bradley-Taggart Trailhead and head for one of two nearby glacially formed lakes. Taggart Lake is the more southerly of the two and is a shorter hike, about three-miles round-trip, from the trailhead. Bradley Lake, which sits near the mouth of Garnet Canyon, is about four-miles round-trip from the trailhead parking lot. The trails to both lakes are gently undulating, and the Bradley Lake trail has several steeper sections. You won't have either of these trails entirely to yourself, but you will see far fewer people than you would in the summer.
East of Wilson, the Snake River Dike is a favorite with dog-owning snowshoers –and walkers; snowshoes are often not needed. Benefits include a partially frozen Snake River for scenery and no chance of getting lost on this obvious trail.
A note about snowshoeing etiquette: Whenever you're snowshoeing, it is bad form to snowshoe in ski tracks. Snowshoeing—and also walking without snowshoes—in ski tracks makes it both difficult and dangerous for cross-country and backcountry skiers to use them. If there is a ski track but no snowshoe track heading to where you want to go with your snowshoes, set the snowshoe track yourself. Or snowshoe somewhere else.
Teton Mountaineering rents snowshoes: $25-$18; 170 N. Cache; 307-733-3595
National Elk Refuge Sleigh Ride
Sleighs pulled by 2,000-pound Belgian and Percheron draft horses can get much closer to the thousands of elk wintering on the National Elk Refuge immediately north of the town of Jackson than you ever could on foot. Wrapped in a blanket on a sleigh, you're literally surrounded. Don't focus on the elk so much you miss the other wildlife. Even though it's the National Elk Refuge, the 25,000-some acre preserve is also home to eagles, coyotes, foxes, badgers, bison, deer, wolves, trumpeter swans, ducks, and geese. The sleigh ride drivers are wonderfully knowledgeable about the refuge, but, to get the most out of the experience, we recommend doing it after you've done a wildlife EcoTour with us; you'll then have a better understanding of what animals you're seeing.
Sleigh rides depart daily every 20 minutes or so from the Greater Yellowstone Visitor Center from mid-December through mid-March. 307-733-0277
Yellowstone in Winter
Nothing beats seeing Old Faithful erupt on a clear bluebird day in January. The bison are hovering around the geothermal basin, the air is crisp, and you are avoiding the summer crowds. Did you know that up to 20,000 people a day might watch Old Faithful erupt on a busy summer day?
There are companies that guide day tours to the Old Faithful area in the wintertime. We don't typically recommend this trip because of the length of the day and the amount of time that one is on a snowmobile.
Consider hiring Xanterra to take you up to the Snowlodge, at the Old Faithful Complex, for the night or even two. You will have a fun ride up in a snowcoach, (an enclosed tracked vehicle) and then have the time to fully explore the Upper Geyser Basin – snowshoes and cross-country skiing gear can be rented at the Bear Den Ski Shop at the lodge.
Ski Rental
Who wants to stand in line at the resort getting rental skis. Give Door 2 Door Ski Rental a call. These gear aficionados will come to your private home, condo or hotel room and fit you with top of the line skis and boots for your day skiing power in Jackson Hole. Don't waste time, give these guys a call pronto! (307) 733-4077
Wildlife Safari Tour
Don't forget to maximize your time in Grand Teton Park and Jackson Hole viewing widllife with an expert naturalsit. Be sure to explore EcoTour Adventuers wildlife viewing progams. We think this is the best winter activity in Grand Teton National Park. Book your wildlife tour today!