Jackson Hole Wildlife Tour Adventures
Jackson Hole Eco Tour Wildlife Adventures offers a variety of wildlife viewing in the Jackson Hole, Grand Teton, and Yellowstone Ecosystems. Make the most of your time here in Grand Teton National Park, Yellowstone and the greater Jackson Hole Area with one of our friendly and professional guides on a Full Day or Half Day trip.
Explore the wildlife
hotspots that our guides know so well and observe and
photograph the wildlife
that we cherish here in
Jackson Hole
.
Hall of Fame

We are proud to be awarded the TripAdvisor Certificate of Excellence five years in a row and inducted into the 'Hall of Fame'

Read More Write Review
Grand Teton & Yellowstone Tour Journal & Blog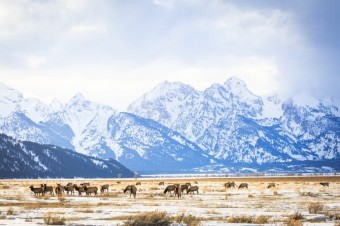 All across the Greater Yellowstone Ecosystem, rivers of tens of thousands of animals are now flowing out of the regions valleys, following a wave of greening vegetation into the mountains. By migrating, animals can access the best quality forage as it emerges across the landscape, an ancient strategy which has enabled them to thrive across the GYE. But many of these migrations may be at risk, and without help could be lost forever.
Read more
Dollars For Conservation
Since May of 2008 Jackson Hole Eco Tour Adventures has been giving back to the community through a variety of local and regional non-profits.
Donated Over $50,000
Our Efforts