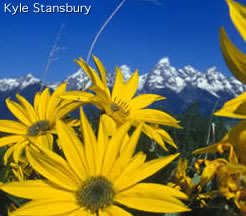 Summer in Jackson Hole and Grand Teton National Park is something special. There are multitudes of things do for everyone. Us locals, have a saying of F.O.M.O., Fear Of Missing Out! On our days off, What To Do, is the hardest question to answer. From time on the river, mountains, in the park or in town there are many opportunities for how to spend your time. This section has been designed to share with the newcomers what we think are the best activities in Jackson Hole, recommendations of how to enjoy them and who some of the great outfitters are to use. Of course, the best way to start your trip in Jackson is a wildlife and park tour with us, EcoTour Adventures. We will provide a stellar overview of the region, while maximizing your time viewing the area's Wildlife and amazing vistas.
Scenic Float Trip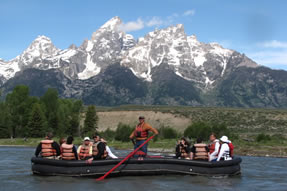 When some think of Jackson Hole, the Snake River comes to mind. A Scenic Float Trip down the Snake River is a wonderful morning or evening activity. Be sure the company you choose to work with floats a section of the Snake inside Grand Teton National Park. We believe inside the park to be one of more scenic sections of river to float. Look into Triangle X Float Trips. These folks have been in the business since 1926. They offer smaller rafts that hold a max of 12 passengers. If you reference EcoTour Adventures they are happy to offer you a 10% discount!
---
Whitewater Rafting
If you are looking for more of an adrenaline rush on the river, check out Sands Whitewater. You will don your life jacket on this fun, and not too scary, Whitewater Rafting trip down the Snake River Canyon. This is a mostly class III river with a couple of class IIII rapids. These guys have been in the business since the early 70ies and are worthy to trust! We love to recommend them because of their smaller raft options and impeccable safety record! 15% discount for EcoTour Adventures guests!
---
Fly Fishing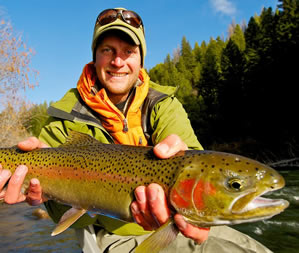 So, you are interested in Fly Fishing? When Taylor the owner of EcoTour Adventures is not out guiding wildlife tours you can find him on the Snake River catching and releasing native cutthroat trout. The "time just slips away" he states. We have heard only good things about the guides at Teton Troutfitters. They have been operating for the past 30 years and enjoy catering to all abilities. If fly-fishing is not your thing then they would be happy to put a spinning rod in your hands. With this group, you have the option of wade, drift boat, or power boat fishing. $375-$550 for two people all equipment provided.
---
Horseback Riding
We think that Mill Iron Ranch is a great outfitter for Horseback Riding in the area. This family run business has been around guiding trail rides since 1921. Their ranch is a short drive from the Town of Jackson and boarders the National Forest. If you want a true Wyoming experience this is your spot for friendly cowboys, beautiful landscapes, and delicious meals. This is a true mountain horseback riding experience.
---
Yellowstone Lake Kayaking
There is nothing much better than Kayaking in one of the largest high elevation lakes in the world. You will meet your kayak guide in Yellowstone at Grant Village with the boats in the water ready to go. OARS provides an incredible experience. You will be kayaking for a half day in crystal blue water and next to the West Thumb Geyser Basin. This is a half day tour, they also provide multi day paddles in Yellowstone and Grand Teton National Parks. All abilities welcome. Tell them the guides at EcoTour Adventures sent you for 10% off. $76 and Up.
---
Hiking
One of the reason we love Grand Teton National Park and Jackson Hole so much, is for the abundant hiking opportunities. Here are three options to get you started. Be sure to take water, food, extra layers of clothing (rain jacket), bear spray, and your sense of adventure with you. The staff at Teton Mountaineering can sell you bear spray and help you understand how to use it and provide hiking maps of the region. On our tours, we would be happy to discuss bear safety and the proper use of bear spray.
So you are short on time and have time to kill while you are in the Town Of Jackson. Consider a short, long, or out and back hike up the beautiful Cache Creek Canyon in the Bridger Teton National Forest just 5 minuets from the Jackson Town Square! Walk up the gravel road and then take one of the paralleling trails back to your car. Very little elevation gain on this local's trail. Be prepared for friendly dogs and mt. bikers sharing the trails.
-For a longer option, but still not an all day affair, look at the beautiful 2.4 mile (round trip) Hike to Phelps Lake in Grand Teton National Park. Park at the Rockefeller Preserve Visitor Center. Arriving early in the day will assure you a parking space. This trail is through the forest protecting you from our sunny summer days. There is a rest room at the end of the trail. Expect small rolling hills to climb with an elevation gain of just a couple of hundred of feet. Enjoy!
-If you are a Diehard Hiker and looking to break a sweat and really get into the heart of the Tetons. Check out the 5-mile trek to Amphitheater and Surprise Lakes. Be prepared to climb 3,000 and then treat your body with a swim in these alpine lakes (if you can brave the 40 degree water). This hike is best done if you keep a cooler of "suds" in the car for when you take your hiking boots off and relax looking back at the majestic Tetons!
---
Boat Ride Across Jenny Lake
One of the jewels of Grand Teton National Park is the Boat Ride Across Jenny Lake. Our recommendation is to take the ride across the lake as early as you can to avoid the crowds. From June7-September1 they operate from 7am-7pm. Don't forget to take your hiking gear because there are incredible Hiking options on the other side of the lake. Enjoy the short (1/2 mile hike to Hidden Falls), the longer and bit more challenging hike to the top of Inspiration Point, or make a day out it, leaving the crowds behind and hike into the hear of the Tetons! No reservations necessary
---
Mountain Biking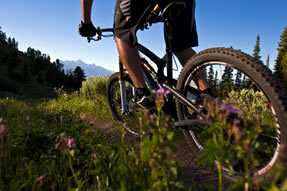 Another activity that is appropriate for everyone, is biking in Jackson Hole. From Mountain Biking at Jackson Hole Mountain Resort to biking on the valley's great pathways, the options are endless. The resort offers bike rentals in Teton Village and chair lift access for you and your bike. It's all downhill here! The trails are super smooth and very well designed. Great trails for all abilities. $89 bucks gets you a bike rental and lift access.
If you would like a guide to take you on some of the great Mtn. Bike Trails in the Valley look into Teton Mtn. Bike Tours. David Hunger is the bike aficionado and would be happy to pair you with the appropriate ride. He is located on North Cache St. and offers rentals too. Mention EcoTour Adventures for 10% off your bike tour.
---
Road Biking
Don't forget our world-class pathway system in Grand Teton National Park! Stop at Dornans, in Moose, Wy, right in Grand Teton Park to rent your Road Bike. Make a day out of it, biking the 13miles to Jenny Lake then take the boat ride across the beautiful glacial lake. Now this is what we consider a muti sport day! Take a swim in the lake for the trifecta! The ride to Jenny Lake is slightly uphill and be sure to check the weather forecast before you head out.
---
Alpine Slide
Your kids will totally love this roller coaster type mountain adrenalin rush. The Alpine Slide winds down Snow King Mountain through 2,500 feet of wildflowers and beautiful pine forests. You take the chairlift up and ride down controlling your own speed. No special skills needed!
Wildlife Safari Tours
Certainally you must not miss the best summer activity in Jackson Hole and Grand Teton National Park. EcoTour Adventures offer professionally guided wildlife viewing park tours year round. Our tours in Jackson Hole must not be missed!