Stay wild and free as you explore a snow-covered Grand Teton National Park on our full day 6hr cross country skiing tour. This is a unique winter experience that you won't find anywhere else. Venture into the depths of the Grand Teton backcountry with an experienced naturalist guide leading the way. Our guides are dedicated to designing a day around your interests, creating a customized tour that you won't soon forget.
The Day
Our full day cross country skiing expedition begins in the town of Jackson. You'll meet your guide and get fitted for nordic boots, skis, and poles at a local ski shop. Hop aboard our modern and fully outfitted vehicle to head into Grand Teton National Park to one of our top cross country skiing destinations. Depending on the weather and the group's preference, we will travel to a cross country ski location in the park that may be flat, rolling, open or heavily forested. If we are treated to a sunny bluebird day then we will enjoy traveling out in the open right below the majestic Teton Mountains. If the snow is falling, we will choose a location with a bit of cover. We love to hear from you if you would like to use an existing machine groomed trail, skier set track or maybe you would like to set your own track. We specialize in taking folks off the beaten path to explore the hidden gems of winter in Grand Teton National Park. No matter where we end up, your professional backcountry guide will help you keep your eyes peeled for animal signs and tracks, teaching you about the winter ecology and snow science that are unique to the Greater Yellowstone Ecosystem. At midday, your guide will build a snow table and benches, inviting you to a one-of-a-kind dining experience for lunch. On those chillier days, you can even look forward to a cup of hot tea or cocoa out in the field. While this memorable tour is designed to move at a moderate pace (see energy level descriptions below) to reach the depths of the park, your guide has a passion for making this day unique and catering to your needs and interests. The Cross Country Ski rental is not included in the price of the tour.
Energy Levels:
Our full day cross country skiing tours are ideal for groups that want to enjoy a moderate energy level or pace. When booking a private program we can accommodate any energy level.
Leisure: We offer leisure level tours on our half day snowshoeing adventures. Leisurely paced tours focus on finding teaching moments and interpreting animal signs. We'll have ample time to stop and take photos and you can easily chat with friends while we are on the move.
Moderate: Our moderate tours fall somewhere in the middle of leisurely and aerobic. We'll focus on covering more ground and getting deeper into the backcountry.
Aerobic: Aerobic energy level expeditions are available for any of our tours that are booked privately. Great for our guests who are at peak physical condition and don't mind breaking a sweat, aerobic tours are designed to move at a faster pace in order to cover as much ground as possible.
All guides are Wilderness First Responders, an intensive 80-hour first aid certification.
Pickup/Dropoff at a convenient Jackson location. Pickup at your hotel can be arranged as well.
Hot tea and cocoa in the field.
Picnic style lunch in the backcountry, complete with snow benches and table, and foam pads for warmth.
A comfortable safari style vehicle (with winter studded snow tires) that has been equipped with roof hatches and sliding windows.
Window seats guaranteed for every guest.
Full day (appx. 6 hrs - Pick up to Drop Off) 9:00AM – 3:00PM Season: December 15th- April 15th
Maximum of 7 guests per guide. Every guest is guarantee a window seat for travel. We can accommodate private groups that are larger.
Adults $195 for mixed group programs at the moderate energy level. We encourage booking private programs with children that are 10 and under.
Private program with 1-5 guests $975; 6-7 guests $1,365 (We can accommodate any energy level)

8hr Programs are all private. $1,125 for groups with 1-5 guests; 6-7 guests $1,575
Customize Your Tour
We can accommodate a variety of options - call us to find out what we can do for you: 307-690-9533
We are focused on creating the best experience possible for all of our guests. From hiring the best guides, providing the best foods, and making sure every detail is covered, we are here for you! You may be here only once, so lets do it right the first time. We are a small company with three vehicles. We like to keep our operation on the smaller side to keep quality high!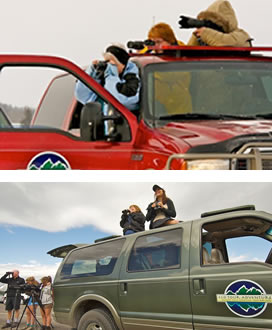 We provide vehicles with Roof Hatches for safe and unobstructed viewing.
All of our vehicles are 4 Wheel drive. This comes in handy for both winter and summer seasons. There are roads in Grand Teton National Park that in the summer require 4 Wheel Drive Vehicles. We don't want you to miss anything!
In all of vehicles everyone is granted a window seat! Everyone gets a great view. There is always plenty of room for jackets, camera gear, backpacks etc…
In our larger van there are no uncomfortable benches that are hard to get in and out of. We have installed comfortable captain chairs.
We use PA systems when needed, have installed cup holders, have stools for easier access, and our guides are always willing to help you in and out of the vehicle.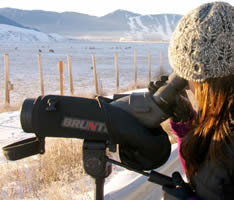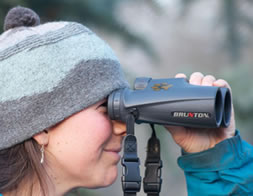 We use very high quality Brunton Optics. Brunton is based out of Boulder, Co. We chose to use this company because of the quality optics that they provide and because they are a regional company. We use their Eterna 8x45 for wildlife and their 11x45 for birding. These binoculars retail for $530, so they are not take home souvenirs. We feel, when it comes to optics, you get what you pay for. Everyone will get their own pair to use for the tour and we have children binoculars as well. When that wolf pack is at a distance we will set up one of our Brunton Full Size Eterna Spotting Scopes. This scope has a magnification from 20-60 power!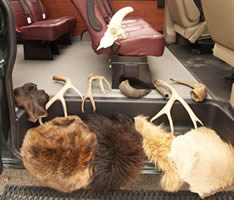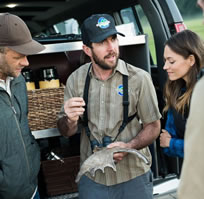 Some folks like a hands on learning approach! We provide teaching opportunity as well. On tours we like to use all our senses. Our naturalists kits help provide the opportunity to touch and see different items up-close without compromising safety. Our kits contain antlers, pelts, claws, horns, unique stones, reproduced Native American tools and artifacts for your exploratory side! All items were collected outside of the National Parks or purchased. It is prohibited to take anything out of the parks.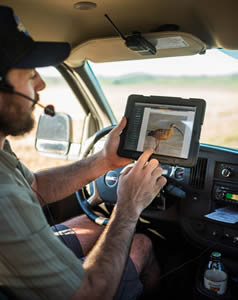 We provide a Wildlife Sightings List for the participants in your tour fill out if you like. You take home a copy and we keep a copy for our records.
Your Children will love our "Children's Activity book". They can work on this during the tour or take it home for latter. This book is filled with crosswords, coloring pages, matching games, wildlife bingo, and other engaging activities. You provide the child and we provide the book and crayons.
All of our guides carry CB Radios. As the day unfolds, we don't want you to miss any great wildlife sightings. All day long our guides are in contact sharing sightings with each other. When the location and timing is right we will head to that active wildlife hotspot for uninterrupted viewing.
We provide iPads on all tours that are filled with maps, wildlife photos, diagrams, animal sounds and other visual aids to enhance your learning experience.
We at EcoTour Adventures take our Coffee seriously. This is why we grind Jackson Hole Great Northern's organic beans for you every morning. We will serve your coffee from our vacuum insulated French Press Craft while in the park watching the sun to rise. Don't worry we also stock a selection of organic teas and hot chocolate.
Book Your Trip Today!
Call (307) 690 - 9533
for more details or customized private trips.