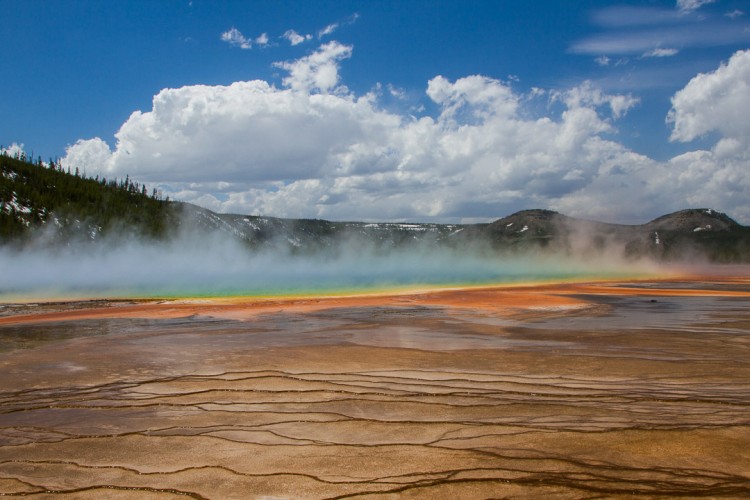 Grand Prismatic Hotspring, Yellowstone National Park Photo: Josh Metten
It's early summer in Yellowstone and Grand Teton National Parks. A popular destination since its formation in 1872, Yellowstone was promoted in the early 1900's as a trip through "Wonderland" by the Northern Pacific Railroad, whose tracks were laid just north of the park. Jackson Hole Ecotour Adventures Guide Laura Kruseski recently returned from a four day National Park Safari through Grand Teton and Yellowstone National Parks, read on to hear about the tour!
A Safari to "Wonderland'
On our recent multi-day trip to Yellowstone we discovered the wonders of our magnificent park. In four days and three nights we toured geyser basins, listened to the sounds of bubbling hydrothermal features after dark, saw a plethora of wildlife from tiny ground squirrels to giant grizzly bears, found fossils from ancient seas and forests, and hiked to remote areas of the park that are seldom seen by park visitors. A highlight of our trip was viewing an alpha male grey wolf feeding on an elk carcass in Soda Butte Creek! We were also able to spot several grizzly bears, including female bear with 2 cubs.
Beneath the Teton Range
Our first day was spent touring in Grand Teton National Park. We departed Spring Creek Ranch bright and early, and before entering the park we had already spotted a nesting pair of bald eagles and practiced using our Maven binoculars while viewing a few coyotes and red-tailed hawks. At Schwabacher's landing in Grand Teton National Park we were delighted to view a herd of cow elk cross a side channel of the Snake River.
Next we went fossil hunting at Blacktail Butte, which contains limestone deposits of an ancient ocean found here over 300 million years ago. The Madison formation contains fossilized corals, bivalves, and echinoderms (sea stars) which we observed before replacing them for others to find. Removing items from the park is prohibited to protect park resources for future generations.
After enjoying a great lunch at the famous Dornan's restaurant beneath the Teton Range, we headed north for a short hike with great Teton views. A herd of cow elk were playing in the water down below, and we also spotted a bachelor group doing their own thing, antlers rapidly growing beneath a fuzzy velvet covering.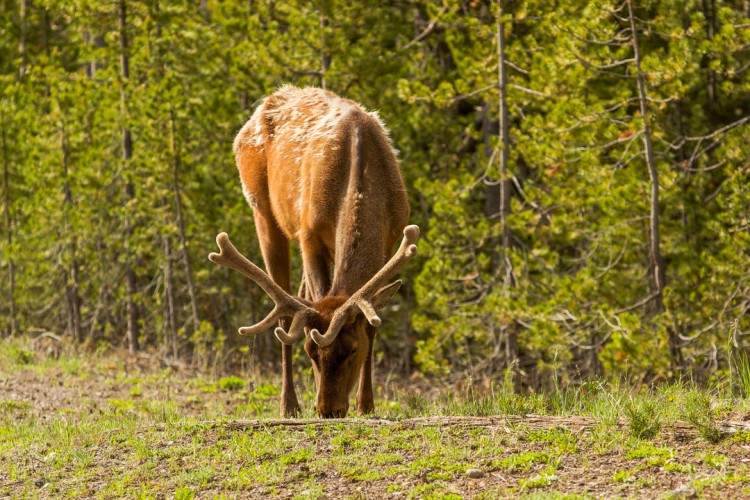 A bull elk with velvet covered antlers grazes during Laura's multi day wildlife safari in Grand Teton and Yellowstone National Parks.
Onward to Old Faithful
As the day waned, we completed the drive through Grand Teton and into Yellowstone National Parks, arriving at Old Faithful Inn, our lodging for the evening. We enjoyed dinner and drinks, saw an eruption of Old Faithful, then went out on a night hike in the geyser basin. Pheww!!! A long day which wrapped up around 11 pm!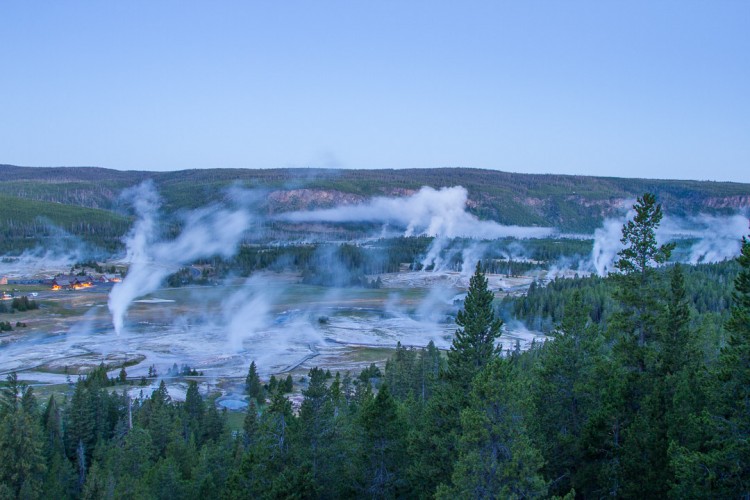 Yellowstone's Upper Geyser Basin including Old Faithful geyser and inn at left. Home to over 10,000 thermal features, Yellowstone National Park has a higher concentration of these geologic oddities than anywhere else on earth! Photo: Josh Metten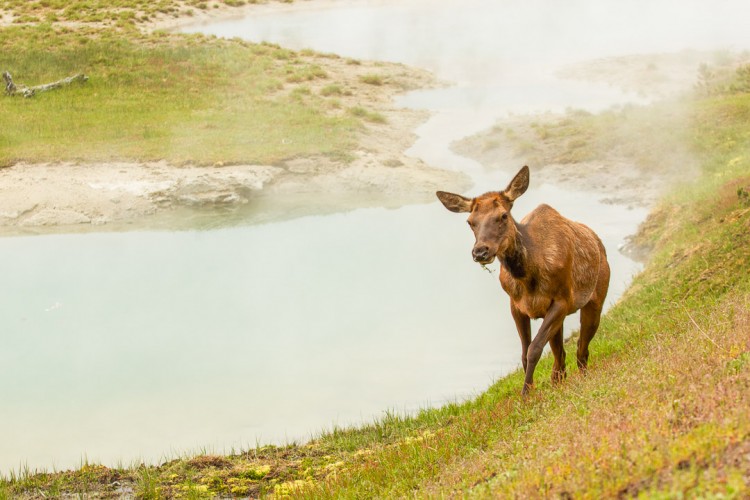 We found this cow elk walking near a thermal feature in Yellowstone. The crust around these boiling pools is thin and dangerous, and unfortunately both animals and people have died from falling in. Visitors can protect themselves by remaining on boardwalks at all times when visiting the thermal areas.
Yellowstone's Geothermal Features
On day two we departed Old Faithful to explore Yellowstone's hydrothermal features. At Fountain Paint Pots we viewed all four types of features found in Yellowstone National Park; hot pools, mud pots, fumaroles, and geysers. After a detour to the Wolf and Grizzly Bear Discovery Center in West Yellowstone we headed north to the Travertine Terraces of Mammoth Hot Springs. We tracked some bighorn sheep up onto a ridge, where we could hear a dusky grouse hooting. Then to Lamar and the northern range and out to Silvergate cabins where we were able to settle in for 2 nights.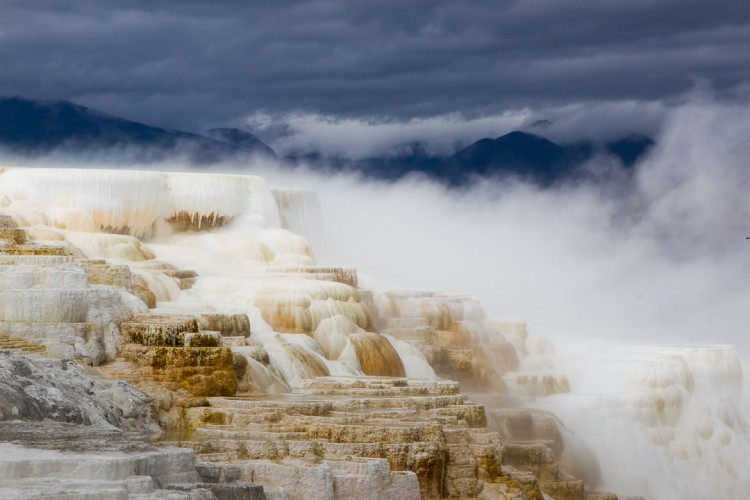 Mammoth Hotsprings is comprised of travertine, or calcium carbonate, a fast forming mineral originating from nearby limestone deposits. Photo: Josh Metten
Yellowstone's Northern Range, the American Serengeti
The highlight of our multi day tours are often the Northern Range of Yellowstone. Wolves were reintroduced here in 1995 after a 60 year absence and are thriving. The wide open river valleys and forested mountains create perfect habitat for thousands of bison, elk, pronghorn antelope, bighorn sheep, deer, grizzlies, and black bears. As we prepared for a hike up Specimen Ridge early on our first morning we spotted a Grizzly Bear up on our destination ridge. It soon departed and with bear spray in hand, (just in case) we set out on a great hike on Specimen Ridge trail where we encountered many animals from a distance, including bison grunting in a huge herd, pronghorn antelope snorting at us, elk by the dozens, and plenty of birds of prey and songbirds. Specimen Ridge is also dotted with bleached antlers, skulls, and some petrified wood from a volcanic eruption 50 million years ago!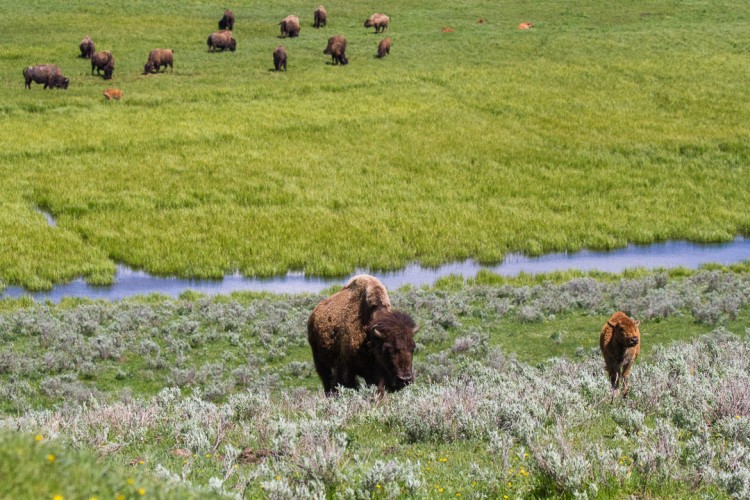 by the late 1800's Yellowstone's bison herd had declined to around 24 animals due to poaching. Today the population has rebounded to over 4000! Photo: Josh Metten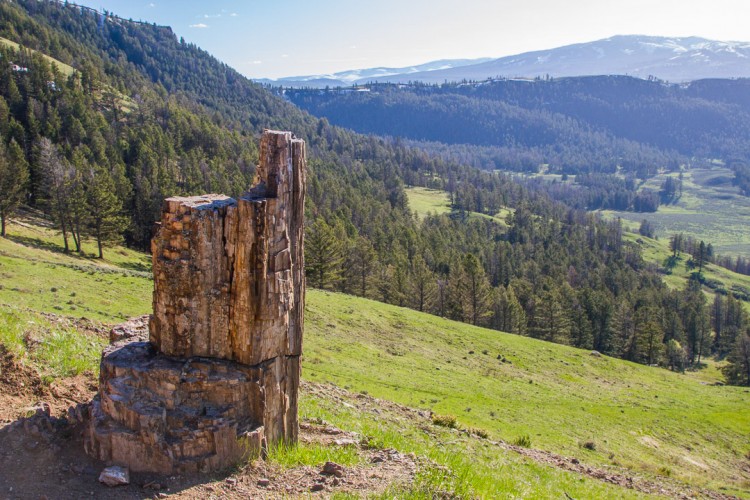 Petrified remains of ancient trees can be found on Specimen Ridge in Yellowstone's Northern Range. Please do not remove any pieces from them, so they will remain intact for future visitors. Photo: Josh Metten
On our final day we hit the road to return to Jackson Hole via Yellowstone and Grand Teton National Parks, but still had a chance to see 5 Grizzly Bears, 3 Black bears, Wolves at a Carcass in a creek, and many spectacular Yellowstone vistas. We stopped at the Upper and Lower Falls of the Yellowstone River watching in awe the force of over 50,000 cubic feet per second of water cascading over the drops.
A yellowstone wolf from the Lamar Canyon Pack feeds on an elk carcass in Soda Butte Creek of Yellowstone's Lamar Valley.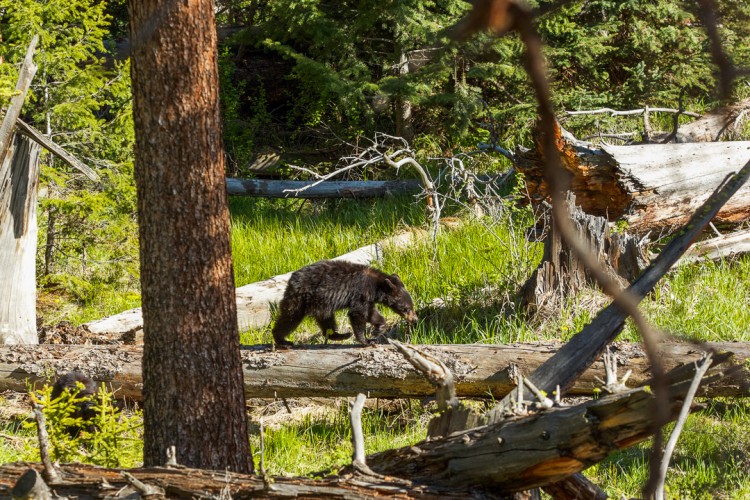 A juvenile black bear walks along a log in Yellowstone National Park as it forages
We came full circle at the base of the Tetons early in the evening, having completed a four day circuit of 'Wonderland.' Originally protected for it's thermal features, Yellowstone National Park has become the core of one of the last mostly intact temperate ecosystems left on earth. Today, visitors have an opportunity to not only take in the alien landscapes of Yellowstone's Geyser Basins and the towering monoliths of the Teton Range, but also a diversity and abundance of life reminiscent of our wild past. Come visit 'Wonderland' and see it for yourself.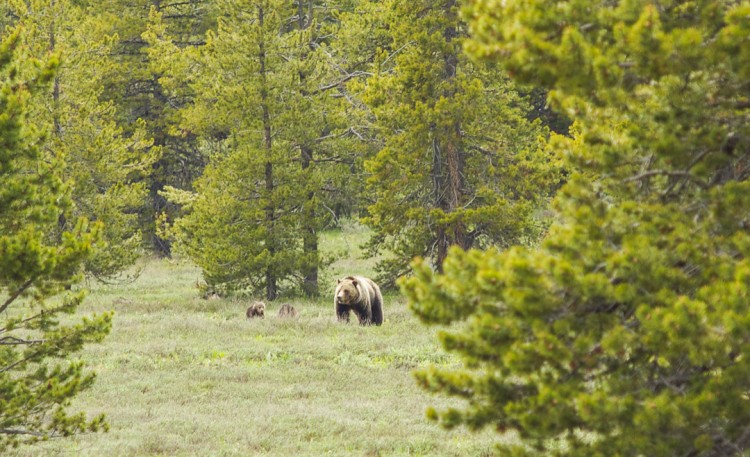 Grizzly bear populations once declined to less than 200 animals in the Greater Yellowstone Ecosystem. Protection as a threatened species under the Endangered Species Act have allowed grizzlies to rebound to around 700 animals, a number wildlife biologists is at or near the carrying capacity of the landscape. We found this sow and cubs in Northern Grand Teton National Park
To learn more about joining a single or multi day safari with Jackson Hole Ecotour Adventures visit our website or give us a call at (307) 690-9533. We hope to see you soon!

Photos and blog by Naturalist Laura Krusheski, additional photos provided by Naturalist Josh Metten