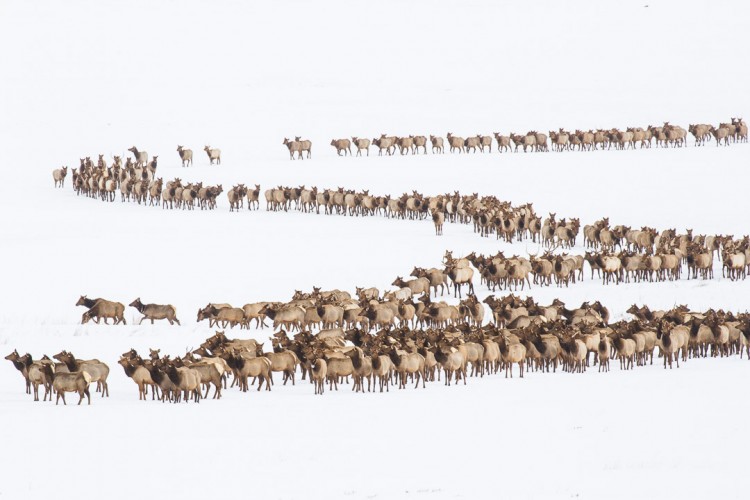 Elk concentrate on the southern end of the National Elk Refuge. By traveling single file less energy is used walking through the snow.
From extreme winter snows to beautiful sunshine, wild weather has characterized the first part of February 2017. Big storms relentlessly dropped snow and rain on Jackson Hole, creating dangerous avalanche conditions including several slides on mule deer and bighorn winter range near Jackson. However, rain has dramatically decreased snow depth in the valley, opening up bare ground in some areas, increasing forage areas for wildlife. On the 11th a high pressure system entered the valley, bathing the Tetons in much appreciated sunshine.
Adapting to the deep snow
Native Americans called Yellowstone "rivers of elk" describing the amazing migrations in and out of what is now a National Park. In fall they leave in every direction, taking refuge for the winter in lower elevation valleys in Idaho, Montana, and Wyoming.
The National Elk Refuge has been providing supplemental feed to elk and bison since early January causing them to concentrate in high numbers. We watched this herd moving in anticipation last week before the storm lifted.
Mule deer, previously visible along the East Gros Ventre Butte, moved to other habitats in early February to avoid the deep snow. With rain decreasing snow depth, many have returned to their typical habitats. With the large amount of movement collisions with vehicles remain a major concern, please drive slow and watch for wildlife
Feathered Observations
Though many great gray owls have left the Jackson Hole valley for the winter, Ecotour Adventures Guides were still able to find them on several trips in early February. Mating pairs will soon return to nest sites they have chosen in the fall, locating each other by hooting.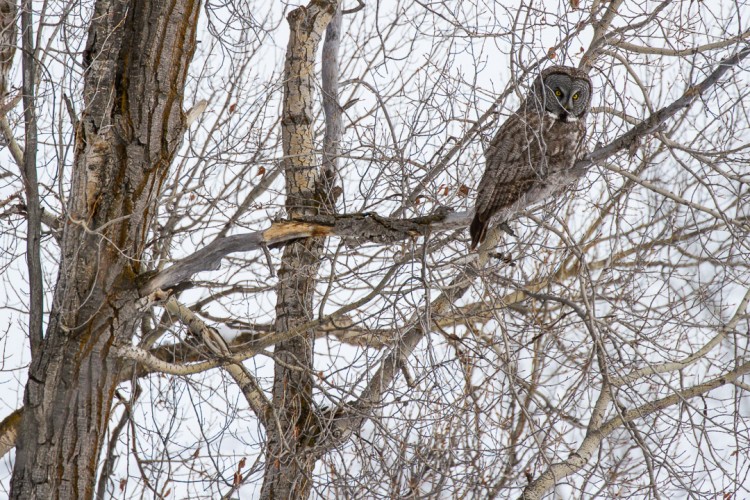 With cryptic coloration and silent flight, Great Gray Owls are often called 'Ghosts of the Forest'
Rough Legged hawks were observed several times in early February. They winter across the United States before returning to the arctic circle in spring to nest. Greater Sage-Grouse have been a frequent sight this winter as they concentrate in sagebrush not covered up by deep snows. Both bald and golden eagles are prevalent on the National Elk Refuge, scavenging on carcasses of animals not able to survive the winter.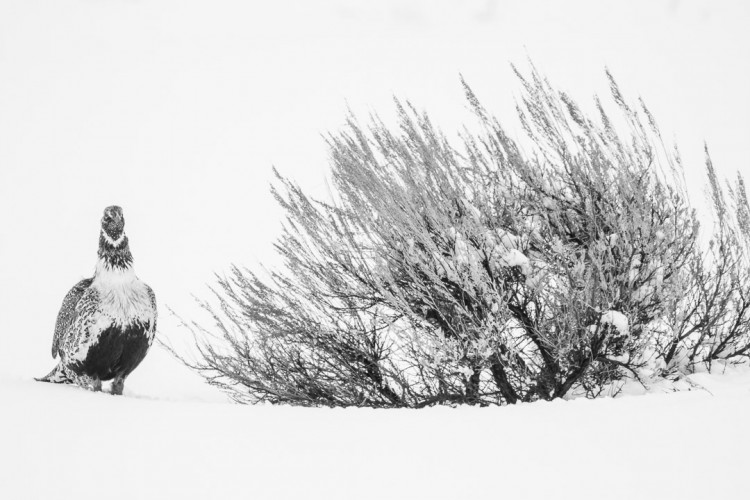 Greater Sage-Grouse, are one of only two species of animals who regularly feed on sage brush, the tall plant in the right side of the photo.
Sunshine Increases Wildlife Activity
Along with high pressure and sunshine arriving this Saturday, wildlife activity seems to have also increased. Guests on a winter multiday observed six different pairs of bull elk sparring in and around the waters of Flat Creek this weekend. Sparring is a friendly act, preparing bulls for more dangerous confrontations of the fall rut. See more photos here.
Listen to these two bulls squeak with exertion as they spar on Flat Creek in the National Elk Refuge. In fall bulls will also bugle, a territorial call which can be herd from miles away.
Several bighorn sheep rams, noticeably absent over the last few weeks, have again been observed along side herds of smaller ewes, juveniles, and lambs. A herd of younger pronghorn antelope is also attempting manage the snows on the National Elk Refuge, most of the 400+ pronghorn found in summer in Grand Teton National Park have migrated over 100 miles to the south.
Turpin Meadows Sunrise
Ecotour adventures guests were treated to a spectacular sunrise while staying at Turpin Meadows Ranch, including a bull moose standing beneath the Grand Teton. During the two day trip the group also found wolves, coyotes, and a fox in the northern part of the Park before heading down to observe the 8000+ elk currently on the National Elk Refuge.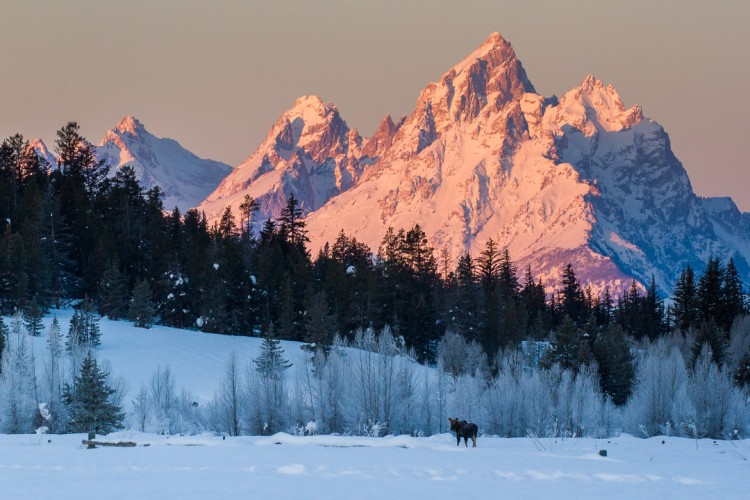 Though many other animals have traveled further south to avoid deep snows, moose are still found in Northern Grand Teton, foraging along rivers like the Buffalo Fork of the Snake River.
Beavers Emerge as Ice Melts
Warmer temperatures have opened up frozen sections of rivers and creeks in the valley leading to some spectacular wildlife sightings. While observing a moose this past weekend we were surprised to find two beavers carrying mud and sticks to a dam, watch the video for more!
Though they are often hidden beneath the ice, beavers remain active all winter long, swimming out of warm lodges to forage on willow branches stashed in the mud beneath the waters surface.
Trumpeter swans and other waterfowl have been frequently seen in open water and we also observed a coyote patiently waiting at the edge of a hole in the ice, in hopes of catching a fish. Otters swimming beneath the surface were scaring them up close enough for the coyote to nab!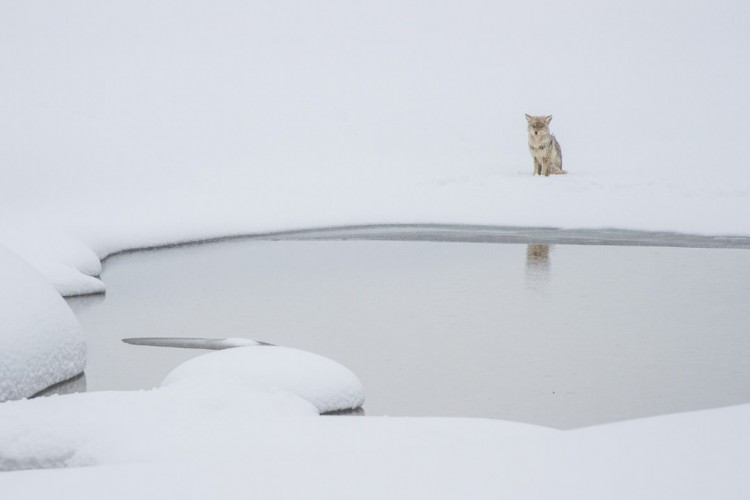 Coyotes will also steal fish from otters who usually carry them ashore to feed.
A hint of spring
The past week's sunshine, longer days, and viewings of small song birds like vespers sparrows offer hints of spring, but winter will likely maintain its grip over the valley for several more months. The battle for survival in the Greater Yellowstone Ecosystem continues, for more photos of recent sightings visit our facebook page or follow along on instagram. To learn more about going on an Ecotour Adventure visit our website or call (307) 690-9533. We hope to see you soon!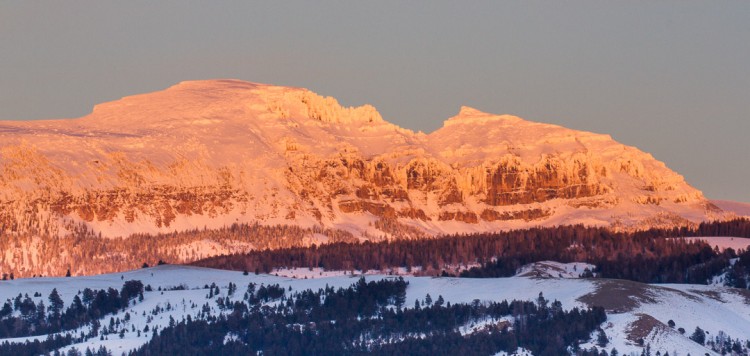 Alpenglow illuminates Sheep Mountain, also known as the Sleeping Indian, above the National Elk Refuge just before sunset on a recent trip.
Photos and blog by Naturalist Josh Metten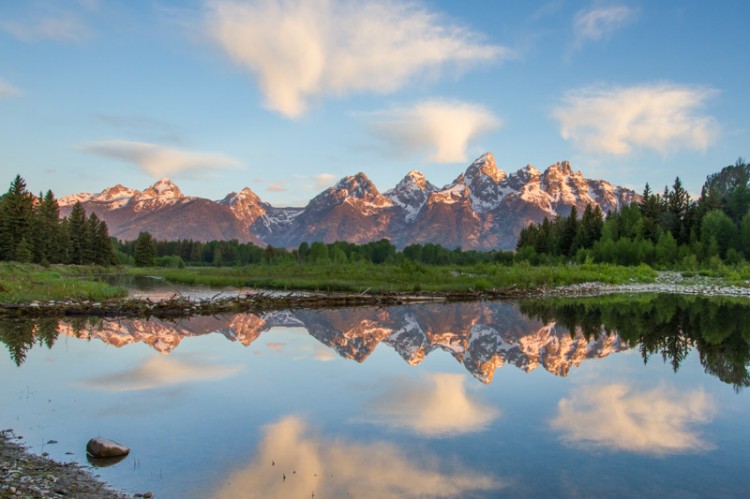 We're Hiring for Summer 2017!
Share your passion for the Greater Yellowstone Ecosystem as a Professional Naturalist with Eco Tour Adventures
Want to work in Grand Teton and Yellowstone National Parks this summer? Eco Tour Adventures is hiring for the 2017 summer season. We are looking for personable and knowledgeable individuals with science backgrounds that enjoy sharing the diverse wildlife and landscapes of the GYE with our guests.
Desired Qualifications
Environmental Science, Wildlife Biology, Natural Resources, Environmental Education or related field of study
Experience with Field Instruction, Interpretation, Research and Wildlife/Landscape Photography
Familiarity with the Greater Yellowstone Ecosystem and Jackson Hole
Clean Driving Record
Passion for the Wild Public lands of Wyoming
Job Requirements
Long hours and non traditional work week
Early mornings and Late evenings (that's when the wildlife are out!)
Long distance Driving in Grand Teton and Yellowstone National Park
Clean Driving Record
CPR/AED certification, DOT Physical (We can help with this!)
Full Time seasonal guides are eligible for health benefits and great pay. Pay Starts at $25hr for the time you are with clients before gratuities.
Paid Guide Training includes an overnight trip to Yellowstone National Park, and field training in Grand Teton National Park with professional wildlife biologists, geologists, astronomers and more.

Learn more about what we do www.jheecotouradventures.com
Apply by: sending a cover letter, resume and references to Taylor@jhecotouradventures.com
A herd of several hundred elk concentrates on the edge of the National Elk Refuge beneath Sheep Mountain in the Bridger-Teton National Forest
The first month of 2017 was a snowy one in Jackson Hole with many locals calling this winter one of the snowiest in several decades. Deep snows have concentrated wildlife into the valley, with many of them venturing right into town! Ecotour guides have been finding wildlife all over Grand Teton National Park and the National Elk Refuge including these highlights from the past two weeks. Additional photos are available here.
Caution! Wildlife along roadside!
As snow depths continue to increase animals are frequently using roads to travel and forage. A small group of bighorn sheep has been active just north of town, including blocking the road on numerous occasions. Mule deer are frequent roadside visitors, and sadly have suffered high losses to collisions with cars, especially this year. Our friends at the Jackson Hole Conservation Alliance, Greater Yellowstone Coalition, and Jackson Hole Wildlife Foundation recently enacted emergency measures to reduce collisions before more permanent wildlife crossings are implemented along our roads. In the meantime, motorists are reminded to slow down and watch for wildlife!
Winter of the Wolf
As our herds of big game struggle with deepening snows, predators come into their strongest time of year. Wolves have been sighted frequently this winter, including this single black, likely from the Huckleberry pack, in the following video.
Ecotour guides found several other wolves on two separate carcasses in this area recently. Watch the next video to see just how many animals benefit from a wolf kill!
Ravens, magpies, bald and golden eagles feed on a wolf kill in Grand Teton National Park.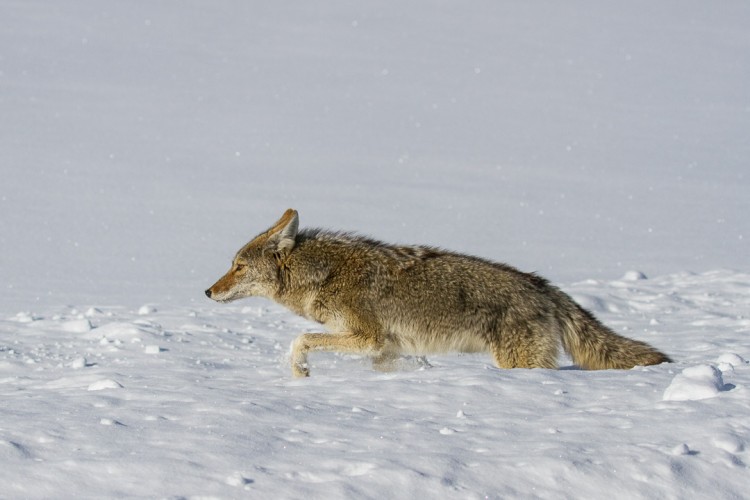 Though they benefit from feeding on wolf kills, coyotes must be wary, as wolves will chase and kill hapless coyotes who let down their guard.
Winged Sightings
Deep snows have buried all but the tips of the sagebrush plants greater sage grouse depend on to feed leading to concentrated sightings beneath the Teton Range (see photo gallery). For other birds, habitat has opened up. Though the month was a snowy one, warmer temperatures did allow for some bodies of water such as Flat Creek to partially thaw, providing valuable forage habitat for trumpeter swans and other waterfowl such as barrows and common goldeneye, gadwall, bufflehead, and mallards.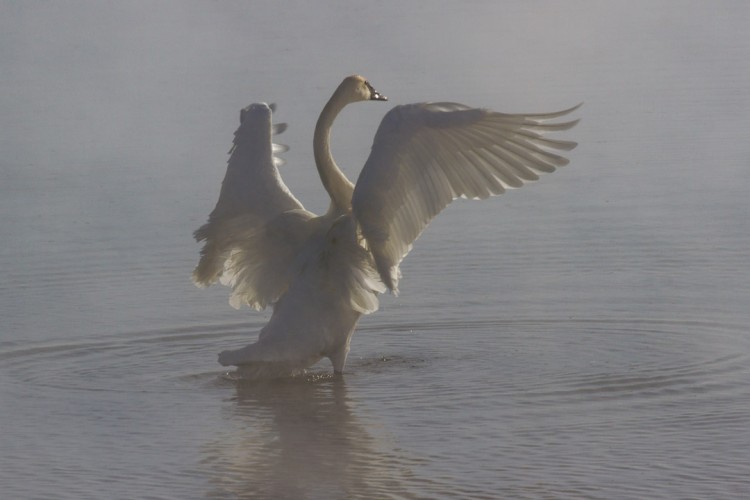 The largest waterfowl in the world, trumpeter swans populations once plummetted to around 70 individuals, nearing extinction! Captive breeding, the Migratory Bird Treaty Act of 1918 and the discovery of a larger population in Alaska prevented this species from disappearing. We are fortunate to see them today!
Rough-legged hawks have not been observed on tours recently, likely having headed further south before making the return trip northward to Arctic nesting territories. Bald and Golden eagles are thriving by scavenging on the increasing number of animals unable to survive winter's grasp.
Guides also found a great horned owl on a recent trip. These large owls are beginning to show signs (and sounds!) of courtship. They must incubate eggs earlier than many other bird species in order for owlets to grow large enough to survive on their own next winter!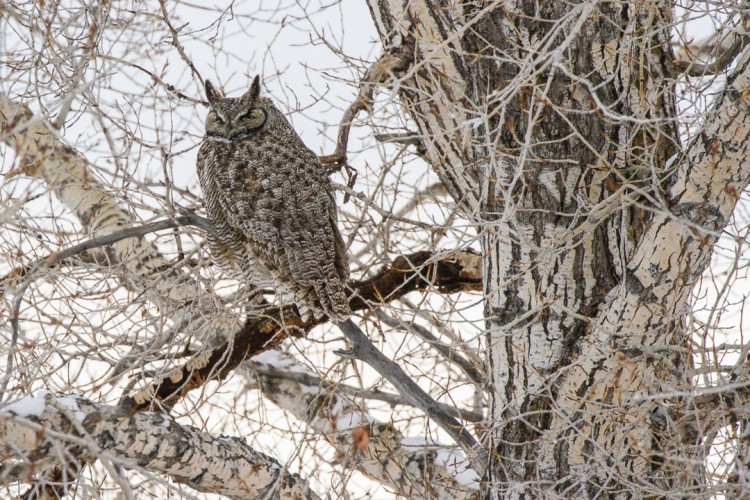 Great Horned Owl sleeping in a cottonwood tree on a recent Ecotour.
Winter wonderland
Scenery is also a highlight of visiting Jackson Hole in winter. The crisp clean air of winter increases our vibrant sunsets and dark skies reveal the infinity of space above the teton range.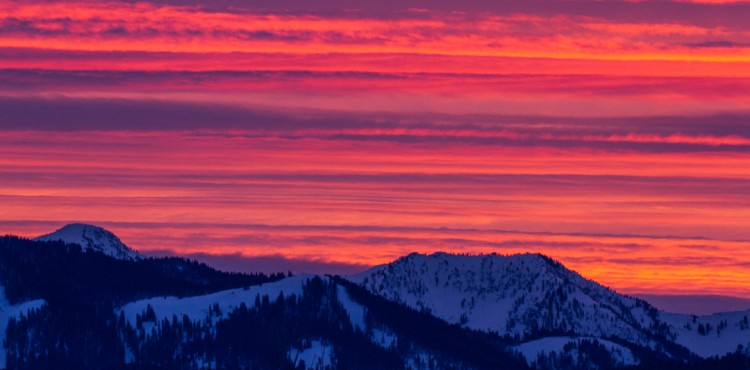 Sunset over the Palisades Wilderness Study Area south of Jackson Hole.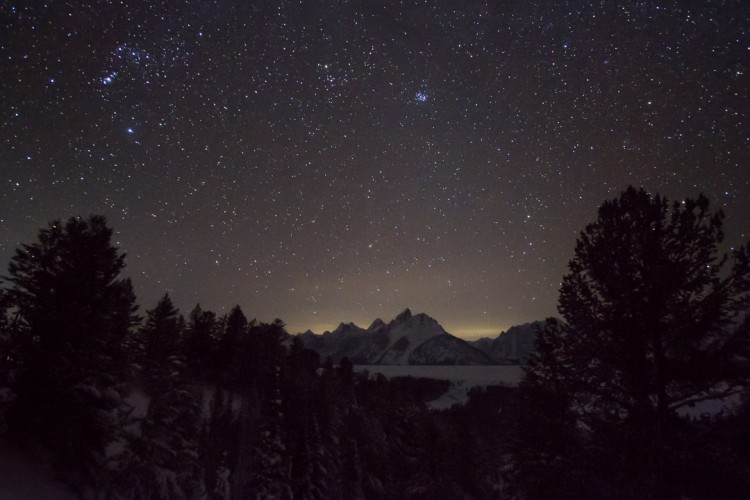 Zero degree temperatures didn't stop us from enjoying the night skies of Grand Teton National Park.
A dangerous time for wildlife
Though the deep snows and stunning landscapes of Jackson Hole make it an adventurer's paradise, this winter has been especially hard on wildlife. Animals are living off of fat reserves from the previous summer and many cannot survive. Not disturbing animals, watching out for wildlife along roadsides, and staying out of winter closures is critical for their survival. Spring is after all, still several months away.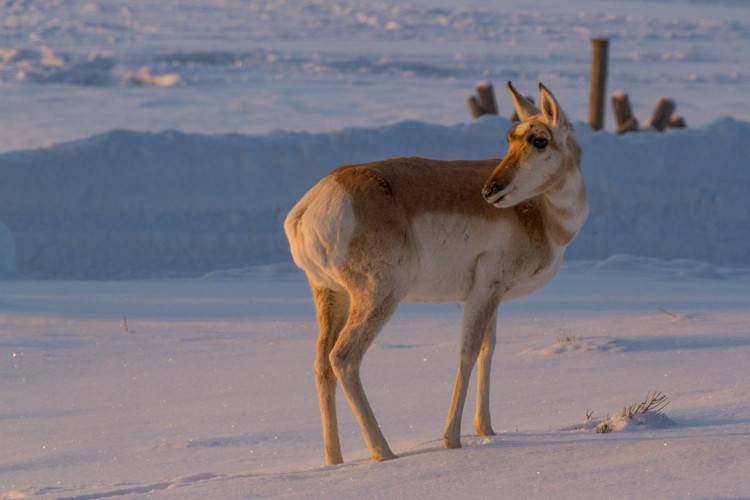 Evening light illuminates a pronghorn doe and fawn on the National Elk Refuge, just minutes from Jackson Hole. Historically, pronghorn have migrated about 100 miles south of Jackson Hole, to the Upper Green River near Pinedale for the winter months. This year close around 180 chose to stay.
With wildlife concentrated in the valley floors, winter wildlife watching is a must do for Jackson Hole, we have many more photos of recent sightings available on our facebook page. To learn more about going on an Ecotour Adventure visit our website or call (307) 690-9533. We hope to see you soon!
Photos and blog by Naturalist Josh Metten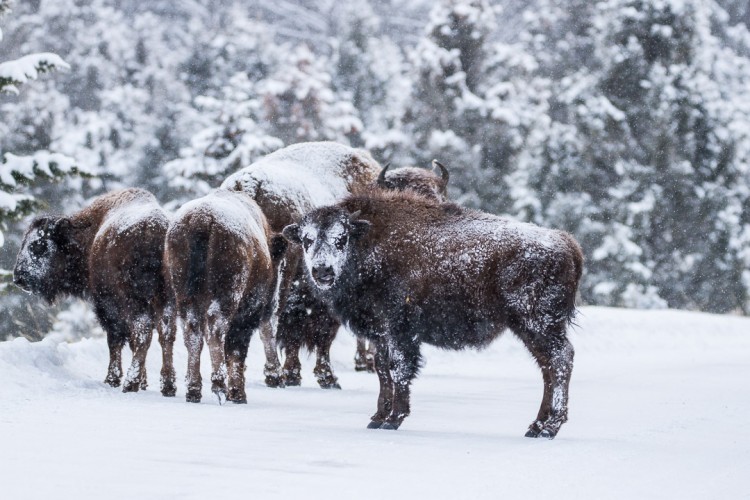 Bison often travel along the groomed roads of Yellowstone National park
It's the heart of winter in Yellowstone National Park, one of the world's most spectacular winter wonderlands. The crowds of summer have been replaced by chilling wind and deepening snows, the only warmth coming from the steam of the Park's thermal features. But for those willing to venture into this winter wonderland, the trip of a lifetime awaits. Earlier this winter, Jackson Hole Ecotours Naturalist Josh Metten joined the Goh Family on an unforgettable five day tour of one of our wildest parks, experiencing and photographing its wildlife, mountain landscapes, thermal features, and more.
Searching for the wild in Yellowstone's Lamar Valley
Situated beneath tall peaks of Yellowstone's Northern range, the Lamar Valley is often called the American Serengeti. Its terrain and open valley provides abundant wildlife habitat year round, perfect for big game such elk, bison, bighorn sheep, mule deer, pronghorn antelope, and moose. Rivers provide habitat for waterfowl, the diminutive american dipper and families of North American river otters. The howl of wolves, once silenced across the west by extermination, has been heard here since their successful reintroduction in 1995.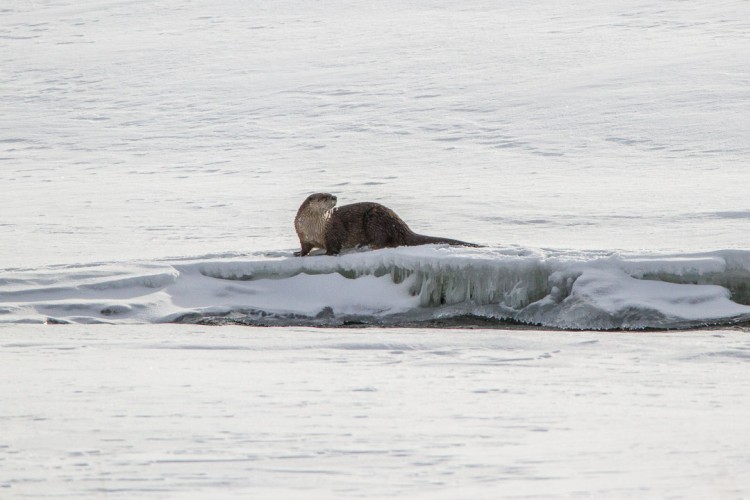 Returning along the Lamar river after lunch in Cooke City, we found this otter and three others (not pictured).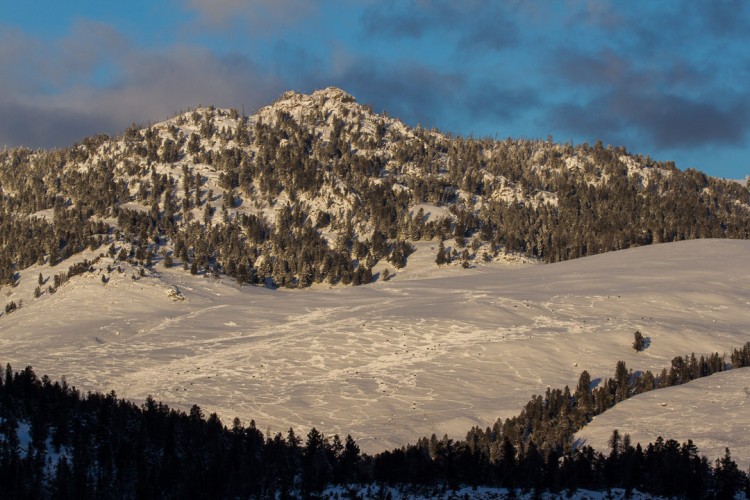 At sunset, we viewed this far off bison herd demonstrating a mobbing grazing pattern. In winter bison walk single file through the snow then spread out to graze. This strategy allows them to conserve energy by taking the same path through the snow, stay close to avoid predators, and constantly change grazing areas, maximizing forage quality and preventing overgrazing while fertilizing the land with their scat.
Howling wolf and the Yellowstone River
In winter, the higher elevation snowy interior of the park is accessible only via over snow vehicles. We used the comforts of an enclosed vehicle called a snowcoach to access the Grand Canyon of the Yellowstone. Approaching Norris Junction, we were shocked to find a howling wolf right alongside the road! We listened and watched for over 10 minutes as the solitary wolf, likely from the Canyon Pack, attempted to contact others. As it disappeared into the snowy forest we continued on to the Grand Canyon of the Yellowstone River, viewing both the upper and lower falls as well as trumpeter swans and other waterfowl along the river.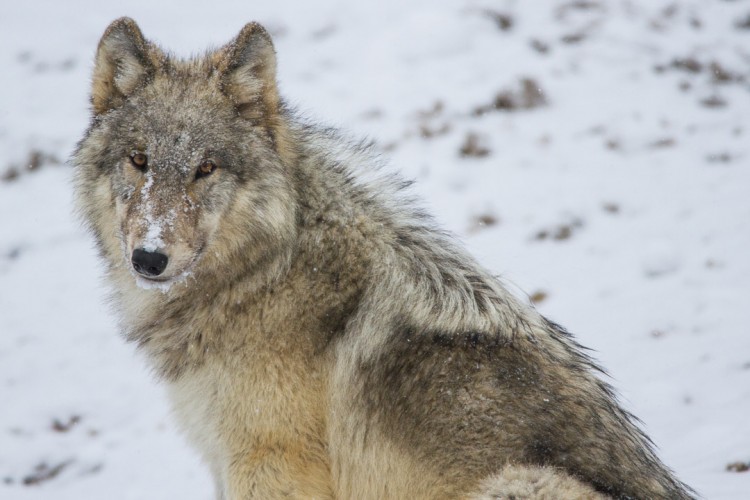 Wolves can identify individual howls from great distances, which helps the pack rendezvous when separated.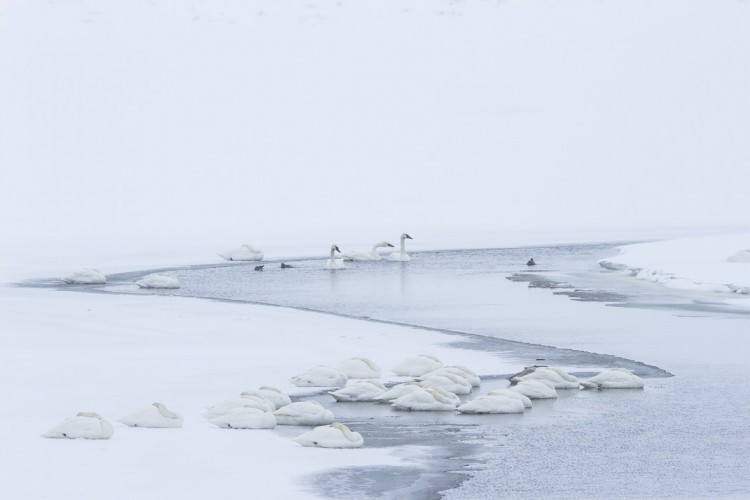 Swans and other waterfowl take refuge in Yellowstone in winter, insulated against the cold using down feathers which trap air against the body, preventing heat from escaping from the comfortably roosting birds.
South to Old Faithful and Yellowstone's Geyser Basins
The lower loop of Yellowstone continues southward towards Old Faithful and some of the Park's most spectacular geyser basins. Wildlife are abundant along the rivers, and geyser basins come alive with steam, color, splash and sound surrounded by snow.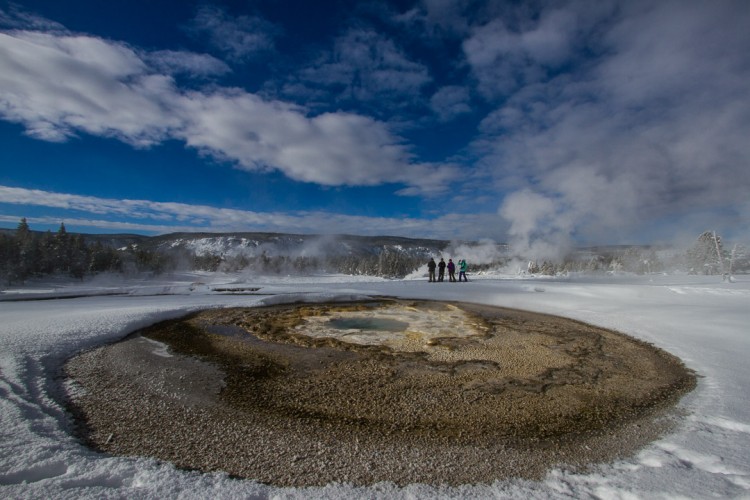 Hot pools display a variety of colors from blue at nearly 200 degrees F to white, yellow, orange, brown, and green. Each color corresponds with a different microbe, making up the diverse micro-ecosystem within Yellowstone's geyser basins.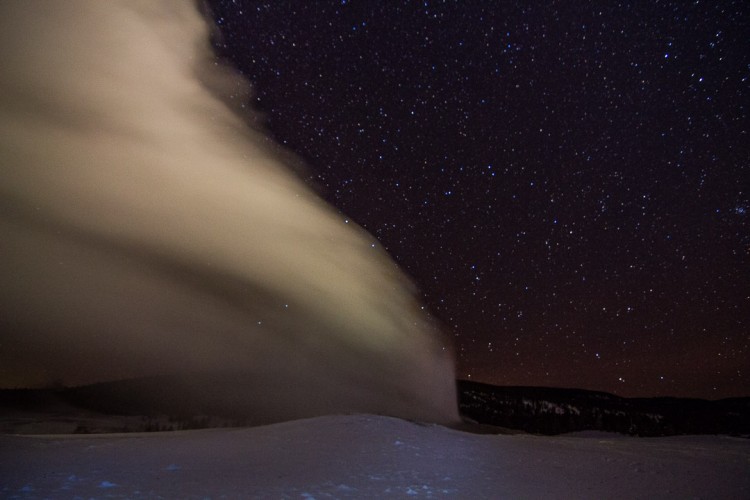 The group braved sub zero temperatures to witness and photograph an Old Faithful eruption beneath the night sky.
Bison are a frequent sight around Yellowstone's geyser basins, taking advantage of the areas shallow snows to forage. However, rough silica consumed with the plants bison eat wears down their teeth prematurely, shortening their lifespans.
"To preserve unimpaired for present and future generations"
Now going into its second century, the National Park Service has a tenuous future. Climate change, relevance to future generations, and developments along its borders all threaten the numerous places including Yellowstone the Park Service attempts to preserve for future generations. As we left Yellowstone on our last morning, the mornings first light illuminated Electric Peak, above the Roosevelt Arch near Gardiner, MT. From mountains to valleys, wolves to hot springs, Yellowstone is a glimpse of our wild past. What will it resemble in the future?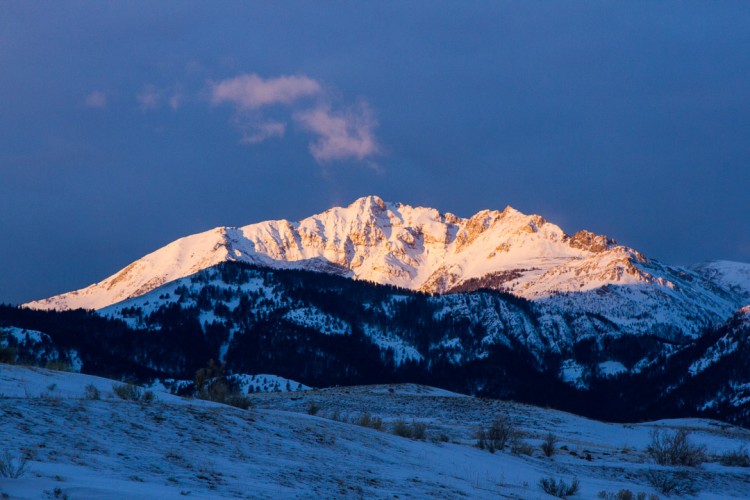 First light on Electric Peak in Northern Yellowstone National Park.
Jackson Hole Ecotour Adventures offers single and multi day trips through Grand Teton and Yellowstone National Parks year round, to read about a trip from this past fall check out this post: Wildlife Abounds in Fall Multiday
To join us exploring the Greater Yellowstone Ecosystem visit our website or call 307-690-9533. We hope to see you soon!
Words and photos by Naturalist Josh Metten