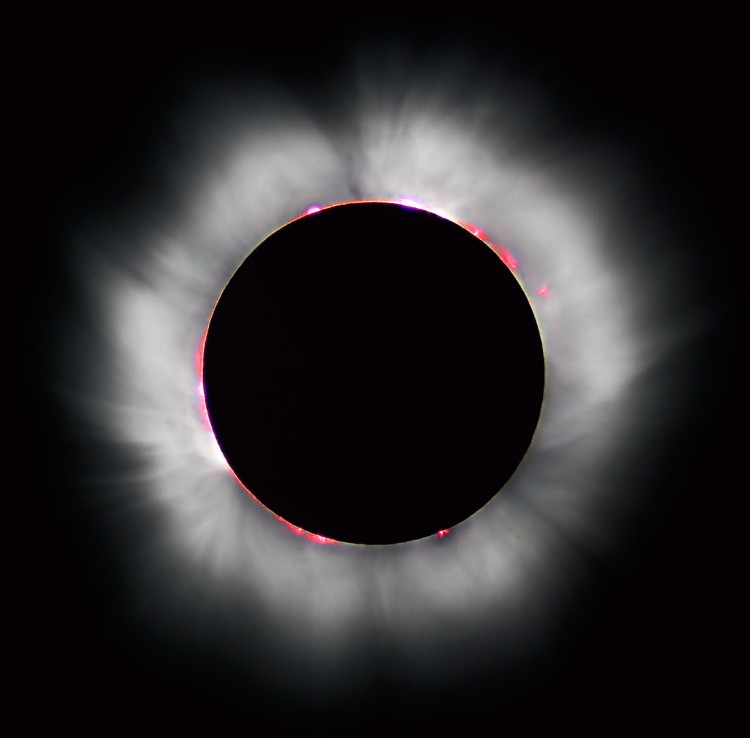 1999 Total Solar Eclipse Photo by: Luc Viatour
In less than three weeks a once in a lifetime event will occur across Jackson Hole and Grand Teton National Park, a total Solar Eclipse. At approximately 10:16am on Monday August 21st, the eclipse will begin, as the moon begins to block the sun's rays. In just over an hour, the moon will completely obscure the sun and at around 11:35am Totality will be reached. For over two minutes the Jackson Hole Valley will be cast into darkness.
The 2017 Eclipse is the first to cross the entire continent since 1918, and will be visible in twelve states, from Oregon to South Carolina. With stunning mountain vistas, Grand Teton National Park and the valley of Jackson Hole are popular locations for viewing the eclipse, which is predicted to be the valley's largest event in history. Planning on viewing the eclipse in Jackson Hole? Here's what you need to know.
This map shows the route and line of totality of the 2017 Solar Eclipse.
Viewing Locations
Eclipse viewers will want to find a location within the path of totality (see above map). Jackson hole is a spectacular viewing area, but, due to the limited road access out of the area could be problematic if weather prevents viewing of the eclipse. Should this occur, expect gridlock of roads leaving the valley the morning of the eclipse. For those interested in playing the odds of seeing the eclipse occur over the Tetons in Jackson Hole (they are good, about 78% chance of clear skies), numerous options exist.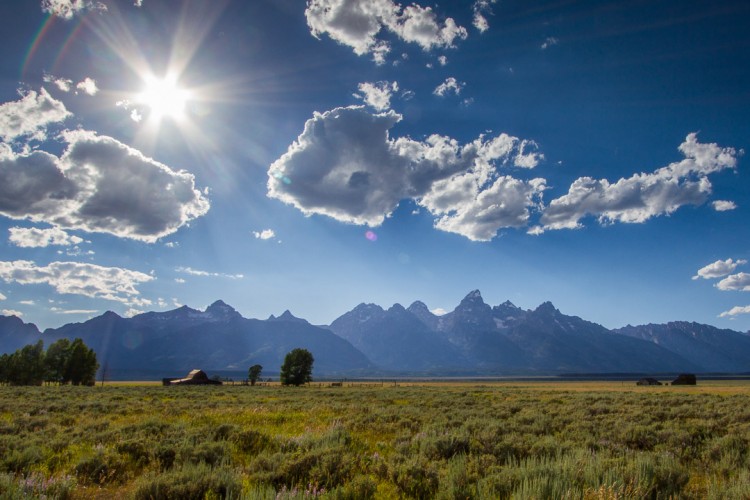 The Jackson Hole Valley and Grand Teton National Park lies directly in the path of the 2017 Total Solar Eclipse are you ready?
Grand Teton National Park expects the eclipse to be the largest event in the history of the Park and has set up 5 different designated viewing areas in prime locations throughout the park; along the road to Kelly, the Gros Ventre Campground, the Craig Thomas Discovery and Visitor Center in Moose, Colter Bay and Jackson Lake Lodge. Each area will have additional bathroom facilities and staff on hand to help out. The Gros Ventre Road, located in the center of the path of totality, will be a popular viewing area and will be managed for one way traffic heading north. See the below map for the other viewing areas.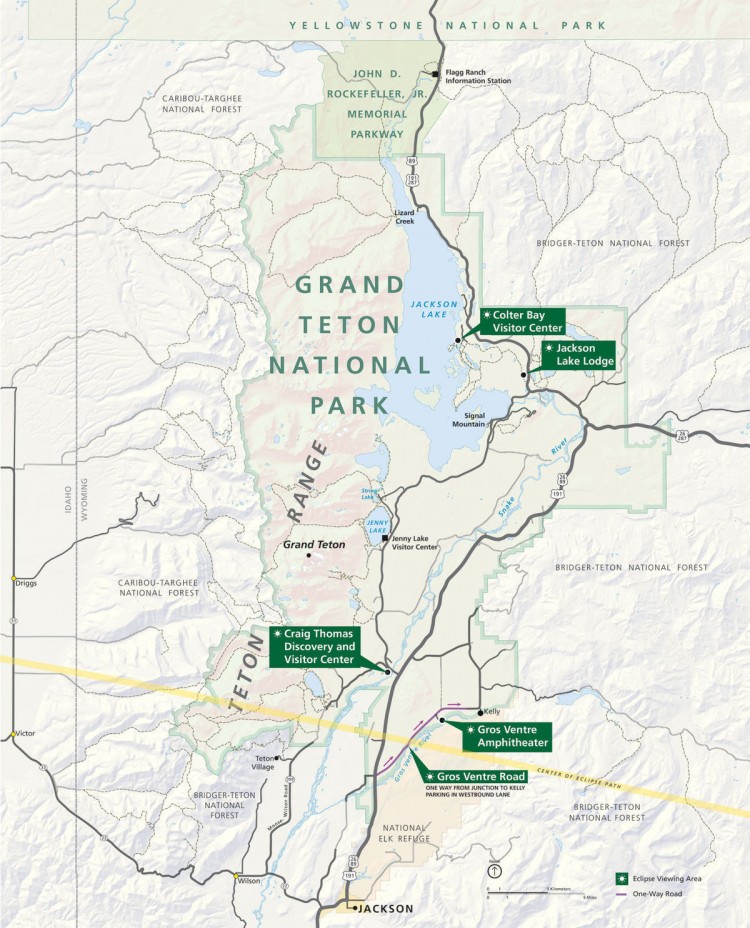 Grand Teton National Park provided this map which outlines the 5 major eclipse viewing locations in the Park, all of which fall within the path of Totality.
Parking outside of the designated viewing areas will be restricted to existing pullouts which will fill up very early in the morning and along the shoulder of the Teton Park Road, which runs north from the Craig Thomas Discovery Center at Moose Junction along the base of the Tetons. To provide access for emergency personnel, no shoulder parking will be allowed along US HWY 26/89/191 or on the Moose/Wilson Road. Additionally, park fees will be suspended on eclipse day to ease traffic entering the park.
Great eclipse viewing options exist outside of Grand Teton National Park, right in the town of Jackson and at Teton Village. Wyoming Stargazing is offering a free public eclipse viewing event at the base of Snow King Mountain. An eclipse viewing area is available at Teton Village and a limited number of tickets are being sold for those who want to ride the Sweetwater Gondola up Jackson Hole Mountain Resort.
Hiking opens up numerous possibilities for great eclipse viewing locations. The majority of the Teton Range falls within the path of totality and a hike to any of the summits should provide for great viewing. The Gros Ventre Mountains east of Jackson Hole, Palisades Wilderness Study Area to the South, and Snow King Mountain, located just south of town will also provide great viewing locations.
Regardless of location be sure to find a view looking south and east to watch the eclipse. If you want to see the moon's shadow racing across the earth at about 1 kilometer per second get a view looking to the west.
Traffic Considerations
With the 2017 Jackson Solar Eclipse expected to be the biggest day in history, traffic will be a major issue, expect significant delays both before and after the eclipse. Many eclipse viewers will use bicycles and the extensive Pathway System to avoid traffic delays. Those using vehicles are encouraged to carpool or use the START bus route which will be free on eclipse day.
Plan on Getting Stuck! It is likely that roads may become impassable before and after the eclipse so plan accordingly. Ecotour Adventures trips will be leaving early to arrive at our viewing locations and plan on staying there well after the end of the eclipse. Bring sufficient food, drink, and emergency supplies for the day and plan on limited or unavailable cellular or internet service due to the increased amount of visitors. Please protect our public lands by packing out anything you pack in!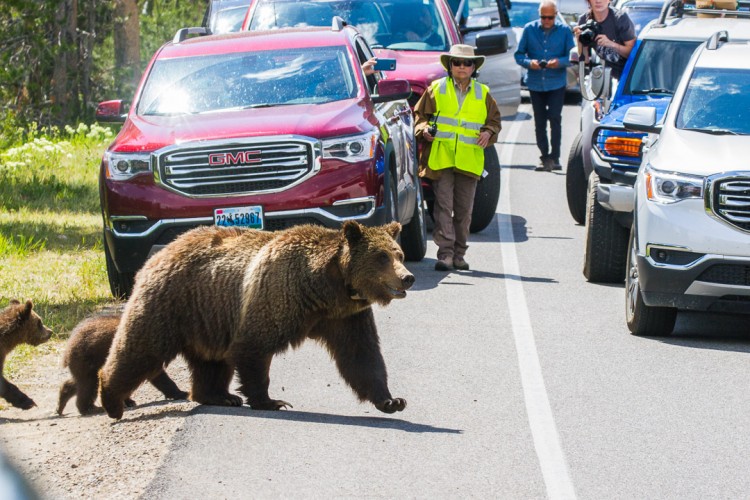 Traffic delays caused by bear jams like this one we viewed earlier in the summer may pale in comparison to the 2017 Teton Eclipse.
Once you have arrived at your eclipse location sit back and enjoy the show. Solar glasses or some other approved solar filter is a must for viewing the eclipse until the exact moment of totality at around 11:35 am, when it will be safe to view without them for around 2 minutes. We will be handing out free solar glasses on all Grand Teton and Yellowstone Safari Tours the week before the eclipse, find out how to join us here.
Other things to do in Jackson Before and After the Eclipse
The week before and after the 2017 Jackson Eclipse will be full of fun activities both eclipse and non eclipse related. On Saturday August 19th Wyoming Stargazing is offering a Pre Eclipse Party featuring Nasa Astronaut Scott Altman and Astrobiologist Dr. David Grinspoon. Visit their website for more information.
On Tuesday, August 22nd The Town, County, and Grand Teton National Park are hosting post eclipse cleanups, find out how you can join by emailing volunteer@tetoneclipse.com
Though our trips the day of the 2017 Teton Eclipse are fully booked, August is a great time for wildlife viewing in both Grand Teton and National Parks and EcoTour Adventures will be out leading half, full day and multi day trips of the parks. Learn more about how to join us here!
Additional Resources:
http://tetoneclipse.com/bridger-teton-national-forest-eclipse-interactive-map/
Header Background Photo: Solar Eclipse by Luc Viatour, CC BY-SA 3.0, https://commons.wikimedia.org/w/index.php?curid=132886
Photos and blog by Naturalist Josh Metten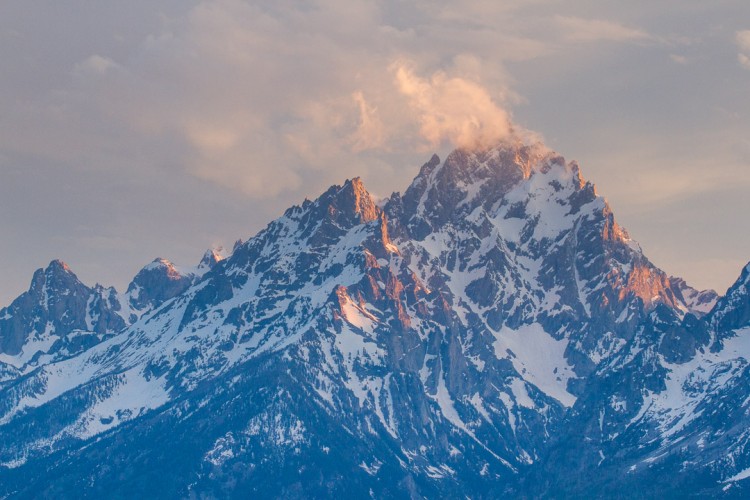 Grand Teton National Park's Cathedral Group, Teewinot, the Grand Teton, and Owen, are illuminated during a early summer sunset.
It's a cool June morning beneath the jagged 12,326' summit of Teewinot Mountain in Grand Teton National Park. I'm with clients watching cow elk and pronghorn antelope in the still morning air. A female pronghorn shifts in the distance and, can it be? Yes! Hidden beneath her legs emerges a tiny fawn, walking unsteadily in its new world.
The sagebrush flats of Grand Teton National Park are a safe haven for pronghorn like these, but also one of the largest remaining herds of wild bison, critical elk migration routes, and a plethora of habitat for other wildlife that call the Greater Yellowstone Ecosystem home. But it wasn't always this way; where we are now standing was once private land at risk of development.
When it was founded in 1929, Grand Teton was little more than a rock and ice park: its boundaries encompassed a portion of the Teton Range extending to the edge of several of the lakes at their base, while the land in the valley bottom and along the Snake river remained unprotected, including tens of thousands of acres of private ranchland. Thus the park protected the iconic peaks we still love today, but not much of the critical wildlife habitat.

To protect the scenic vistas, habitat, and migration corridors of the Jackson Hole Valley philanthropist John D. Rockefeller Jr. began purchasing ranches from willing sellers, eventually amassing 35,000 acres of land, including the parcel where we watched the pronghorn fawn. Unfortunately, his offer to donate the land was met with resistance from locals with a different vision of the valley. Efforts to protect the valley stalled until 1943, when FDR used the Antiquities Act to designate Jackson Hole National Monument, combining Rockefeller's land donation with over 200,000 acres of National Forest Land.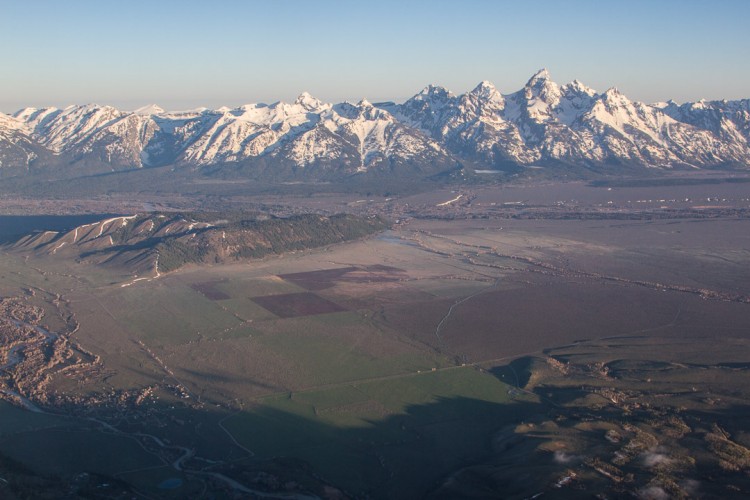 Jackson Hole National Monument expanded Grand Teton National Park to include much of the valley floor, including the former ranches of Antelope Flats, seen here.
The valley was protected, but to remain so Jackson Hole National Monument would have to survive an attempt by Congress to rescind it. Ranchers, worried about grazing access (which they still have today) protested. Even the Forest Service opposed the park, seeking instead to log the Northern Range of the Tetons across Jackson Lake while proposing leasing upwards of 400 homes along its shore. Thanks to the veto power of FDR the monument did survive, and in 1950, was added what we now know as Grand Teton National Park. What could have been hotels and houses marring one of the most spectacular landscapes in the country was now protected wildlife habitat.
Opponents of Jackson Hole National Monument later recognized the importance of protecting more acreage than less. Local rancher Clifford Hansen, known for organizing an armed protest ride across the monument after its establishment in 1943, went on to become governor of Wyoming and later a U.S. Senator. Upon reflecting on the battle over the monument and Grand Teton National Park, Hansen remarked that it was an asset to Wyoming, and he appreciated why park advocates "felt that as much land as was taken in should be taken in."
Our pronghorn antelope know none of this, they are simply tracing the steps of their ancestors, along a 6000 year old migration route known as the Path of the Pronghorn. Throughout the summer they thrive in the sagebrush flats of what used to be Jackson Hole National Monument, gaining precious fat reserves in preparation of the coming winter. In the fall, 300-400 of them stage near the famous Moulton Barn on Mormon Row, preparing to head south through the Gros Ventre Mountains onto winter range outside of the park. With any luck, the pronghorn fawn we found this spring will have grown into a speedy juvenile by the time the migration starts in the fall, joining an ancient legacy, now protected.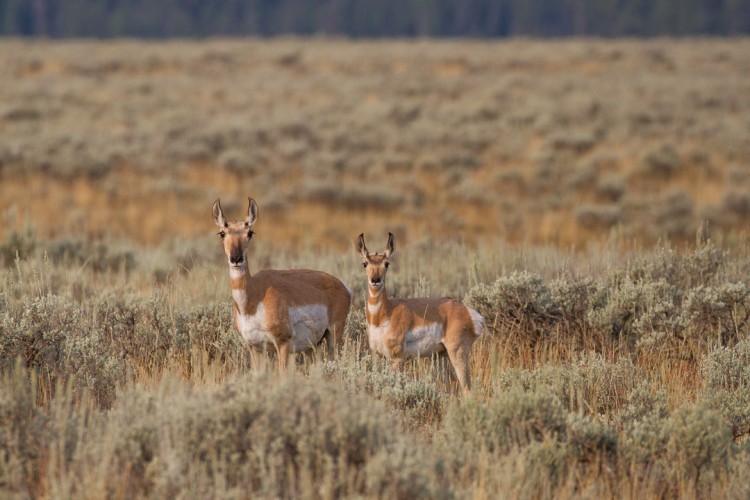 A mother and pronghorn fawn prepare to migrate 100 miles south from the protected Jackson Hole Valley to winter habitat near Pinedale, WY.
Pronghorn aren't the only animals who migrate through Grand Teton National Park. Each spring, close to 9000 elk exit winter range on the National Elk Refuge just north of the town of Jackson. Most head north, crossing the icy Gros Ventre River and entering the Park. They move into an area known as Antelope Flats, hay fields formerly cultivated by early homesteaders beginning in the 1880's. The elk travel across the shallow snow, over tufts of dried grass and silvery green sagebrush, led by a dominant matriarch. She knows this route well and travels it faithfully every year, leading her relatives onward.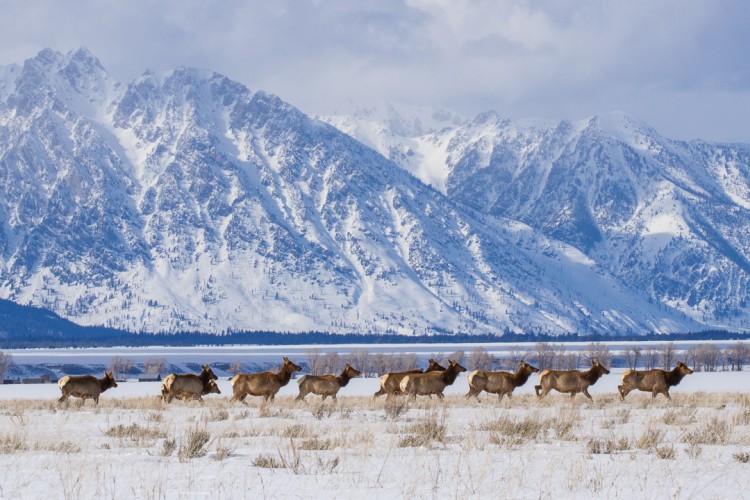 A cow elk herd migrates through the snow covered fields of Antelope Flats. Prior to inclusion in Grand Teton National Park in 1950 this migration cooridor could have been lost to development.
Some herds leaving the Refuge will traverse the entire length of Grand Teton National Park, entering the Teton Wilderness, and then pass into Yellowstone National Park, an amazing journey of over 60 miles. Others will summer along the base of the Teton Range, emerging from the forest at dawn and dusk to graze alongside pronghorn antelope in the sagebrush flats which were initially protected by Jackson Hole National Monument.
Many will head east, out of Grand Teton National Park and into the Gros Ventre Mountains, which is where I found myself last fall on a crisp October morning. My hunting partner and I slowly crept up a forested ridgeline, hearing the bugling of a nearby bull elk. As we peered over the edge, a herd of cows, the bull's harem, were contentedly grazing on frost covered grasses. As we waited for the bull to materialize, I counted 5, 10, 20, then 50 elk enter the meadow. Finally, a satellite bull, subdominant to the big guy screaming off in the woods, entered at 200 yards. We waited a bit longer but the herd bull never appeared and I couldn't resist the shot on the one in front of us.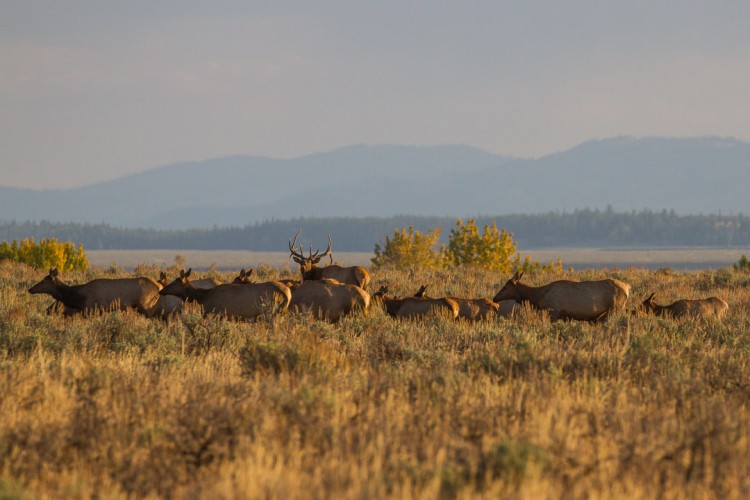 A bull elk bugles in Grand Teton National Park, working to herd a group of female elk and chase off any competing males.
One shot and the 6x6 bull was down, my first bull elk. We packed the bull out several miles through wild country, heading west towards the Jackson Hole Valley, leaving the herd and unseen master bull to continue grazing, preparing for their fall migration through Grand Teton National Park and into the National Elk Refuge.
Today, the elk and pronghorn migrations protected by Jackson Hole National Monument, now Grand Teton National Park, aren't at risk, but others are. Research by world renowned Conservation Biologist Joel Berger has found that upwards of 75% of wildlife migrations in Wyoming alone have been lost. That's in the 10th largest state in the country, which also has the smallest population of less than 600,000 people.
With wild places shrinking all over the country now should be the time to rally for protecting what's left but instead President Trump and Secretary of the Interior Ryan Zinke are reviewing some 27 National Monuments with the intention of shrinking or rescinding many of them.
Montana's Upper Missouri River Breaks National Monument, home to the most viable elk herd in the state, along with a spectacular bighorn sheep herd, and mule deer and antelope populations, is under review. The elk migrations protected by Rio Grande del Norte National Monument in New Mexico are threatened, as are an array of stunning public landscapes across the country.
It isn't just migrations at stake, National Monuments like Bears Ears in Southern Utah provide reservoirs of biodiversity, offering a glimpse into our wild past. Our best opportunity to preserve biodiversity in the long run lies in protecting large landscapes, or in the the case of Papahānaumokuākea, and the Pacific Remote Islands National Monuments, large waterscapes. These two National Monuments, both currently under review, are home to over 7000 marine species and over 14 million seabirds.
Nearly a quarter of our treasured National Parks, like Grand Teton National Park, start out as National Monuments. These wild places deserve protection before they are lost and forgotten. This summer, I've been sharing spectacular grizzly bear sightings with clients in northern Grand Teton National Park, near the shores of Jackson Lake. Had the monument been rescinded in the 1940s upwards of 400 summer homes may have been built along those shores. A sawmill may have been constructed near the park entrance at Moran Junction, cutting logs floated across the lake from the Northern Range of the Tetons.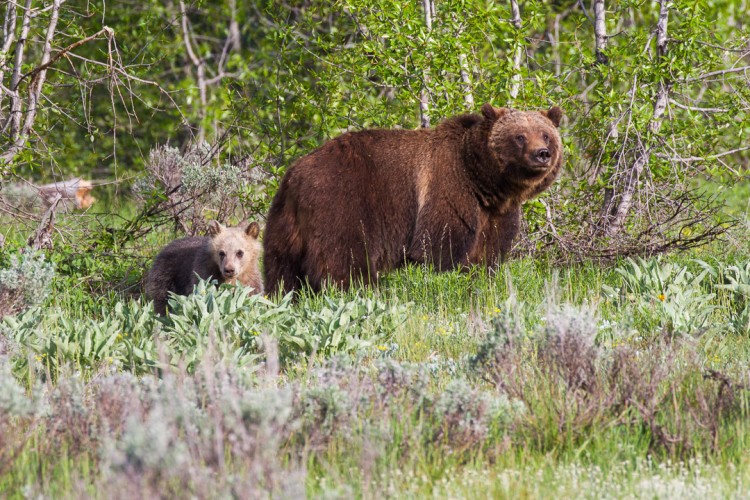 Grizzlies in the Greater Yellowstone Ecosystem have rebounded from around 135 animals in the 1970s to over 700 today thanks to the Endangered Species Act and large protected habitats including Grand Teton and Yellowstone National Parks.
Would there still be space for the grizzly sow and cubs we watched playing in a field of yellow biscuit root, purple larkspur, and silvery lupine? What about those migrating elk heading north into Yellowstone? Would their ancient trails from hundreds of generations traveling across the landscape have been lost if Jackson Hole National Monument had been dissolved in the 1940s?
National Monuments have a clear track record of not just protecting wild places and the wild things within them but acting as sustainable economic drivers for local and regional economies. History it seems, has a way of repeating itself, and we are revisiting the same battle fought here in Jackson Hole over 70 years ago, but now over other treasured landscapes across the country.
Cliff Hansen realized the value of this valley was its preservation for future generations including his grandson, current Governor Matt Mead. We don't have to let the lessons of Jackson Hole National Monument and Grand Teton National Park be forgotten. First, visit the https://www.regulations.gov/document?D=DOI-2017-0002-0001 website and submit your comments regarding the National Monuments Review by this Monday, July 10th. Second, any change to the Monuments under review will also need congressional approval so be sure to remind your congressional representatives about the of the importance of our National Monuments with a phone call and email.
The persistence of these wild places depends on your voice, please add it today.
To learn more about joining a safari with Jackson Hole Ecotour Adventures visit our website or give us a call at (307) 690-9533. We hope to see you soon!
Photos and blog by Naturalist Josh Metten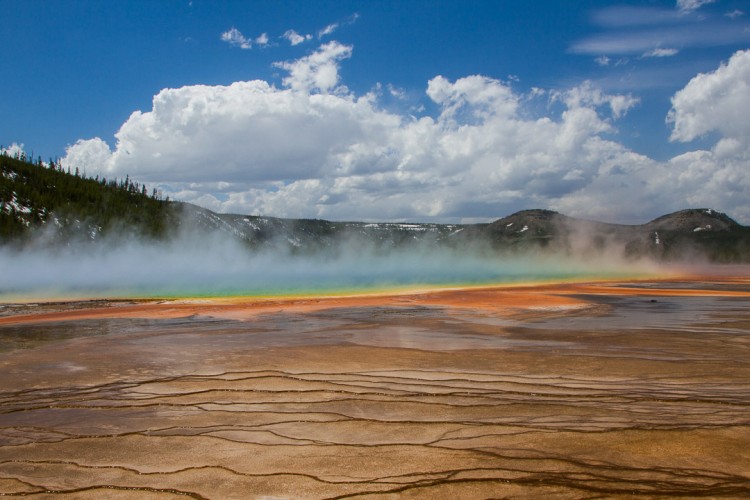 Grand Prismatic Hotspring, Yellowstone National Park Photo: Josh Metten
It's early summer in Yellowstone and Grand Teton National Parks. A popular destination since its formation in 1872, Yellowstone was promoted in the early 1900's as a trip through "Wonderland" by the Northern Pacific Railroad, whose tracks were laid just north of the park. Jackson Hole Ecotour Adventures Guide Laura Kruseski recently returned from a four day National Park Safari through Grand Teton and Yellowstone National Parks, read on to hear about the tour!
A Safari to "Wonderland'
On our recent multi-day trip to Yellowstone we discovered the wonders of our magnificent park. In four days and three nights we toured geyser basins, listened to the sounds of bubbling hydrothermal features after dark, saw a plethora of wildlife from tiny ground squirrels to giant grizzly bears, found fossils from ancient seas and forests, and hiked to remote areas of the park that are seldom seen by park visitors. A highlight of our trip was viewing an alpha male grey wolf feeding on an elk carcass in Soda Butte Creek! We were also able to spot several grizzly bears, including female bear with 2 cubs.
Beneath the Teton Range
Our first day was spent touring in Grand Teton National Park. We departed Spring Creek Ranch bright and early, and before entering the park we had already spotted a nesting pair of bald eagles and practiced using our Maven binoculars while viewing a few coyotes and red-tailed hawks. At Schwabacher's landing in Grand Teton National Park we were delighted to view a herd of cow elk cross a side channel of the Snake River.
Next we went fossil hunting at Blacktail Butte, which contains limestone deposits of an ancient ocean found here over 300 million years ago. The Madison formation contains fossilized corals, bivalves, and echinoderms (sea stars) which we observed before replacing them for others to find. Removing items from the park is prohibited to protect park resources for future generations.
After enjoying a great lunch at the famous Dornan's restaurant beneath the Teton Range, we headed north for a short hike with great Teton views. A herd of cow elk were playing in the water down below, and we also spotted a bachelor group doing their own thing, antlers rapidly growing beneath a fuzzy velvet covering.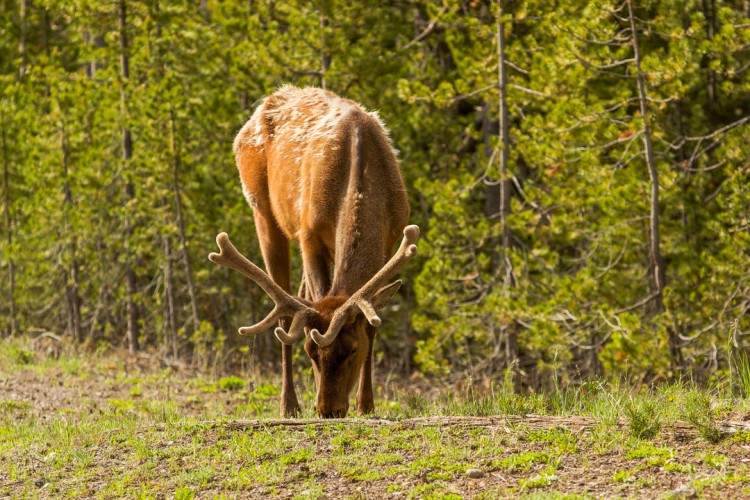 A bull elk with velvet covered antlers grazes during Laura's multi day wildlife safari in Grand Teton and Yellowstone National Parks.
Onward to Old Faithful
As the day waned, we completed the drive through Grand Teton and into Yellowstone National Parks, arriving at Old Faithful Inn, our lodging for the evening. We enjoyed dinner and drinks, saw an eruption of Old Faithful, then went out on a night hike in the geyser basin. Pheww!!! A long day which wrapped up around 11 pm!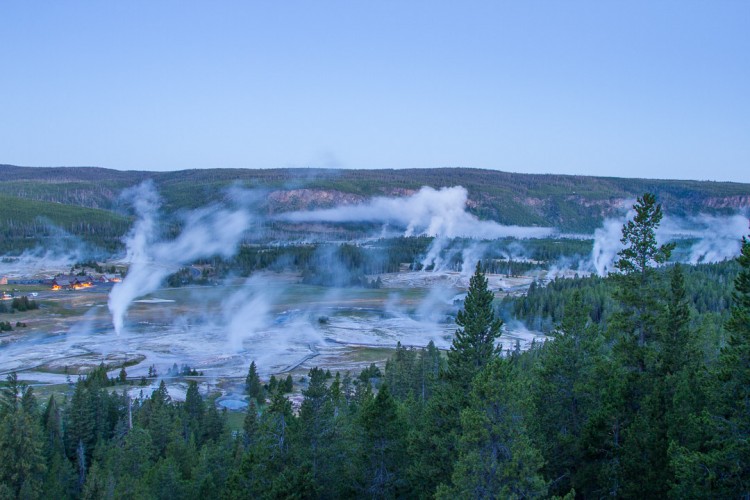 Yellowstone's Upper Geyser Basin including Old Faithful geyser and inn at left. Home to over 10,000 thermal features, Yellowstone National Park has a higher concentration of these geologic oddities than anywhere else on earth! Photo: Josh Metten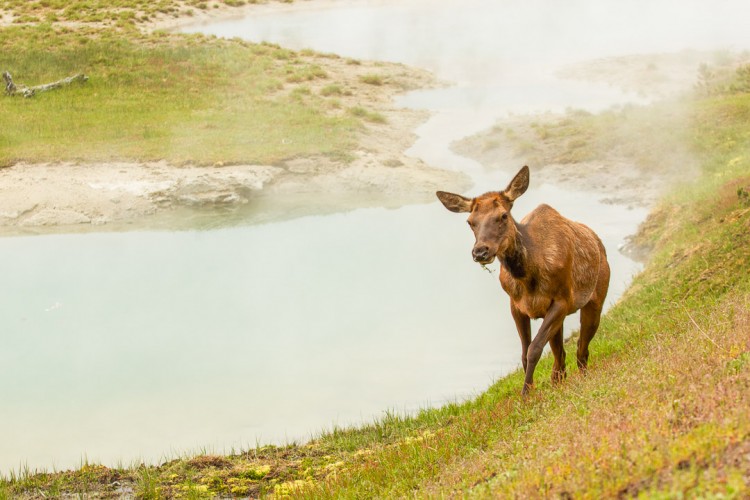 We found this cow elk walking near a thermal feature in Yellowstone. The crust around these boiling pools is thin and dangerous, and unfortunately both animals and people have died from falling in. Visitors can protect themselves by remaining on boardwalks at all times when visiting the thermal areas.
Yellowstone's Geothermal Features
On day two we departed Old Faithful to explore Yellowstone's hydrothermal features. At Fountain Paint Pots we viewed all four types of features found in Yellowstone National Park; hot pools, mud pots, fumaroles, and geysers. After a detour to the Wolf and Grizzly Bear Discovery Center in West Yellowstone we headed north to the Travertine Terraces of Mammoth Hot Springs. We tracked some bighorn sheep up onto a ridge, where we could hear a dusky grouse hooting. Then to Lamar and the northern range and out to Silvergate cabins where we were able to settle in for 2 nights.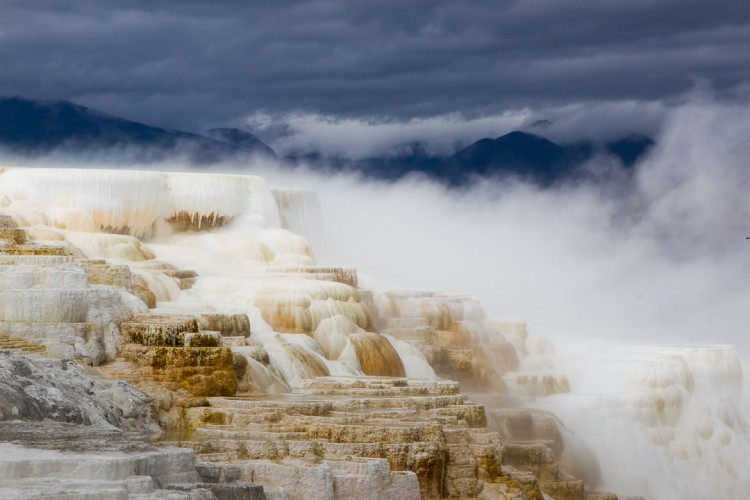 Mammoth Hotsprings is comprised of travertine, or calcium carbonate, a fast forming mineral originating from nearby limestone deposits. Photo: Josh Metten
Yellowstone's Northern Range, the American Serengeti
The highlight of our multi day tours are often the Northern Range of Yellowstone. Wolves were reintroduced here in 1995 after a 60 year absence and are thriving. The wide open river valleys and forested mountains create perfect habitat for thousands of bison, elk, pronghorn antelope, bighorn sheep, deer, grizzlies, and black bears. As we prepared for a hike up Specimen Ridge early on our first morning we spotted a Grizzly Bear up on our destination ridge. It soon departed and with bear spray in hand, (just in case) we set out on a great hike on Specimen Ridge trail where we encountered many animals from a distance, including bison grunting in a huge herd, pronghorn antelope snorting at us, elk by the dozens, and plenty of birds of prey and songbirds. Specimen Ridge is also dotted with bleached antlers, skulls, and some petrified wood from a volcanic eruption 50 million years ago!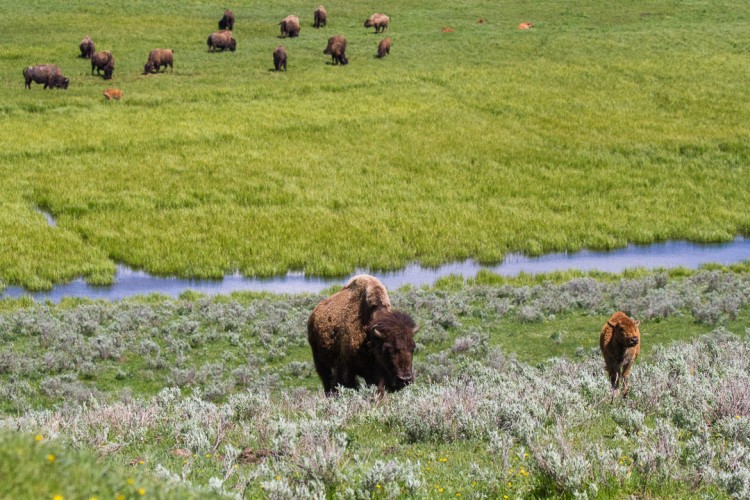 by the late 1800's Yellowstone's bison herd had declined to around 24 animals due to poaching. Today the population has rebounded to over 4000! Photo: Josh Metten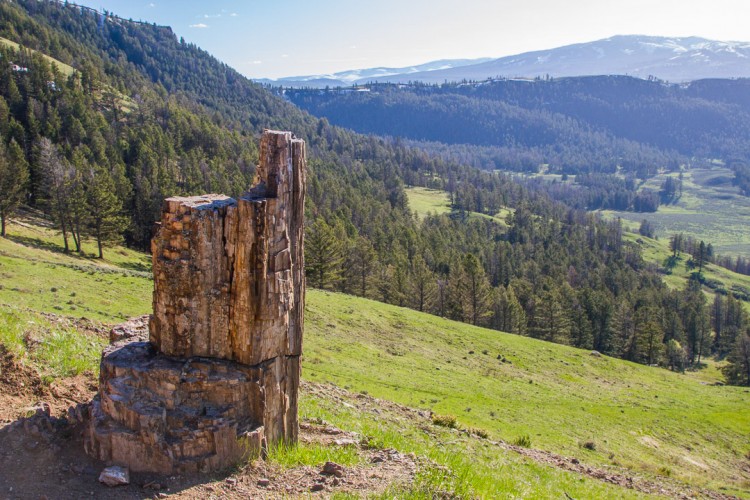 Petrified remains of ancient trees can be found on Specimen Ridge in Yellowstone's Northern Range. Please do not remove any pieces from them, so they will remain intact for future visitors. Photo: Josh Metten
On our final day we hit the road to return to Jackson Hole via Yellowstone and Grand Teton National Parks, but still had a chance to see 5 Grizzly Bears, 3 Black bears, Wolves at a Carcass in a creek, and many spectacular Yellowstone vistas. We stopped at the Upper and Lower Falls of the Yellowstone River watching in awe the force of over 50,000 cubic feet per second of water cascading over the drops.
A yellowstone wolf from the Lamar Canyon Pack feeds on an elk carcass in Soda Butte Creek of Yellowstone's Lamar Valley.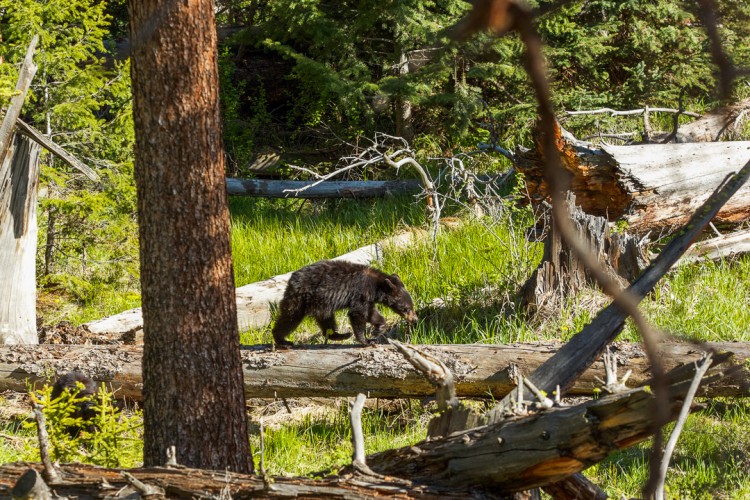 A juvenile black bear walks along a log in Yellowstone National Park as it forages
We came full circle at the base of the Tetons early in the evening, having completed a four day circuit of 'Wonderland.' Originally protected for it's thermal features, Yellowstone National Park has become the core of one of the last mostly intact temperate ecosystems left on earth. Today, visitors have an opportunity to not only take in the alien landscapes of Yellowstone's Geyser Basins and the towering monoliths of the Teton Range, but also a diversity and abundance of life reminiscent of our wild past. Come visit 'Wonderland' and see it for yourself.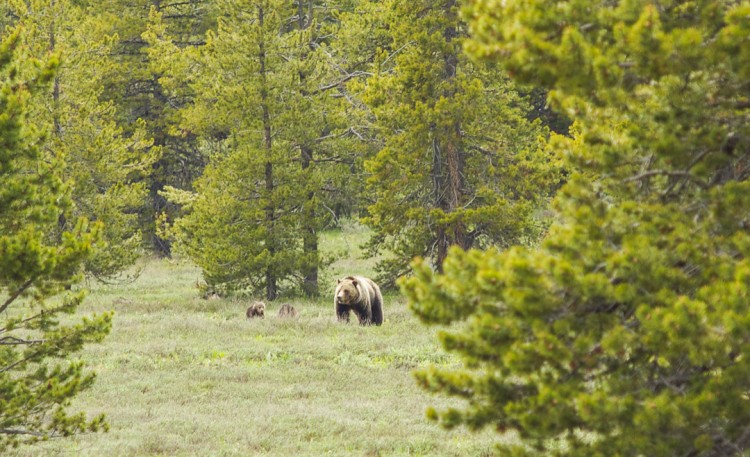 Grizzly bear populations once declined to less than 200 animals in the Greater Yellowstone Ecosystem. Protection as a threatened species under the Endangered Species Act have allowed grizzlies to rebound to around 700 animals, a number wildlife biologists is at or near the carrying capacity of the landscape. We found this sow and cubs in Northern Grand Teton National Park
To learn more about joining a single or multi day safari with Jackson Hole Ecotour Adventures visit our website or give us a call at (307) 690-9533. We hope to see you soon!

Photos and blog by Naturalist Laura Krusheski, additional photos provided by Naturalist Josh Metten
Herds of cow elk concentrate in the Willow Flats area of Grand Teton National Park, one of the most important calving areas in the Jackson Hole Valley.
Life is flourishing across the Jackson Hole Valley and green meadows of Yellowstone National Park. Elk and moose calves have been spotted, and the first newborn bear cubs of spring are romping around Grand Teton and Yellowstone National Parks. Though snow still remains in the high country, an amazing transformation has occurred in the valleys as wildflowers burst forth, offering nectar to buzzing insects, songbirds and even hungry bruins.
Late May marks a shift from scarcity to abundance across the Greater Yellowstone Ecosystem. Plants are growing vigorously, providing nutrient and calorie dense forage which facilitates fast antler growth and rich milk to rapidly growing baby mammals. Predators, with their own young to feed, are also benefiting from this flush of life.
We've had an exciting month of wildlife observations while out exploring Yellowstone and Grand Teton National Parks. From bighorn to beavers, great gray owls to grizzlies and gray wolves, this spring has been an unforgettable one. Read on to learn more!
Late May is calving season!
By Late May, many of our big game herds have migrated to the parturition sites where they were born in preparation for having their own calves. Elk who wintered on the National Elk Refuge, are now spread out throughout Yellowstone and Grand Teton National Parks, and last week we observed our first spotted elk calf. Just days old, the calf walked unsteadily through an open meadow near the forest edge within Grand Teton National Park.
Moose calves have also been observed on our Grand Teton wildlife safaris, and, in contrast to elk, follow their mother closely for protection. Mother moose are extremely protective and may fight to defend their calves against danger, perceived or real. To avoid a dangerous encounter, be sure to follow park regulations and remain at least 25 yards from any animal, 100 yards from predators like bears and wolves.
It's umbilical cord still visible, a newborn moose takes some of it's first unsteady steps during a wildlife safari of Grand Teton National Park. Video by Wildlife Guide Verlin Carlton Stephens.
Grizzly Cubs emerge in Grand Teton and Yellowstone National Parks
May has been the month of the grizzly during our wildlife and photography tours of Jackson Hole and Yellowstone. Both adult and baby grizzlies have been observed, including several bears with cubs of the year in tow.
Wildlife Tour Guide Verlin Carlton Stephens captured this footage of a grizzly and her two young cubs playing on a Grand Teton Safari last week. Verlin previously worked for the Interagency Grizzly Bear Study Team and has extensive knowledge of bears and Yellowstone.Having never seen the world before, cubs are adventurous and curious, romping around with their mother close by. Like moose, grizzly sows are also extremely protective of cubs and must be respected by keeping at least a 100 yard distance from the animals.
Yellowstone Opens for the Summer
Earlier this month, the south entrance to Yellowstone National Park opened for the year, and we are now guiding full day and multi day Yellowstone Tours from Jackson Hole. Dunraven Pass from Canyon Village to Tower Village and the Beartooth Highway into Montana from Yellowstone's Lamar Valley are also open. These high mountain roads provide a wonderful opportunity to view the remaining snow from our deep winter.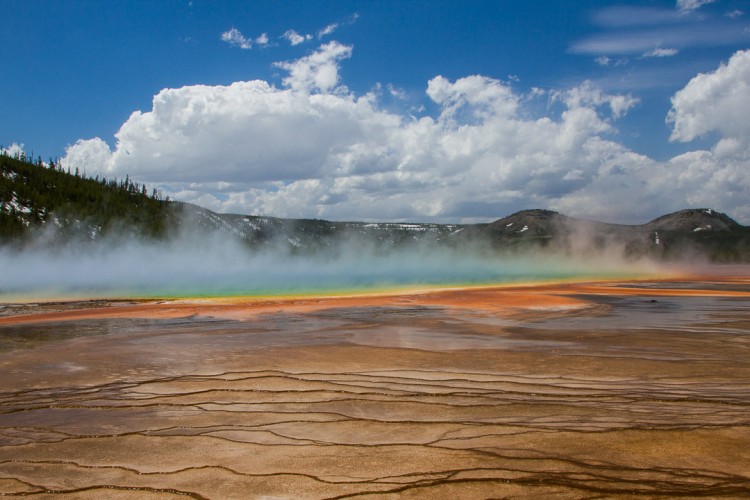 The colors of Grand Prismatic offer a brilliant display of the diverse microbes thriving in this extreme environment.
Due to a partial road collapse, the Grand Loop Road north of the Artist's point turn and south of North Rim Drive is limited to one lane travel and delays are expected. Stay tuned to our Facebook page for updates on the closure.
Wolf Sightings on Ecotour Adventures Multi-day
Though wolves are found in both Grand Teton and Yellowstone National Parks, The Lamar Valley of Yellowstone is one of our favorite locations to find them! Last week guide Laura Krusheski found wolves from the Lamar Canyon Pack feeding on an elk kill during a multi day wildlife tour. Yellowstone is home to around 100 wolves, who were reintroduced in 1995 after a 60 year absence.
The alpha male from the Lamar Canyon Pack feeds on an elk carcass during a recent multi day tour of Yellowstone. Wolves are opportunistic hunters targeting weak or injured animals when hunting.
Busy Beavers
As lakes and rivers of Yellowstone and Grand Teton become ice free, beaver activity has increased, as these charismatic rodents build dams in an attempt to hold back snowmelt. In some areas they succeed, flooding meadows and creating quality riparian habitat for moose, songbirds, young trout, and other species. Retaining water in spring aids in hydrating the landscape throughout the summer, which is often dry.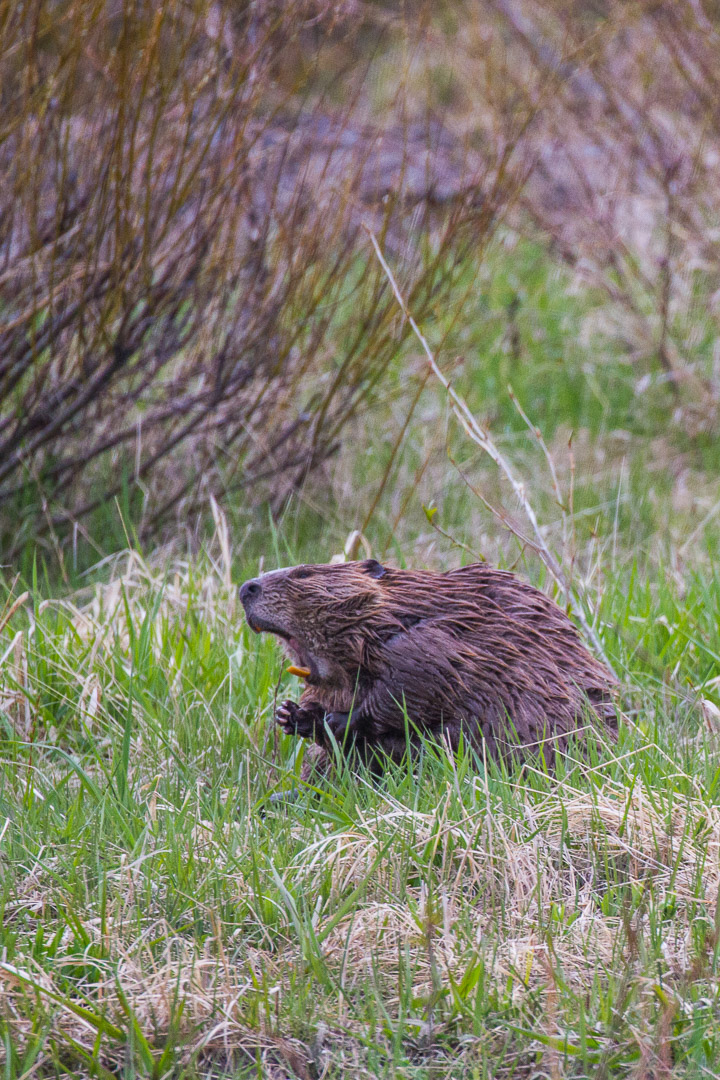 Beavers like this one must constantly chew to keep their incisors from growing too long! The reddish color is iron which resists tooth decay from the acid found in the trees they eat.
Birds flock to Yellowstone
One of our favorite bird species, harlequin ducks, have returned from their winter along the coast of the Pacific Northwest. Currently foraging in the LeHardy's rapids of the Yellowstone River, these whitewater specialists swim and dive underwater confidently throughout the cascading rapids, foraging for small insects in the river bottom.
Last week after counting 17 harlequins, we headed north into the Hayden Valley to find 8 different duck species along the Yellowstone River, golden and bald eagles, and Swainson's hawks. Over 300 different species of birds call Yellowstone home.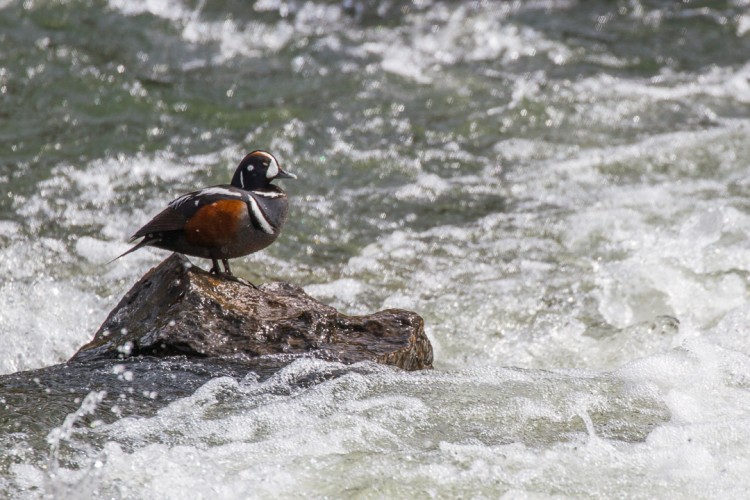 These confident whitewater ducks also have some of the fastest healing bones of any bird species, an important adaptation for the turbulant waters they frequent.
Ospreys are nesting along waterways in Grand Teton and Yellowstone National Parks, including some of our favorite nests right inside the Grand Canyon of the Yellowstone. Elevated on rock spires near the 306 foot tall Lower Falls of the Yellowstone River, these nests make for some spectacular real estate! Using our brand new Maven Spotting Scopes we get an intimate look into the nests from above, and should be viewing baby chicks in the next two weeks.
The Fur Flies - Mammals Shed Winter Coats
Unlike the osprey who have returned to Yellowstone and Jackson Hole from the warmth of the gulf of Mexico, Our hooved mammals remained behind, growing thick coats to insulate against the cold. Animals are now shedding winter coats in favor of lighter fur for the warm summer. Bighorn sheep and bison may be the most pronounced and large mats of fur can often be found blowing in the wind.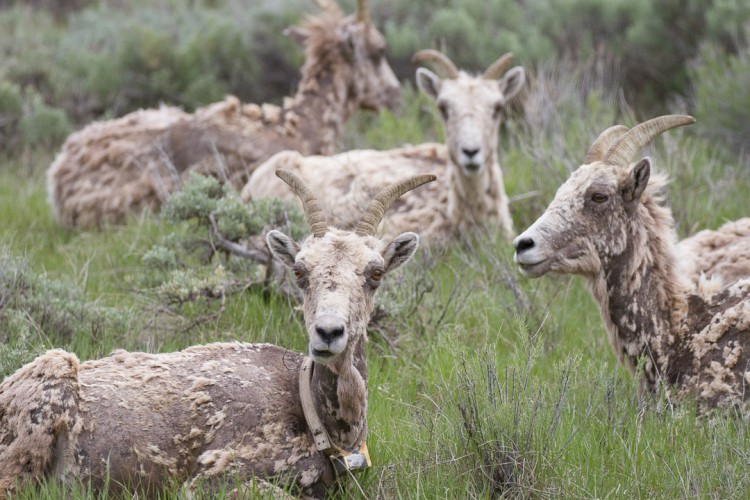 The thick winter coats that shielded these bighorn ewes from winter's chill are all but gone as they linger in the Jackson Hole Valley, awaiting high mountain snowmelt to free up habitat for the summer.
The Transformation to Summer
The Transformation of Grand Teton and Yellowstone National Parks from a winter wonderland to summers playground is nearly complete. June will bring more baby animals, as mule deer and pronghorn antelope appear with fawns in tow. Moisture from the past winter is already fueling a spectacular wildflower season, sure to continue long into the summer months. In August, a total solar eclipse will pass right over Jackson Hole, making our valley an epicenter for eclipse watching enthusiasts and lodging is already full!
This summer promises to be a busy one, full of wildlife sightings and great experiences in Yellowstone and Grand Teton National Parks. To learn more about joining a safari with Jackson Hole Ecotour Adventures visit our website or give us a call at (307) 690-9533. We hope to see you soon!
Photos and blog by Naturalist Josh Metten