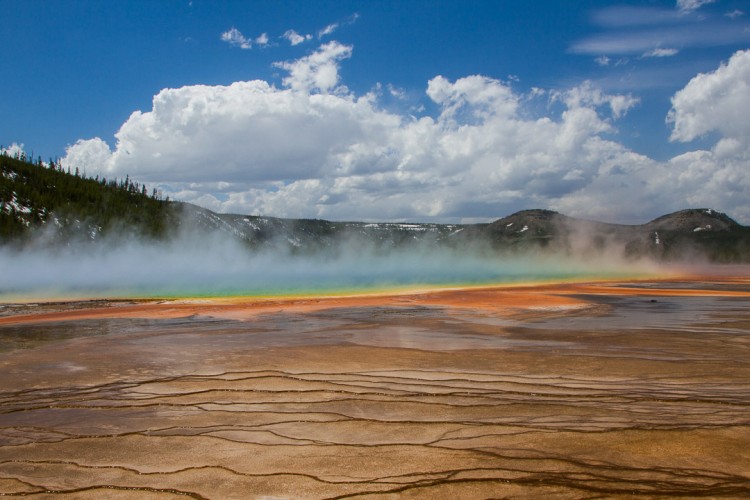 Grand Prismatic Hotspring, Yellowstone National Park Photo: Josh Metten
It's early summer in Yellowstone and Grand Teton National Parks. A popular destination since its formation in 1872, Yellowstone was promoted in the early 1900's as a trip through "Wonderland" by the Northern Pacific Railroad, whose tracks were laid just north of the park. Jackson Hole Ecotour Adventures Guide Laura Kruseski recently returned from a four day National Park Safari through Grand Teton and Yellowstone National Parks, read on to hear about the tour!
A Safari to "Wonderland'
On our recent multi-day trip to Yellowstone we discovered the wonders of our magnificent park. In four days and three nights we toured geyser basins, listened to the sounds of bubbling hydrothermal features after dark, saw a plethora of wildlife from tiny ground squirrels to giant grizzly bears, found fossils from ancient seas and forests, and hiked to remote areas of the park that are seldom seen by park visitors. A highlight of our trip was viewing an alpha male grey wolf feeding on an elk carcass in Soda Butte Creek! We were also able to spot several grizzly bears, including female bear with 2 cubs.
Beneath the Teton Range
Our first day was spent touring in Grand Teton National Park. We departed Spring Creek Ranch bright and early, and before entering the park we had already spotted a nesting pair of bald eagles and practiced using our Maven binoculars while viewing a few coyotes and red-tailed hawks. At Schwabacher's landing in Grand Teton National Park we were delighted to view a herd of cow elk cross a side channel of the Snake River.
Next we went fossil hunting at Blacktail Butte, which contains limestone deposits of an ancient ocean found here over 300 million years ago. The Madison formation contains fossilized corals, bivalves, and echinoderms (sea stars) which we observed before replacing them for others to find. Removing items from the park is prohibited to protect park resources for future generations.
After enjoying a great lunch at the famous Dornan's restaurant beneath the Teton Range, we headed north for a short hike with great Teton views. A herd of cow elk were playing in the water down below, and we also spotted a bachelor group doing their own thing, antlers rapidly growing beneath a fuzzy velvet covering.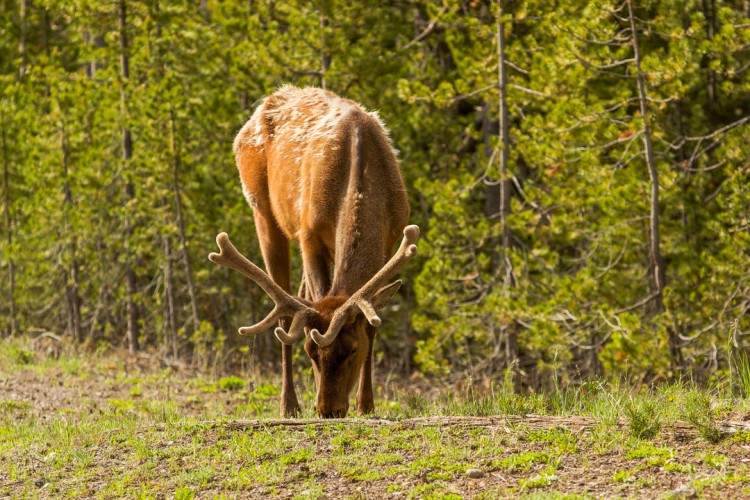 A bull elk with velvet covered antlers grazes during Laura's multi day wildlife safari in Grand Teton and Yellowstone National Parks.
Onward to Old Faithful
As the day waned, we completed the drive through Grand Teton and into Yellowstone National Parks, arriving at Old Faithful Inn, our lodging for the evening. We enjoyed dinner and drinks, saw an eruption of Old Faithful, then went out on a night hike in the geyser basin. Pheww!!! A long day which wrapped up around 11 pm!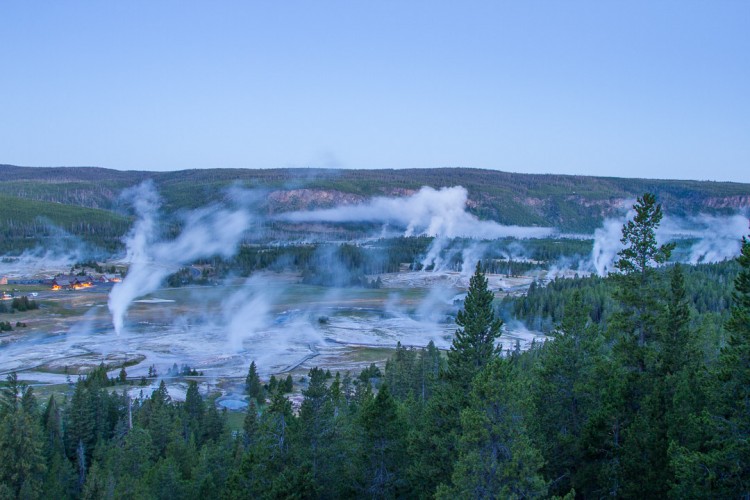 Yellowstone's Upper Geyser Basin including Old Faithful geyser and inn at left. Home to over 10,000 thermal features, Yellowstone National Park has a higher concentration of these geologic oddities than anywhere else on earth! Photo: Josh Metten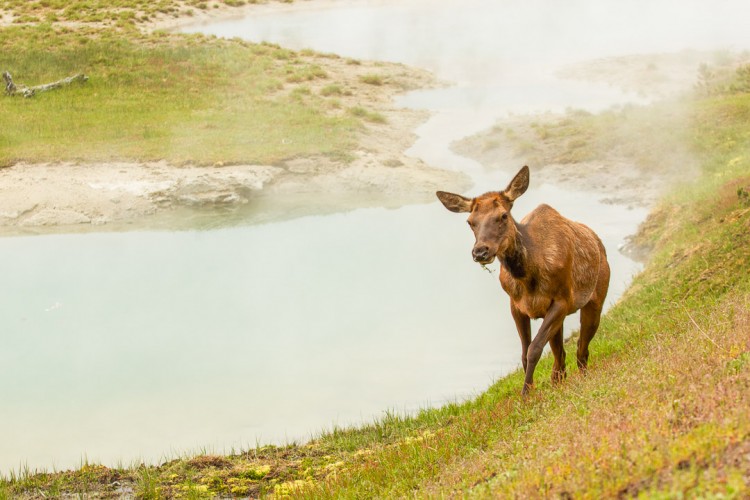 We found this cow elk walking near a thermal feature in Yellowstone. The crust around these boiling pools is thin and dangerous, and unfortunately both animals and people have died from falling in. Visitors can protect themselves by remaining on boardwalks at all times when visiting the thermal areas.
Yellowstone's Geothermal Features
On day two we departed Old Faithful to explore Yellowstone's hydrothermal features. At Fountain Paint Pots we viewed all four types of features found in Yellowstone National Park; hot pools, mud pots, fumaroles, and geysers. After a detour to the Wolf and Grizzly Bear Discovery Center in West Yellowstone we headed north to the Travertine Terraces of Mammoth Hot Springs. We tracked some bighorn sheep up onto a ridge, where we could hear a dusky grouse hooting. Then to Lamar and the northern range and out to Silvergate cabins where we were able to settle in for 2 nights.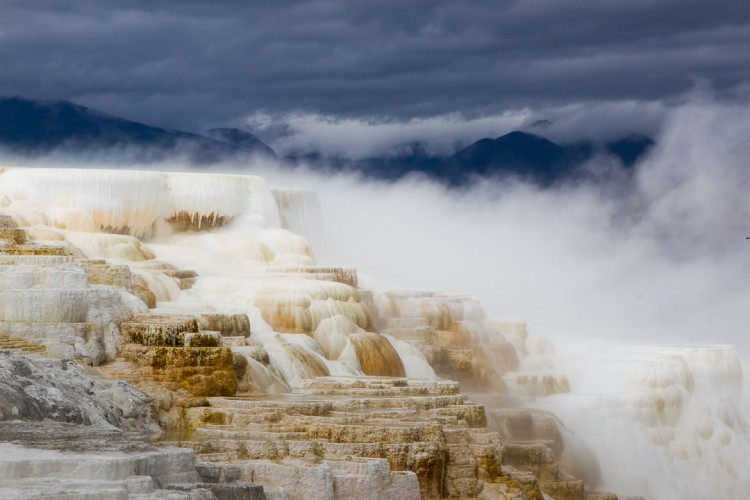 Mammoth Hotsprings is comprised of travertine, or calcium carbonate, a fast forming mineral originating from nearby limestone deposits. Photo: Josh Metten
Yellowstone's Northern Range, the American Serengeti
The highlight of our multi day tours are often the Northern Range of Yellowstone. Wolves were reintroduced here in 1995 after a 60 year absence and are thriving. The wide open river valleys and forested mountains create perfect habitat for thousands of bison, elk, pronghorn antelope, bighorn sheep, deer, grizzlies, and black bears. As we prepared for a hike up Specimen Ridge early on our first morning we spotted a Grizzly Bear up on our destination ridge. It soon departed and with bear spray in hand, (just in case) we set out on a great hike on Specimen Ridge trail where we encountered many animals from a distance, including bison grunting in a huge herd, pronghorn antelope snorting at us, elk by the dozens, and plenty of birds of prey and songbirds. Specimen Ridge is also dotted with bleached antlers, skulls, and some petrified wood from a volcanic eruption 50 million years ago!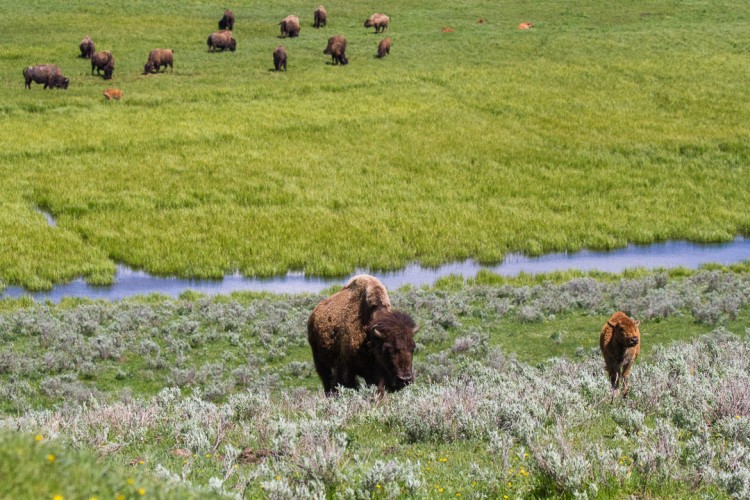 by the late 1800's Yellowstone's bison herd had declined to around 24 animals due to poaching. Today the population has rebounded to over 4000! Photo: Josh Metten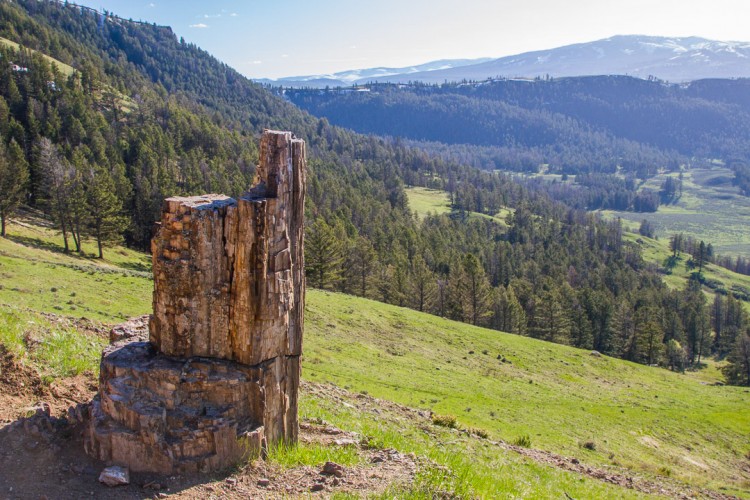 Petrified remains of ancient trees can be found on Specimen Ridge in Yellowstone's Northern Range. Please do not remove any pieces from them, so they will remain intact for future visitors. Photo: Josh Metten
On our final day we hit the road to return to Jackson Hole via Yellowstone and Grand Teton National Parks, but still had a chance to see 5 Grizzly Bears, 3 Black bears, Wolves at a Carcass in a creek, and many spectacular Yellowstone vistas. We stopped at the Upper and Lower Falls of the Yellowstone River watching in awe the force of over 50,000 cubic feet per second of water cascading over the drops.
A yellowstone wolf from the Lamar Canyon Pack feeds on an elk carcass in Soda Butte Creek of Yellowstone's Lamar Valley.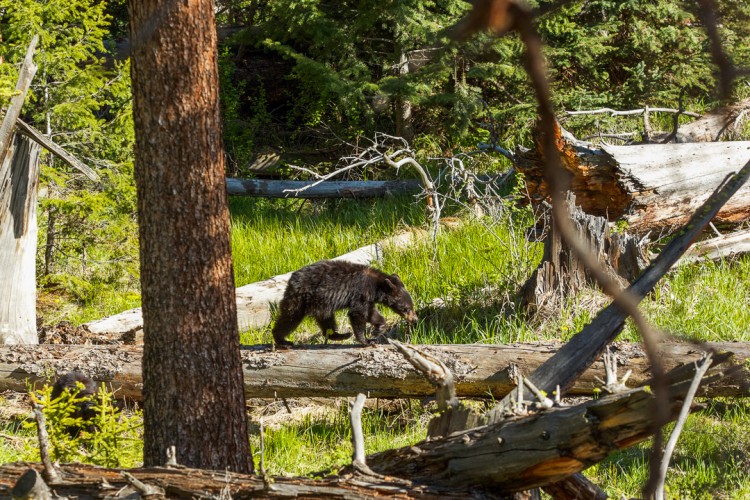 A juvenile black bear walks along a log in Yellowstone National Park as it forages
We came full circle at the base of the Tetons early in the evening, having completed a four day circuit of 'Wonderland.' Originally protected for it's thermal features, Yellowstone National Park has become the core of one of the last mostly intact temperate ecosystems left on earth. Today, visitors have an opportunity to not only take in the alien landscapes of Yellowstone's Geyser Basins and the towering monoliths of the Teton Range, but also a diversity and abundance of life reminiscent of our wild past. Come visit 'Wonderland' and see it for yourself.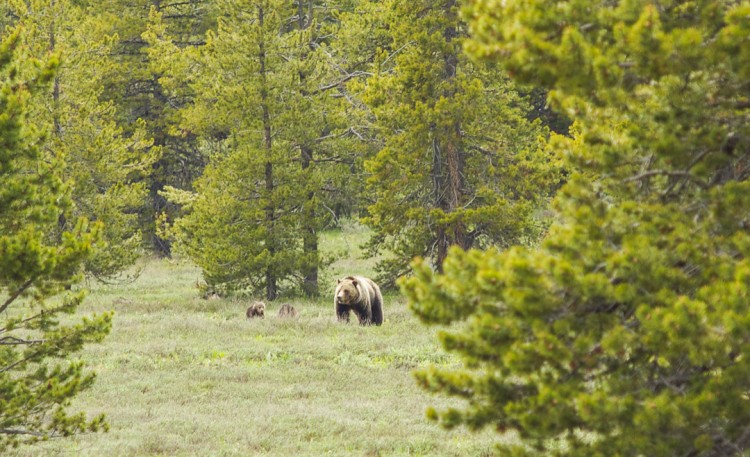 Grizzly bear populations once declined to less than 200 animals in the Greater Yellowstone Ecosystem. Protection as a threatened species under the Endangered Species Act have allowed grizzlies to rebound to around 700 animals, a number wildlife biologists is at or near the carrying capacity of the landscape. We found this sow and cubs in Northern Grand Teton National Park
To learn more about joining a single or multi day safari with Jackson Hole Ecotour Adventures visit our website or give us a call at (307) 690-9533. We hope to see you soon!

Photos and blog by Naturalist Laura Krusheski, additional photos provided by Naturalist Josh Metten
Herds of cow elk concentrate in the Willow Flats area of Grand Teton National Park, one of the most important calving areas in the Jackson Hole Valley.
Life is flourishing across the Jackson Hole Valley and green meadows of Yellowstone National Park. Elk and moose calves have been spotted, and the first newborn bear cubs of spring are romping around Grand Teton and Yellowstone National Parks. Though snow still remains in the high country, an amazing transformation has occurred in the valleys as wildflowers burst forth, offering nectar to buzzing insects, songbirds and even hungry bruins.
Late May marks a shift from scarcity to abundance across the Greater Yellowstone Ecosystem. Plants are growing vigorously, providing nutrient and calorie dense forage which facilitates fast antler growth and rich milk to rapidly growing baby mammals. Predators, with their own young to feed, are also benefiting from this flush of life.
We've had an exciting month of wildlife observations while out exploring Yellowstone and Grand Teton National Parks. From bighorn to beavers, great gray owls to grizzlies and gray wolves, this spring has been an unforgettable one. Read on to learn more!
Late May is calving season!
By Late May, many of our big game herds have migrated to the parturition sites where they were born in preparation for having their own calves. Elk who wintered on the National Elk Refuge, are now spread out throughout Yellowstone and Grand Teton National Parks, and last week we observed our first spotted elk calf. Just days old, the calf walked unsteadily through an open meadow near the forest edge within Grand Teton National Park.
Moose calves have also been observed on our Grand Teton wildlife safaris, and, in contrast to elk, follow their mother closely for protection. Mother moose are extremely protective and may fight to defend their calves against danger, perceived or real. To avoid a dangerous encounter, be sure to follow park regulations and remain at least 25 yards from any animal, 100 yards from predators like bears and wolves.
It's umbilical cord still visible, a newborn moose takes some of it's first unsteady steps during a wildlife safari of Grand Teton National Park. Video by Wildlife Guide Verlin Carlton Stephens.
Grizzly Cubs emerge in Grand Teton and Yellowstone National Parks
May has been the month of the grizzly during our wildlife and photography tours of Jackson Hole and Yellowstone. Both adult and baby grizzlies have been observed, including several bears with cubs of the year in tow.
Wildlife Tour Guide Verlin Carlton Stephens captured this footage of a grizzly and her two young cubs playing on a Grand Teton Safari last week. Verlin previously worked for the Interagency Grizzly Bear Study Team and has extensive knowledge of bears and Yellowstone.Having never seen the world before, cubs are adventurous and curious, romping around with their mother close by. Like moose, grizzly sows are also extremely protective of cubs and must be respected by keeping at least a 100 yard distance from the animals.
Yellowstone Opens for the Summer
Earlier this month, the south entrance to Yellowstone National Park opened for the year, and we are now guiding full day and multi day Yellowstone Tours from Jackson Hole. Dunraven Pass from Canyon Village to Tower Village and the Beartooth Highway into Montana from Yellowstone's Lamar Valley are also open. These high mountain roads provide a wonderful opportunity to view the remaining snow from our deep winter.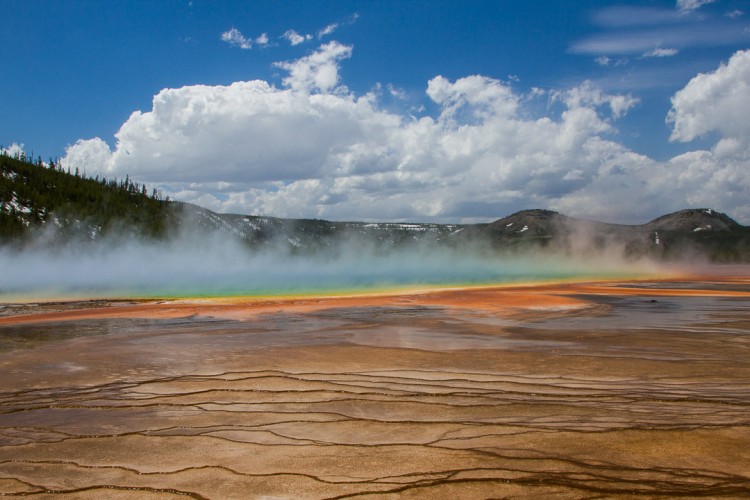 The colors of Grand Prismatic offer a brilliant display of the diverse microbes thriving in this extreme environment.
Due to a partial road collapse, the Grand Loop Road north of the Artist's point turn and south of North Rim Drive is limited to one lane travel and delays are expected. Stay tuned to our Facebook page for updates on the closure.
Wolf Sightings on Ecotour Adventures Multi-day
Though wolves are found in both Grand Teton and Yellowstone National Parks, The Lamar Valley of Yellowstone is one of our favorite locations to find them! Last week guide Laura Krusheski found wolves from the Lamar Canyon Pack feeding on an elk kill during a multi day wildlife tour. Yellowstone is home to around 100 wolves, who were reintroduced in 1995 after a 60 year absence.
The alpha male from the Lamar Canyon Pack feeds on an elk carcass during a recent multi day tour of Yellowstone. Wolves are opportunistic hunters targeting weak or injured animals when hunting.
Busy Beavers
As lakes and rivers of Yellowstone and Grand Teton become ice free, beaver activity has increased, as these charismatic rodents build dams in an attempt to hold back snowmelt. In some areas they succeed, flooding meadows and creating quality riparian habitat for moose, songbirds, young trout, and other species. Retaining water in spring aids in hydrating the landscape throughout the summer, which is often dry.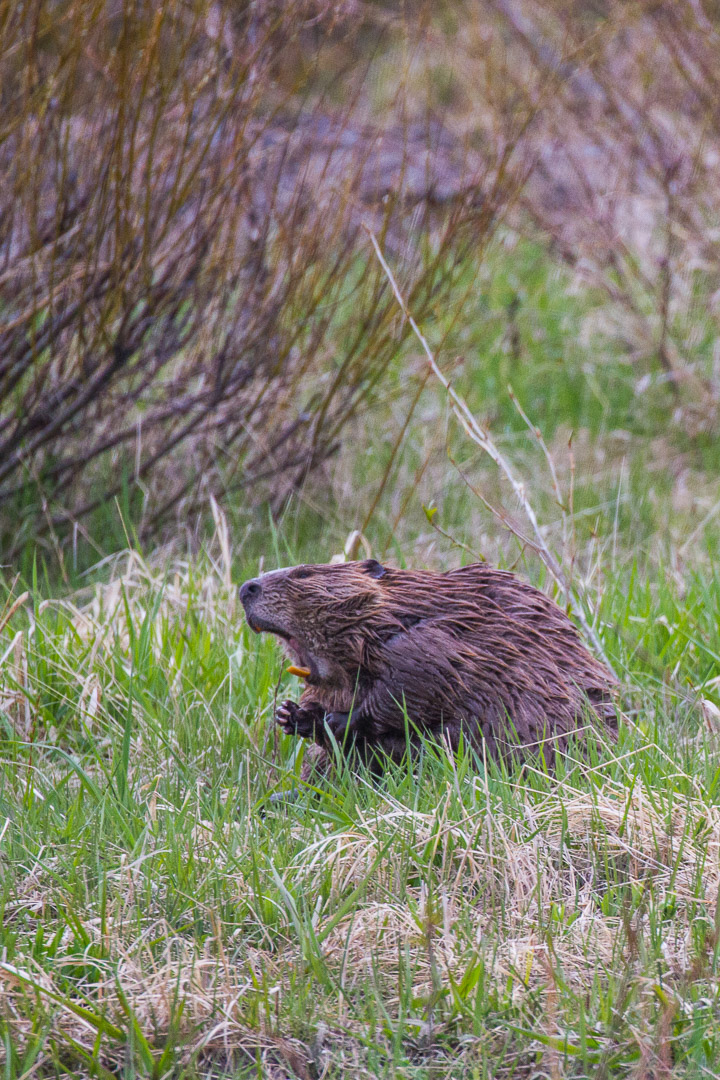 Beavers like this one must constantly chew to keep their incisors from growing too long! The reddish color is iron which resists tooth decay from the acid found in the trees they eat.
Birds flock to Yellowstone
One of our favorite bird species, harlequin ducks, have returned from their winter along the coast of the Pacific Northwest. Currently foraging in the LeHardy's rapids of the Yellowstone River, these whitewater specialists swim and dive underwater confidently throughout the cascading rapids, foraging for small insects in the river bottom.
Last week after counting 17 harlequins, we headed north into the Hayden Valley to find 8 different duck species along the Yellowstone River, golden and bald eagles, and Swainson's hawks. Over 300 different species of birds call Yellowstone home.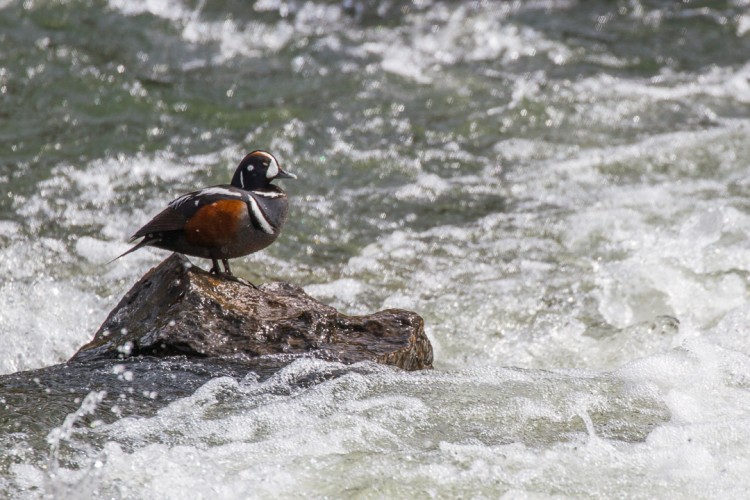 These confident whitewater ducks also have some of the fastest healing bones of any bird species, an important adaptation for the turbulant waters they frequent.
Ospreys are nesting along waterways in Grand Teton and Yellowstone National Parks, including some of our favorite nests right inside the Grand Canyon of the Yellowstone. Elevated on rock spires near the 306 foot tall Lower Falls of the Yellowstone River, these nests make for some spectacular real estate! Using our brand new Maven Spotting Scopes we get an intimate look into the nests from above, and should be viewing baby chicks in the next two weeks.
The Fur Flies - Mammals Shed Winter Coats
Unlike the osprey who have returned to Yellowstone and Jackson Hole from the warmth of the gulf of Mexico, Our hooved mammals remained behind, growing thick coats to insulate against the cold. Animals are now shedding winter coats in favor of lighter fur for the warm summer. Bighorn sheep and bison may be the most pronounced and large mats of fur can often be found blowing in the wind.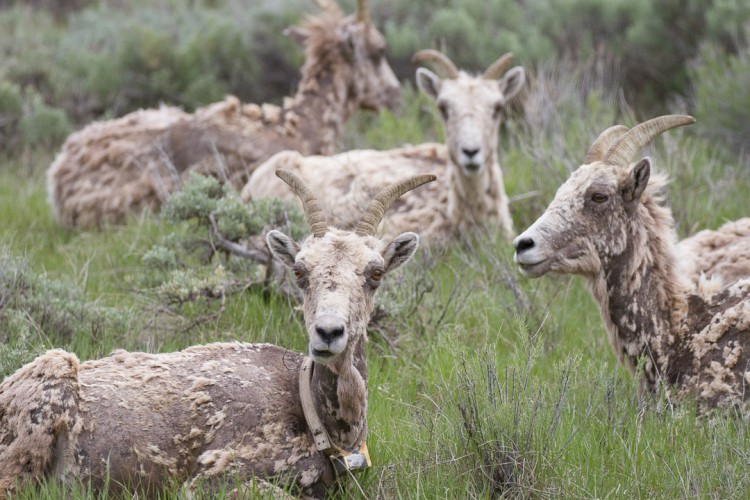 The thick winter coats that shielded these bighorn ewes from winter's chill are all but gone as they linger in the Jackson Hole Valley, awaiting high mountain snowmelt to free up habitat for the summer.
The Transformation to Summer
The Transformation of Grand Teton and Yellowstone National Parks from a winter wonderland to summers playground is nearly complete. June will bring more baby animals, as mule deer and pronghorn antelope appear with fawns in tow. Moisture from the past winter is already fueling a spectacular wildflower season, sure to continue long into the summer months. In August, a total solar eclipse will pass right over Jackson Hole, making our valley an epicenter for eclipse watching enthusiasts and lodging is already full!
This summer promises to be a busy one, full of wildlife sightings and great experiences in Yellowstone and Grand Teton National Parks. To learn more about joining a safari with Jackson Hole Ecotour Adventures visit our website or give us a call at (307) 690-9533. We hope to see you soon!
Photos and blog by Naturalist Josh Metten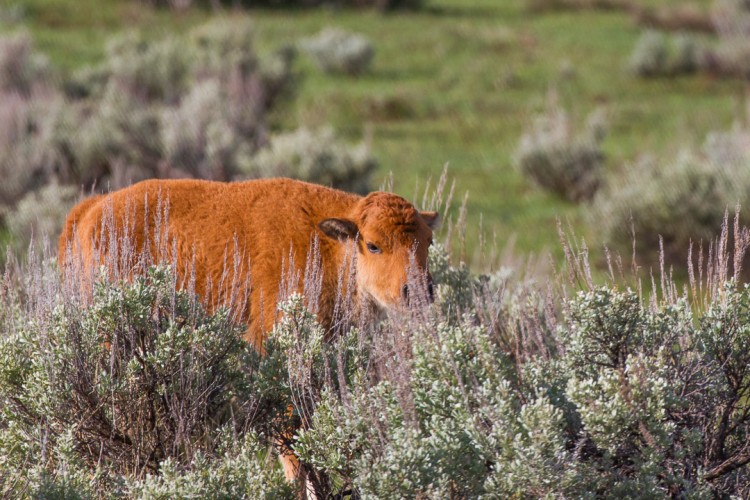 Bison calves, like this one we found last week, are some of the first baby animals we observe in spring.
The Jackson Hole Valley is springing to life as temperatures continue to warm and snow begins to recede up the mountain sides of Grand Teton National Park. Roads in Grand Teton and Yellowstone National Parks, formerly closed for the winter, are beginning to open, offering fresh opportunities for exploration.
May is one of our favorite times to observe the abundant wildlife of Jackson Hole. Grizzlies and wolves are often visible in both Grand Teton and Yellowstone National Parks. Migratory birds are arriving in the valley every day, our great mammal migrations continue to follow melting snows towards the high country. Our first baby bison and eaglets have been spotted, hinting at the flush of baby animals to come later in the month.
It's a spectacular time of year to take a wildlife safari in Jackson Hole. Read on for the latest information on grizzly and wolf sightings, Grand Teton and Yellowstone road openings, migrating elk, deer, and pronghorn, our first baby bison observation, and more!
May means Grizzlies!
Early May has been full of grizzlies this year as the bears continue to emerge from hibernation. The cubs of grizzly 610 (a bear being studied in Grand Teton) have dispersed, going their separate ways after spending two years learning how to be a bear. Late May and June is mating season for grizzlies, and several boars (males) are courting 610.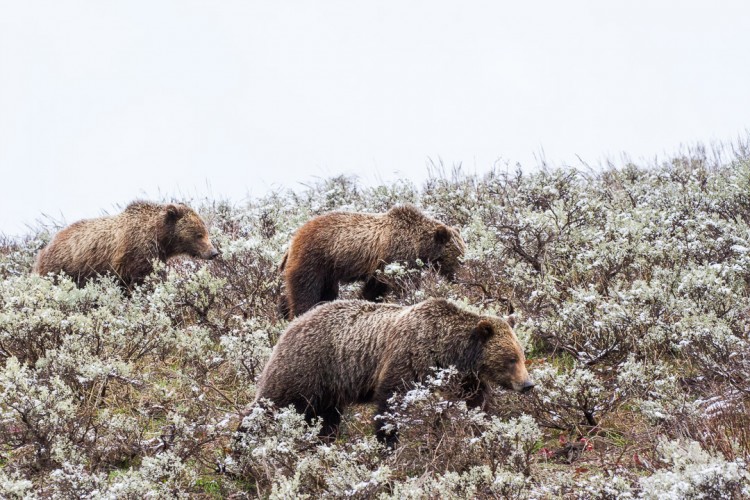 Grizzly 610 and cubs in late April. The cubs have now dispersed in Grand Teton National Park, making their way out into the world after spending two years learning how to be bear with their mother.
If mating is successful, the fertilized eggs will enter stasis, halting cell division and implantation into the uterus until later in the fall. This adaptation, known as delayed implantation, allows bears to mate when food is abundant, and complete the 5 month pregnancy during winter hibernation. Over 100 mammal species use this adaptation including weasels, otters, and marsupials!
With a nose 100 times more sensitive than that of a human, this grizzly can sniff out the faintest scents. Right now bears are digging up edible roots, small mammals, grazing, seeking out winter killed carcasses, and whatever else they can find!
We have not yet observed any new cubs this spring, but it is likely that at least two females often observed in Grand Teton may emerge with some in tow! Black Bears are also beginning to be observed in Jackson Hole, we hope to find cubs soon.
Grand Teton and Yellowstone Road Report
As winter snow begins to quickly melt, roads in Grand Teton and Yellowstone National Park are reopening for the summer. Last week the Teton Park Road opened, providing access to Jenny Lake and other scenic locations at the base of the Tetons. Schwabacher Landing, a famous sunrise and sunset photography spot in the Snake River bottom is now open, as well as Deadman's Bar, a boat launch for scenic and fly fishing floats throughout the summer.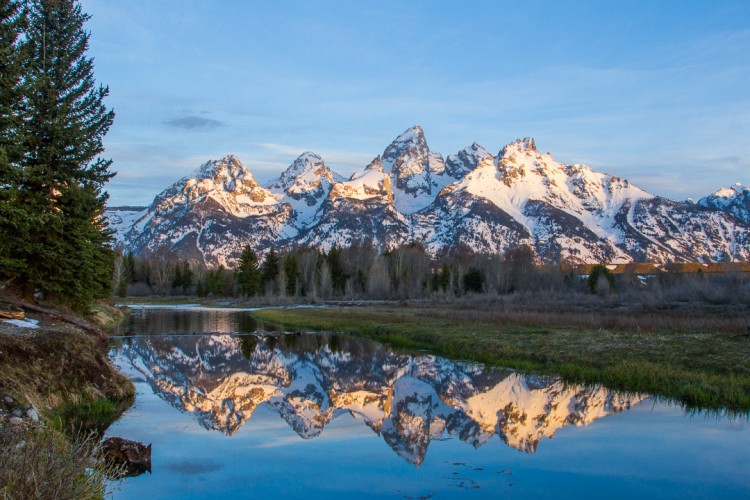 A recent sunrise from Schwabacher Landing. We also observed mule deer, waterfowl, and beavers in the still morning air.
The south entrance to Yellowstone National Park opens this Friday, May 12th, just in time for our first multi day tour of the year! We start daily trips to Yellowstone from Jackson the following week. The West, North, and East (Sylvan Pass) entrances to Yellowstone National Park are now open, and Dunraven Pass (Canyon to Tower Fall) and the Beartooth Highway (Northeast Entrance) will open on May 26th.
Velvet Antlers, Return of the Pronghorn
Our deer species (elk, moose, mule and whitetail deer) have all shed antlers by now, in preparation for growing the next year's set. This energy intensive process aids in creating a dominance hierarchy among the males. Those with larger antlers are often able to mate with more females in the fall. We have been observing all four species in velvet, a soft fuzzy tissue which protects blood vessels feeding the growing antlers that are made of bone.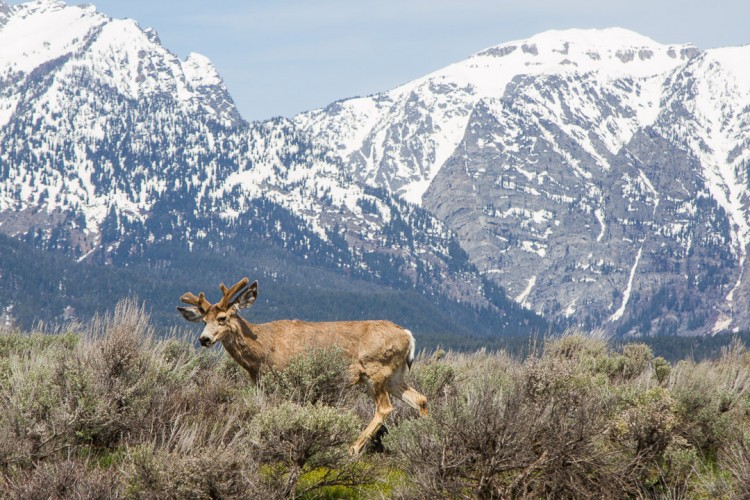 This mule deer buck is rapidly growing antlers, benefiting from the bright green grasses now growing in the Jackson Hole Valley. Researchers with the Wyoming Migration Initiative have confirmed that deer "Surf the Green Wave," selecting for areas at peak greenness along their migration routes. Peak greenness corresponds to the highest protein and nutrient content of the year!
Elk continue to march north towards summer range along the base of the Teton Range in Grand Teton National Park, in the Teton Wilderness north of Jackson Hole, and as far north as the southern shores of Yellowstone Lake, over 60 miles from their winter range near the town of Jackson. We have also recently observed our first pronghorn antelope of the year. Close to 400 of them migrate to the valley along the "Path of the Pronghorn," a 100 mile federally protected migration route returning from the south near Pinedale, WY.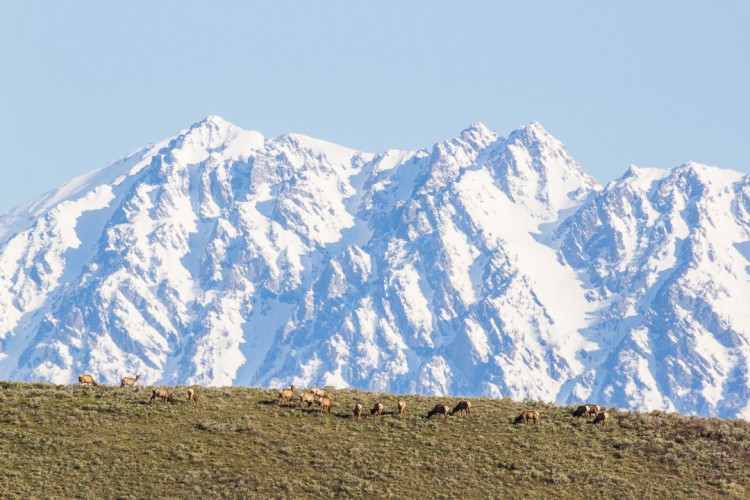 Elk are widespread across Grand Teton National Park in April and May, following melting snows to summer habitat in the high country of Wyoming.
Baby Animals Begin to Emerge
Late April and early May marks the beginning of a flush of life in the Greater Yellowstone Ecosystem. Bison have begun calving, first in the Northern Range of Yellowstone National Park, then in the Jackson Hole Valley. We found our first ones just last week!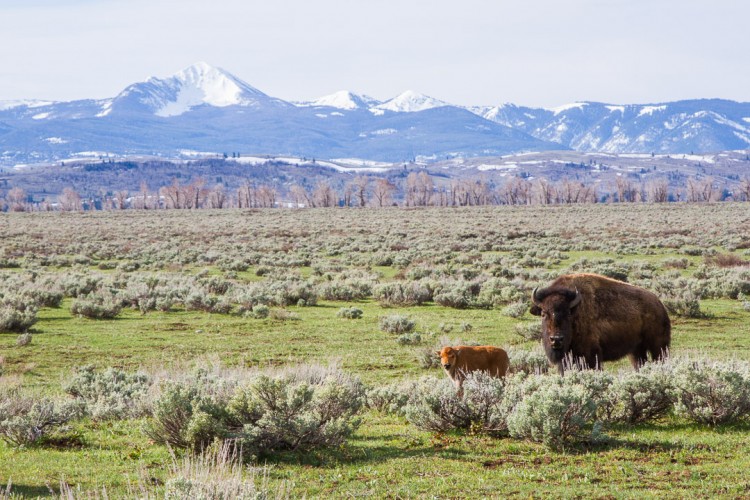 Bison calves, often called red-dogs due to their reddish color, are able to walk within a few hours of being born! We found this one over the weekend in Grand Teton National Park.
Large raptors like eagles, great horned owls, and great gray owls are beginning to hatch chicks. Due to their large size, long incubation period and full summer to rear chicks to adulthood is required.
Watch closely to see the first eaglet of spring! We captured this video with our brand new Maven S1 Spotting Scope and Phoneskope Adaptor.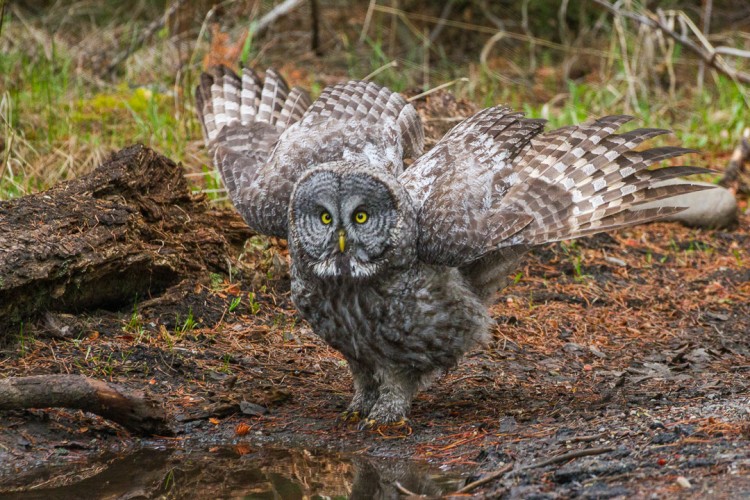 Bath time! We found this great gray owl in a conifer forest within Grand Teton National Park. He may have a nest nearby and if it succeeds we may be seeing owlets later this summer!
Wolves, coyotes, and foxes are denning across the Greater Yellowstone Ecosystem, and will soon emerge with pups! We have been observing a wolf pack, likely the Lower Gros Ventres, frequently in Grand Teton National Park. Later this week we head to Yellowstone's Lamar Valley on a spring multi day trip, one of the best locations in the world to observe wolves, grizzlies and other wildlife of the Greater Yellowstone Ecosystem.
The Flush of Life to Come
Like the rush of water now coursing through the region's rivers, a flush of life is about flood the Greater Yellowstone Ecosystem. Late May and early June brings elk and moose calves, deer and pronghorn fawns, baby birds, fox kits, wolf and coyote pups, and bear cubs. Over 1000 plant species are now beginning to flower, with a palette of color peaking in June beneath the mighty Teton Range.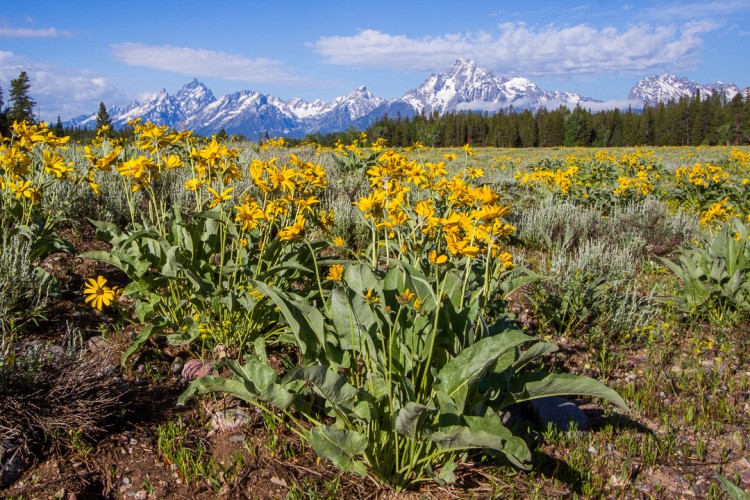 One of our favorite flowers, arrowleaf balsamroot, is just beginning to flower at lower elevations, we can't wait for scenes like this one!
The guides at Jackson Hole Ecotour Adventures have been out observing the changing of the seasons, visiting with National Park Scientists, Geologists, Astronomers (Have you heard about the 2017 Total Solar Eclipse this August?!), and others as we prepare for the summer season. Make this summer unforgettable with a trip to Grand Teton and Yellowstone National Parks with us!
To learn more about joining a safari with Jackson Hole Ecotour Adventures visit our website or give us a call at (307) 690-9533. We hope to see you soon!
Photos and blog by Naturalist Josh Metten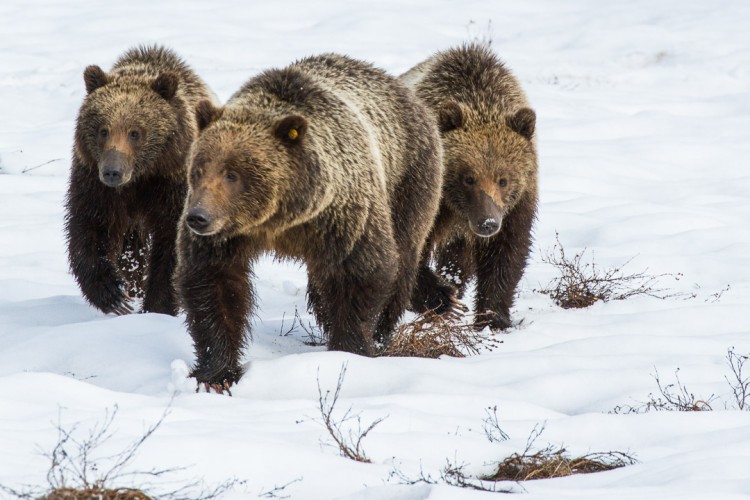 We've spotted grizzly 610 and her pair of two year old cubs several times this spring on wildlife safaris of Grand Teton National Park.
Grizzly bears are active in Grand Teton and Yellowstone National Parks. Having recently emerged from hibernation, bears are on the move, seeking food sources ranging from winter killed carcasses, to plant roots and seeds, and small mammals. In part one of this series we learned about how to identify grizzly and black bears, in part two we discuss ways to safely explore the Greater Yellowstone Ecosystem and its large carnivores. Read on to learn more!
Reducing Bear Conflict
There are three rules with bears (and many other animals) to reduce the chances of conflict. Bears will actively defend:
Personal Space
Cubs
Food
Like most animals including humans, bears have personal space boundaries which they will aggressively defend. While in many instances bears will simply move away from encounters with people, sometimes this does result in defensive behavior. Bear mothers are extremely protective of cubs, and stay with them for 2.5 years.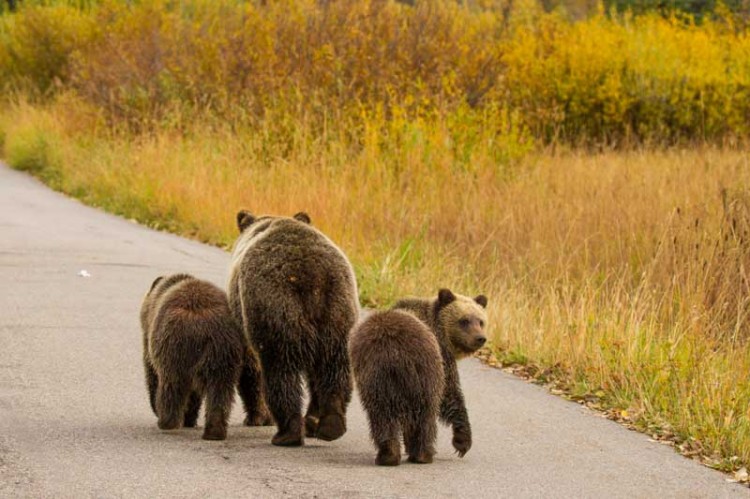 Grizzly 610, pictured here with her cubs in fall of 2015 has been spotted in northern Grand Teton National Park. Her cubs are now two years old, and the trio will soon part ways as she becomes receptive to mating!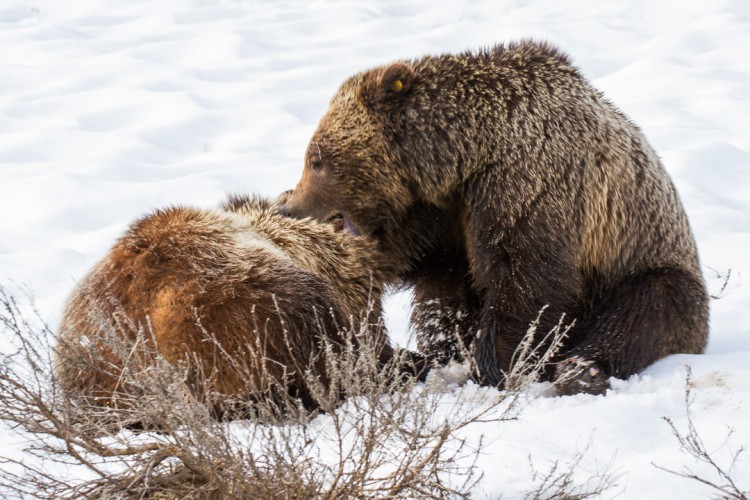 Grizzly 610 scolds one of her cubs on a recent Wildlife Safari of Grand Teton National Park. After spending two years teaching them how to be bears she will soon drive them off, and the juvenile cubs will have to survive on their own in the Greater Yellowstone Ecosystem.
Traveling in groups, making noise in low visibility areas, and being alert to the surroundings can reduce the likelihood of surprising a bear. If bears know people are nearby they will often move away without conflict. People can also safely move around bears they observe from a distance, or retreat to another location. Yellowstone and Grand Teton National Park guidelines require people to remain 100 yards from predators like grizzlies, and 25 yards from other mammals such as bison or elk.
The final key to reducing bear conflict surrounds food. As omnivores, bears are constantly searching for food and will eat just about anything they can find. In the spring, bears emerge from hibernation having lost over 20% of their body weight and will be quite active searching for winter killed carcasses and other food (see our Spring Grizzly blog post for more information). Bears will aggressively defend food, and are especially protective of human food due to its generally higher caloric content.
A two year old grizzly cub digs for food beneath the snow in northern Grand Teton National Park on a recent spring wildlife safari. Watch for the sandhill cranes which walk past in the background, spring is a spectacular for wildlife in Jackson Hole.
Proper food storage is key to preventing encounters in bear country. Both the National Park Service and US Forest Service require food storage in the Greater Yellowstone Ecosystem during months when bears are active. Grizzlies are able to smell food over a mile away! Most developed campsites have bear resistant containers to store food and other odorous items. Backpackers must carry bear resistant canisters or hang food four feet out and ten feet above the ground. Additionally, keeping a clean camp, cooking away from sleeping areas and never storing food in tents will help prevent bears from entering camping areas.
What to do in an Encounter
Negative bear encounters are not common, of over 4 million visitors to Yellowstone National Park in 2015 only one person was killed in the park. There were no major conflict issues inside the parks in 2016. Preventing encounters is key but if one occurs there are several important things to remember. First, talk to the bear with arms raised. DON'T RUN, it may provoke a chase response. Slowly back away while facing the bear even if it charges. Bears frequently bluff charge, stopping short of their target or veering away at the last second. We always recommend carrying bear spray, which is comprised of capsaicin powder, the active ingredient in chili peppers. Bears have extremely sensitive mucus membranes and research has shown spray is up to 98% effective when used properly. In contrast, research currently in press by bear biologist Tom Smith found that 40% of people who use firearms to defend against bears are injured or killed.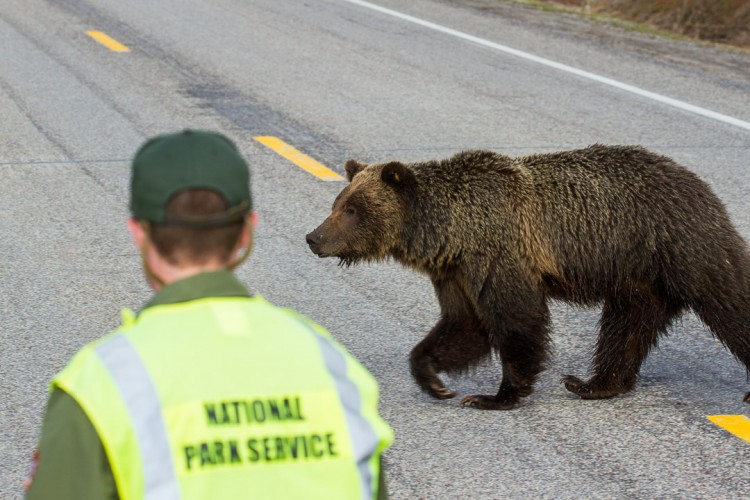 An adult female grizzly crosses the road in Jackson Hole during a recent bear jam. When observing bears in Grand Teton or Yellowstone National Parks it is important to follow the directions of Park Rangers and give bears space to travel across roadways. This photo was shot with a telephoto lens which makes the bear seem much closer than she actually is to the Ranger!
Other Animals
The Greater Yellowstone ecosystem is also home to other potentially hazardous animals. Mythology surrounding wolves falsely accuses them of attacking people and there is no evidence to suggest that wild, healthy wolves will do so. However, wolves do occasionally attack and kill domestic dogs in their territory, so care must be taken to protect pets from this rare occurrence.
Wildlife Guide Laura Krusheski snapped this photo of a howling wolf from the Lower Gros Venture Pack on a spring wildlife tour in Grand Teton National Park, just minutes from the town of Jackson, WY.
In developed areas of the country mountain lions are increasingly coming into conflict with humans. They typically avoid people and in rural Wyoming only 4 attacks have been documented in recent history, none fatal. Like bears, two of the lions were defending kittens, the other two were sick or injured. The same rules apply here for protecting yourself from a lion, be observant in the wild such as avoiding using headphones. If a lion is encountered, face the animal, raise your arms, speak calmly, and slowly retreat. Lions usually flee human encounters but if one attacks FIGHT! Bear spray is effective on most animals and would be beneficial in this situation.
Our friends at the Panthera Puma Project shot this video of a female mountain lion sniffing the camera near a cached animal she had killed. Rarely seen, mountain lions range widely in the Gros Ventre Mountains above Jackson Hole, as well as inside Grand Teton and Yellowstone National Parks.
Despite public perception, the most dangerous animals in the Greater Yellowstone Ecosystem aren't carnivores at all. Bison are responsible for more injuries than any other animal due to people approaching too closely. Moose may also be hazardous especially in the spring with young calves or during the rut. Again, giving animals the space they need will usually prevent a negative encounter and bear spray will deter them if they do become defensive.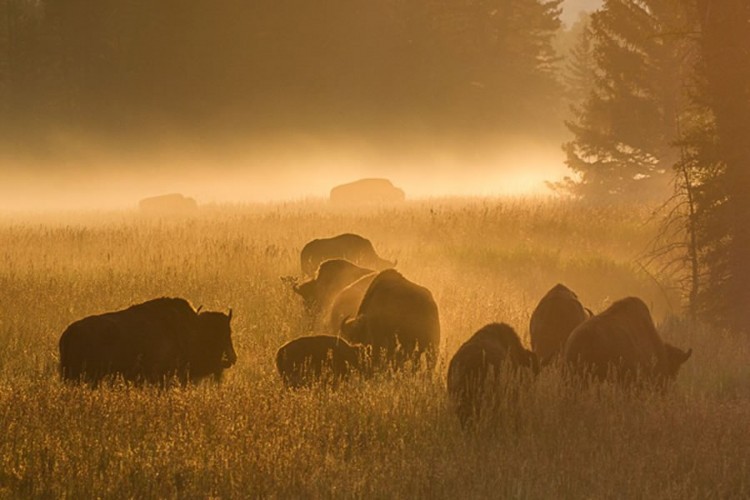 Bison may seem docile but at up to 2000 pounds they can gallop at around 35 miles per hour and are statistically the most dangerous animal in Yellowstone National Park!
Keeping the Wild
The vast majority of visitors to the GYE enjoy its landscapes, flora, and fauna without any conflict, leaving with a greater appreciation of this global treasure. Taking a few easy steps to steward our parks and forests goes a long way towards keeping our animals wild and free. Don't feed animals, give them the space they need to live without stress, and protect yourself with bear spray when venturing out into the wild. Special thanks to Mark Gocke and the staff of Wyoming Game and Fish for help with this post! For more information see:
Jackson Hole Ecotour Adventures operates 365 days a year in Grand Teton and Yellowstone National Parks, offering half day, full day, and multi day wildlife safaris. To learn more about joining us on a wildlife safari visit our website or call (307) 690-9533. We hope to see you soon!

Photos and blog by Naturalist Josh Metten