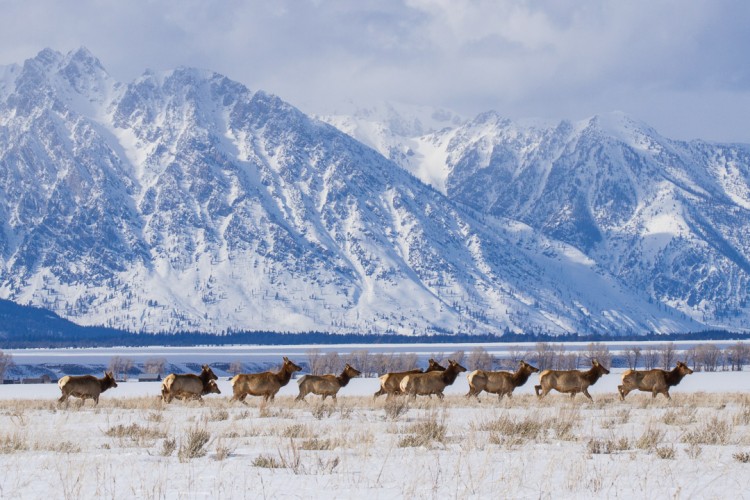 Migrating Wildlife are increasingly at risk of vehicle collisions in Wyoming, a danger to motorists and the future of the Greater Yellowstone Ecosystem Photo: Josh Metten
It's a story many know. For me it was on Christmas Day, I was driving early in the morning in a light snow storm when out of the darkness a white tail doe appeared in my headlights. I hit the brakes, but it was too late, the doe went under the car and was killed instantly.
Around 50% of Teton County, WY residents have been involved in wildlife collisions, and last year over 360 deer, elk, and moose were lost. That's outside of Grand Teton National Park, where in recent years grizzly bears and wolves have been killed by vehicles. Statewide, close to 3000 animals are struck and killed annually. Photo: Josh Metten
I was lucky, the car was relatively undamaged and I was uninjured. Collisions with wildlife are dangerous and costly. 1 in 15 highway deaths in Wyoming involves wildlife and damage to vehicles can exceed $10,000. It doesn't have to be this way, and fortunately a coalition of conservation organizations including the Greater Yellowstone Coalition, Muley Fanatics Foundation, and Wyoming Wildlife Federation are working on a solution.
HB0039, "Wildlife Conservation License Plates" was just introduced to the Wyoming Legislature today, and is a step in the right direction to protect wildlife migration corridors across highways in Wyoming. Funding from the voluntary sale of license plates would go directly to the construction of wildlife crossing structures, fencing, and other highway mitigation measures which are proven to reduce wildlife collisions. Structures already in place south of Jackson Hole have led to a nearly 80% decline in crashes, protecting our migrating wildlife and people on the road.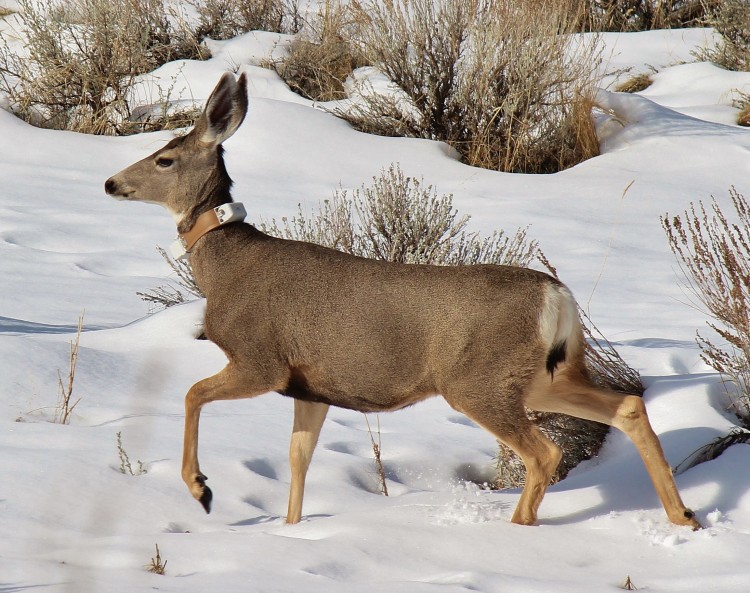 Thanks to GPS Collar Technology, wildlife biologists can map critical migration routes and use these data to accurately locate crossing structures for migrating wildlife. Mule Deer Photo by Jenny Johnson
Jackson Hole Ecotour Adventures is proud to support HB0039 and has committed to buying 6 plates for our vehicles should the bill pass. In addition, guides Laura Kruseski, Verlin Carlton Stephens, Mike Vanian, Chelse Grohman, Mariah Childs, Josh Metten, Mark Byall, and Amanda White, have all signed the pledge to purchase plates. Wyoming Residents can voice their support by visiting the Muley Fanatic Foundation website here.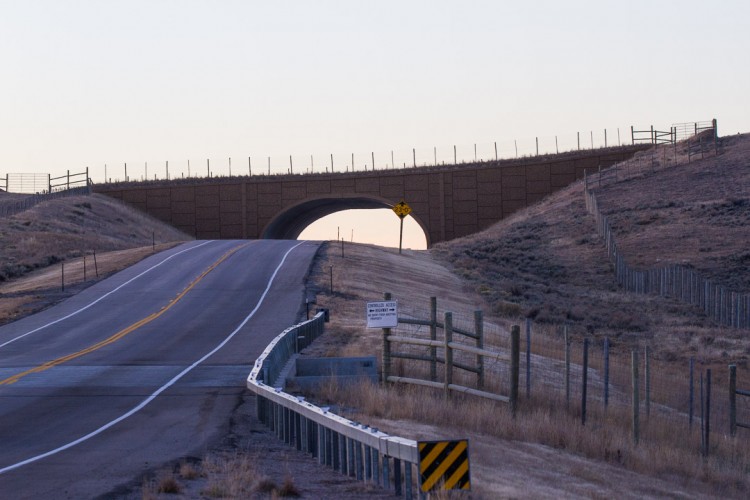 Wildlife Overpasses and Underpasses like this one (underpass in foreground) can prevent upwards of 80% of collisions with vehicles, protecting humans and wildlife alike! Photo: Josh Metten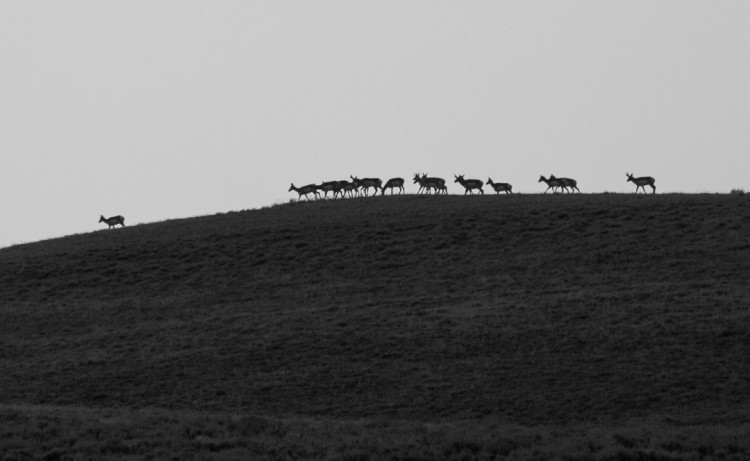 Pronghorn Antelope, led by a lead female, run across the sagebrush flats after safely crossing the wildlife overpass in the Previous Photo above US HWY 191 near Pinedale Wyoming. This overpass protects an ancient migration route of pronghorn from Grand Teton National Park, some 100 miles to the north! Photo: Josh Metten
As wildlife enthusiasts we encourage all Wyoming residents to support this "Wyoming Solution to a Wyoming Problem." Making our roads safer for wildlife and motorists alike also makes economic sense, tourism revenue from Wyoming's Wildlife makes up the number two sector of our State's Economy. The bill needs a 2/3rds majority to pass, please voice your support today by adding your name to the support pledge here and calling your representatives.
Jackson Hole Ecotour Adventures was created to help people connect with the natural world through wildlife observation and natural history interpretation. We believe that knowledge of the intricate workings of an ecosystem leads to a deeper appreciation and connection with the environment. Let us help maximize your Jackson Hole Experience today, click the "Book Now" Button for live availability. We can also be reached by phone at 307-690-9533 or email info@jhecotouradventures.com.
Written by Naturalist Josh Metten
Jackson Hole Ecotour Adventures Grand Teton National Park Wildlife Tour Giveaway - OFFICIAL RULES

NO PURCHASE NECESSARY TO ENTER OR WIN. MAKING A PURCHASE OR PAYMENT OF ANY KIND WILL NOT INCREASE YOUR CHANCES OF WINNING. VOID WHERE PROHIBITED OR RESTRICTED BY LAW.

1. PROMOTION DESCRIPTION: The Jackson Hole Ecotour Adventures Grand Teton National Park Wildlife Tour Giveaway (\"Sweepstakes\") begins on Thursday February 22nd 10:00am MST and Ends Friday March 30th at 11:59pm MST. (the \"Promotion Period\").

The sponsor of this Sweepstakes is Jackson Hole Ecotour Adventures ("Sponsor"). By participating in the Sweepstakes, each Entrant unconditionally accepts and agrees to comply with and abide by these Official Rules and the decisions of Sponsor, which shall be final and binding in all respects. Sponsor is responsible for the collection, submission or processing of Entries and the overall administration of the Sweepstakes. Entrants should look solely to Sponsor with any questions, comments or problems related to the Sweepstakes. Sponsor may be reached by email at info@jhecotouradventures.com during the Promotion Period.

2. ELIGIBILITY: Open to legal residents of the United States of America who are 21 and older (the \"Entrant\"). Sponsor, and their respective parents, subsidiaries, affiliates, distributors, retailers, sales representatives, advertising and promotion agencies and each of their respective officers, directors and employees (the \"Promotion Entities\"), are ineligible to enter the Sweepstakes or win a prize. Household Members and Immediate Family Members of such individuals are also not eligible to enter or win. "Household Members" shall mean those people who share the same residence at least three months a year. "Immediate Family Members" shall mean parents, step-parents, legal guardians, children, step-children, siblings, step-siblings, or spouses. This Sweepstakes is subject to all applicable federal, state and local laws and regulations and is void where prohibited or restricted by law.

3. PRIZES: Grand Prize: One (1) winner will receive a 1 day Sunrise or Sunset Tour for Two (2) with Jackson Hole Ecotour Adventures PLUS Two (2) Stio Raymer Jackets. (ARV: $600). Tours valid for one (1) year from date of award acceptance, subject to tour availability. Winners responsible for inquiring with Jackson Hole Ecotour Adventures to determine available tour dates.

Only one prize per person and per household will be awarded. Gift cards and gift certificates are subject to the terms and conditions of the issuer. Prizes cannot be transferred, redeemed for cash or substituted by winner. Sponsor reserves the right in its sole and absolute discretion to award a substitute prize of equal or greater value if a prize described in these Official Rules is unavailable or cannot be awarded, in whole or in part, for any reason. The ARV of the prize represents Sponsor's good faith determination. That determination is final and binding and cannot be appealed. If the actual value of the prize turns out to be less than the stated ARV, the difference will not be awarded in cash. Sponsor makes no representation or warranty concerning the appearance, safety or performance of any prize awarded. Restrictions, conditions, and limitations may apply. Sponsor will not replace any lost or stolen prize items.

This Sweepstakes is open to legal residents of the United States of America and Prize will only be awarded during the Tour departing from Jackson, WY. Winners are responsible for all travel, lodging, food, and other expenses outside of tours with Jackson Hole Ecotour Adventures. All federal, state and/or local taxes, fees, and surcharges are the sole responsibility of the prize winner. Failure to comply with the Official Rules will result in forfeiture of the prize.


4. HOW TO ENTER: Enter the Sweepstakes during the Promotion Period via the following ways:
Tag a friend in our Instagram and Facebook Contest Posts for one entry per social media platform post.

Go to Ecotour Adventures Website Contest Page and register your information for an additional entry.

Automated or robotic Entries submitted by individuals or organizations will be disqualified. Internet entry must be made by the Entrant. Any attempt by Entrant to obtain more than the stated number of Entries by using multiple/different email addresses, identities, registrations, logins or any other methods, including, but not limited to, commercial contest/sweepstakes subscription notification and/or entering services, will void Entrant's Entries and that Entrant may be disqualified. Sponsor is not responsible for late, incomplete, or inaccurate votes. If there is a dispute as to the identity of an online entrant, the prize will be awarded to the authorized account holder of the e-mail address. The "authorized account holder" is defined as the natural person to whom the e-mail address is assigned by an Internet service provider, online service provider, or other organization (e.g., business, educational institution, etc.) that is responsible for assigning email addresses for the domain associated with the submitted email address. Final eligibility for the award of any prize is subject to eligibility verification as set forth below. All Entries must be posted by the end of the Promotion Period in order to participate. Sponsor's database clock will be the official timekeeper for this Sweepstakes.

5. WINNER SELECTION: The Winner(s) of the Sweepstakes will be selected in a random drawing from among all eligible Entries received throughout the Promotion Period. The random drawing will be conducted about March 5th, 2018 after the Promotion Period by Sponsor or its designated representatives, whose decisions are final. Odds of winning will vary depending on the number of eligible Entries received.

6. WINNER NOTIFICATION: Winner will be notified by email at the email address provided in the Entry Information approximately one week after the random drawing. Potential Winner must accept a prize by email as directed by Sponsor within one week of notification. Sponsor is not responsible for any delay or failure to receive notification for any reason, including inactive email account(s), technical difficulties associated therewith, or Winner's failure to adequately monitor any email account.

Any winner notification not responded to or returned as undeliverable may result in prize forfeiture. The potential prize winner may be required to sign and return an affidavit of eligibility and release of liability, and a Publicity Release (collectively \"the Prize Claim Documents\"). No substitution or transfer of a prize is permitted except by Sponsor.


7. PRIVACY: By entering the Sweepstakes, you grant Sponsor permission to share your email address and any other personally identifiable information with the other Sweepstakes Entities for the purpose of administration and prize fulfillment, and addition to the Jackson Hole Ecotour Adventures email list.

8. LIMITATION OF LIABILITY: Sponsor assumes no responsibility or liability for (a) any incorrect or inaccurate entry information, or for any faulty or failed electronic data transmissions; (b) any unauthorized access to, or theft, destruction or alteration of entries at any point in the operation of this Sweepstakes; (c) any technical malfunction, failure, error, omission, interruption, deletion, defect, delay in operation or communications line failure, regardless of cause, with regard to any equipment, systems, networks, lines, satellites, servers, camera, computers or providers utilized in any aspect of the operation of the Sweepstakes; (d) inaccessibility or unavailability of any network or wireless service, the Internet or website or any combination thereof; (e) suspended or discontinued Internet, wireless or landline phone service; or (f) any injury or damage to participant's or to any other person's computer or mobile device which may be related to or resulting from any attempt to participate in the Sweepstakes or download of any materials in the Sweepstakes.

If, for any reason, the Sweepstakes is not capable of running as planned for reasons which may include without limitation, infection by computer virus, tampering, unauthorized intervention, fraud, technical failures, or any other causes which may corrupt or affect the administration, security, fairness, integrity or proper conduct of this Sweepstakes, the Sponsor reserves the right at its sole discretion to cancel, terminate, modify or suspend the Sweepstakes in whole or in part. In such event, Sponsor shall immediately suspend all drawings and prize awards, and Sponsor reserves the right to award any remaining prizes (up to the total ARV as set forth in these Official Rules) in a manner deemed fair and equitable by Sponsor. Sponsor and Released Parties shall not have any further liability to any participant in connection with the Sweepstakes.
Acceptance of the prize constitutes permission for Sponsor and its agencies to use winner's name and/or likeness, biographical material, and/or entry (including an altered form of the entry) for advertising and promotional purposes without additional compensation, unless prohibited by law. By accepting prize, winner agrees to hold Sponsor, its advertising and promotion agencies and their respective parent companies, subsidiaries, affiliates, partners, representative agents, successors, assigns, officers, directors, and employees harmless for any injury or damage caused or claimed to be caused by participation in the Promotion or acceptance or use of the prize. Sponsor is not responsible for any printing, typographical, mechanical, or other error in the printing of the offer, administration of the Promotion or in the announcement of the prize.

9. SOCIAL NETWORK DISCLAIMER: A Facebook and Instagram account may be required to enter. If you don't already have a Facebook or instagram account, visit www.facebook.com or download the instagram account to your smartphone to create one. It is free to create an account. This promotion is in no way sponsored, endorsed or administered by, or associated with Facebook or Instagram. You understand that you are providing your information to the Sponsor and not to Facebook. By participating via the Facebook or Instagram platform, participants are also subject to Facebook's data policy and terms of use, which can be found at https://www.facebook.com/about/privacy and https://www.facebook.com/legal/terms/update.

10. WINNER LIST/OFFICIAL RULES: Winners list will be posted to the Jackson Hole Ecotour Adventures Facebook Page

11. SPONSOR: Jackson Hole Ecotour Adventures 1300 S Carol Ln, Jackson, WY 83001

2018 is off to a fantastic start in Jackson Hole. The great mammal migrations of Wyoming have brought thousands of animals to the National Elk Refuge and Grand Teton National Park, where they will wait out the winter. Waterfowl are gathering on remaining open water as ice forms on the regions lakes. And predators, including golden and bald eagles, coyotes and wolves, are following these migrations, becoming more visible atop the snow.
January has provided a bounty of wildlife sightings on Ecotours with the guides at Jackson Hole Ecotour Adventures. We've explored track and sign of elk, moose, and great gray owls on our cross country ski and snowshoe tours in Jackson Hole and listened to the howls of the Lower Gros Ventre wolf pack in Grand Teton National Park.
Our most recent Yellowstone Multi Day tour revealed a winter wonderland of steaming geyser basins, frost covered bison, wolves, and diverse winter wildlife emblematic of the Greater Yellowstone Ecosystem. Read on to learn more about the highlights of our wildlife, snowshoe, and cross country ski safaris in Grand Teton and Yellowstone National Parks for the first month of 2018.
Winter is the Time to See Moose and other Large Mammals!
Though the Teton Mountain Range is seeing good accumulations of snow, warmer temperatures and low snowfall in the valley have created a unique opportunity to view wildlife in Grand Teton National Park this winter. We've continued to see large groups moose throughout the month of January. Most large bulls have shed their antlers by now but some of the younger bulls still carry theirs. We've been viewing quite a bit of sparring as you can see from the video below!
Several young bull moose spar on a recent Ecotour with guide Mike Vanian. For the safety of wildlife and humans alike we remain in our custom safari style vehicles, using windows and roof hatches for amazing sightings like this one.
In contrast to this time last winter, some elk still remain in Grand Teton National Park, though numbers on the National Elk Refuge are quickly increasing to over 4000 animals at last count. The Refuge also provides critical habitat for Bighorn Sheep from the Gros Ventre Mountains to the East.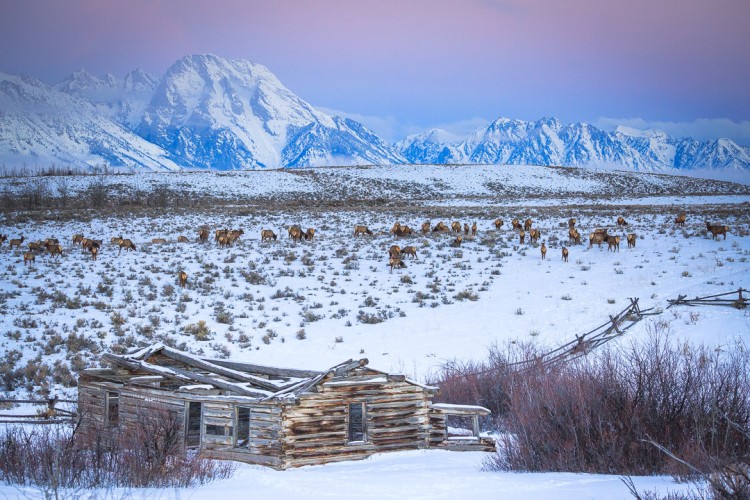 We weren't the only ones hoping for a good view of sunrise at the historic Shane Cabins on an Ecotour earlier this month. Elk migrate through Grand Teton National Park.
Ski and Snowshoe Trips through the Winter Wonderland
Low snowfall in the valley of Grand Teton National Park has also provided opportunities to study the track and sign left behind by animals like elk, deer, bison, and moose, who often migrate to lower elevation habitat in winter. We've also been observing tracks of winter residents like fox, coyote, american marten, ermine, and even great gray owl prints in the snow! Our cross country skiing and snowshoe Ecotours are designed for all ability levels from beginner to expert and are a great way to explore the winter wonderland of Grand Teton National Park with an experienced guide leading the way. Learn more about some of our favorite spots to explore here.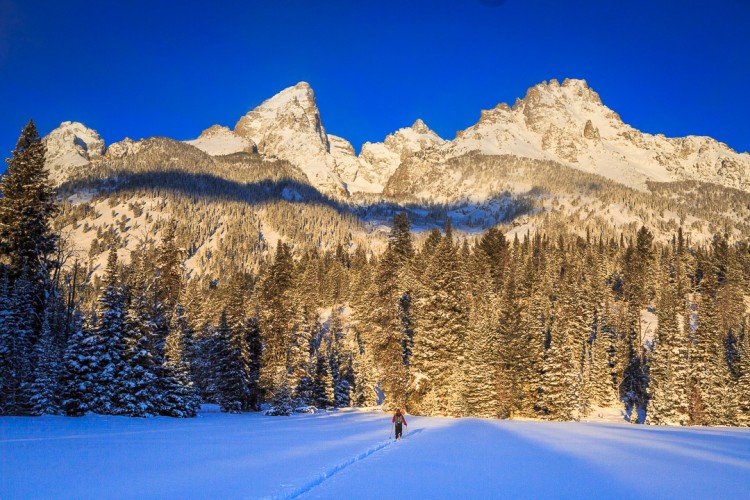 Views like this one are why Grand Teton National Park is a world class destination for Cross Country Ski and Snowshoe trips.
Feathered Sightings Abound in Winter
Though over 2/3rds of the bird species found in the Greater Yellowstone Ecosystem migrate to warmer locales in winter, the Jackson Hole Valley remains a birding hot spot. Some species, like bald and golden eagles become more visible in winter, as concentrated big game species provide scavenging opportunities. We observed 7 eagles on a carcass earlier this week! Rough-legged hawks, a close relative of red-tailed hawks, have been frequently observed this winter, having migrated several thousand miles south from their nesting territories above the arctic circle.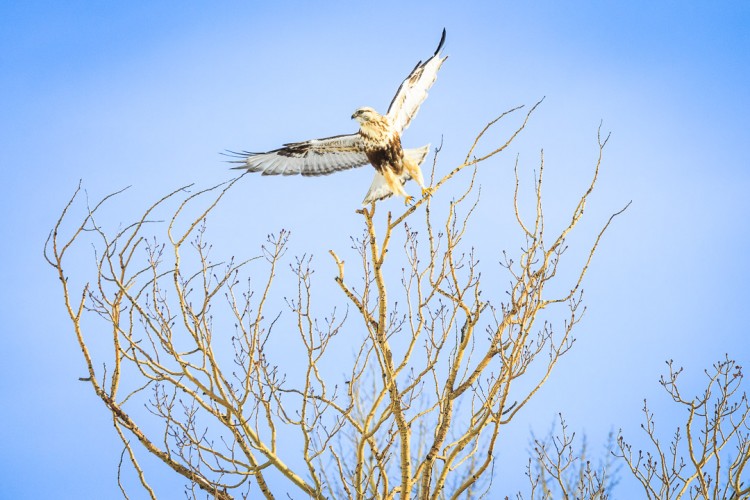 The dark wrist patches characteristic of Rough Legged Hawks are visible in this Juvenile individual just taking flight. Closer inspection revealed a gray band on one leg. Our friends at the Teton Raptor Center are studying these hawks, learning more about their migrations using gps transmitters!
Though their numbers plummeted after last years harsh winter we have had a few Great Gray Owl sightings on tours this winter, and hope to see more of this "ghost of the forest," the largest owl in North America. The largest waterfowl in the world, Trumpeter Swans, have been readily visible, enjoying the open water of Flat Creek just north of the town of Jackson. This has also been a good winter for observing northern pintail, bufflehead, goldeneye, gadwal, hooded mergansers and other waterfowl species.
Small Mammal Sightings!
Remaining open water in the Jackson Hole Valley is providing some spectacular opportunities for Otters, which must find holes in the ice to fish throughout the winter. A two layered coat keeps otters warm in winter and their long slender bodies are perfect for efficient swimming and sliding across the snow surface.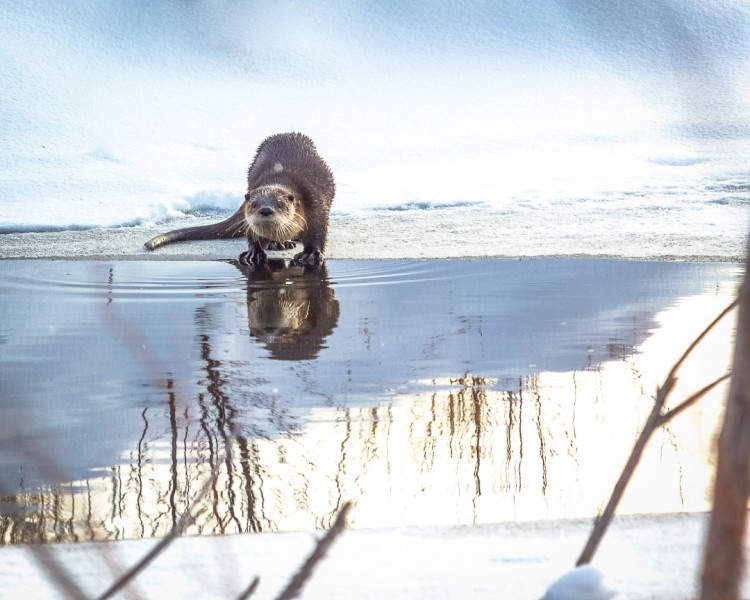 Otters become more diurnal (or active during the day) in winter which can increase chances of seeing one! Photo by guide Laura Krusheski on a recent Ecotour in Grand Teton National Park
Otters belong to the mustelid, or weasel family and we recently observed a well camouflaged relative, an ermine! Like snowshoe hares, ermine will exchange their brown summer coat a white one in winter which aids in avoiding detection by predators. Ermine and other small weasels must constantly hunt in winter time, depending on heat generated from their metabolism to stay warm.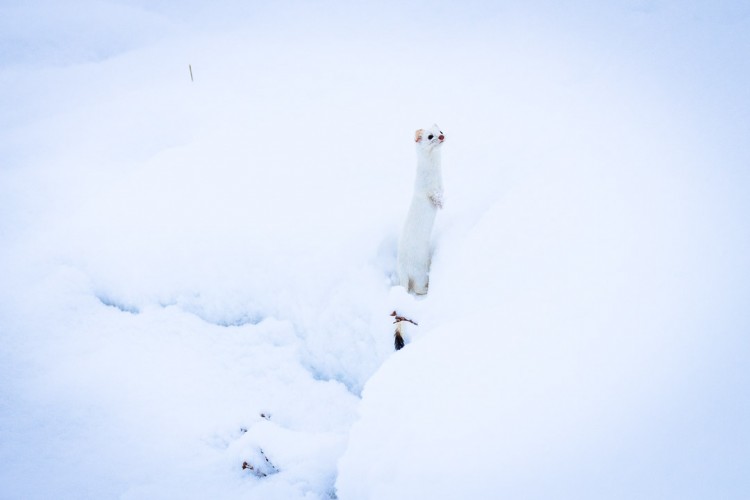 Small but ferocious, this ermine is capable of hunting prey up to 10 times its size! Photo by Josh Metten on a recent Ecotour
Bison: Perfectly Suited for Winter Survival
In contrast to the survival strategy of the small ermine, our largest animal found in the GYE, the American Bison, puts on the pounds and a thick coat to endure our long winters. With thick muscular shoulders, bison are capable of plowing through up to three feet of snow to reach grasses buried below. Their thick coats provide insulation well into sub zero temperatures.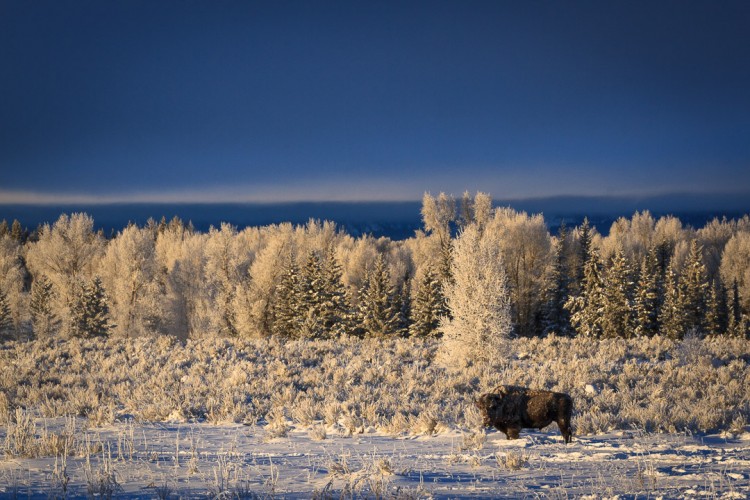 Frost covers a well insulated bull bison on a -20 degree January morning in Grand Teton National Park. Photo by Josh Metten
Winter of the Wolf
We've enjoyed spectacular wolf sightings in both Grand Teton and Yellowstone National Parks throughout the month of January. On our winter multi day tour wolves from the Wapiti Lake Pack were observed feeding on a bison kill two days in a row along the Madison River. Wolf kills provide an abundance of food to scavengers such as eagles, ravens, magpies, and coyotes, all of which we observed sharing the bounty. Though elk make up the majority of wolf diets, several packs have increasingly been targeting bison, a higher risk but also higher reward.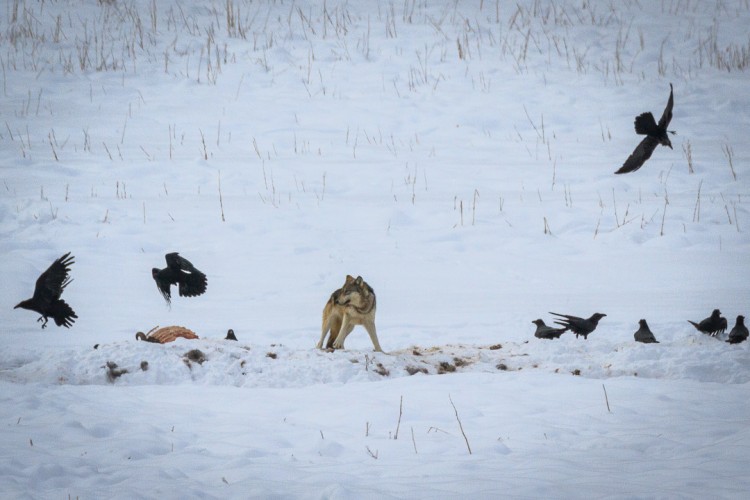 A young wolf chases away ravens as it approaches a bison carcass in Yellowstone National Park.
In Jackson Hole, wolves and coyotes have been frequenting Antelope Flats in Grand Teton National Park and we've also had observations on the National Elk Refuge. The mating season for wolves, coyotes, and foxes is fast approaching and we hope the packs continue to localize in a visible locations throughout this period of high activity.
Winter's Battle for Life Continues
With the passage of the new year, days are beginning to grow longer, yet winter's grasp remains strong in Grand Teton and Yellowstone National Parks. The experienced guides of Jackson Hole Ecotour Adventures are out every day exploring this wild country. Let us show you the best Jackson Hole has to offer, whether on one of our popular Wildlife Ecotours, or on the snow with a cross country ski or snowshoe trip. Click book now at the top of the website to see live availability for all of our trips and use code "Winter18" for 10 percent off when you book before March 31st 2018.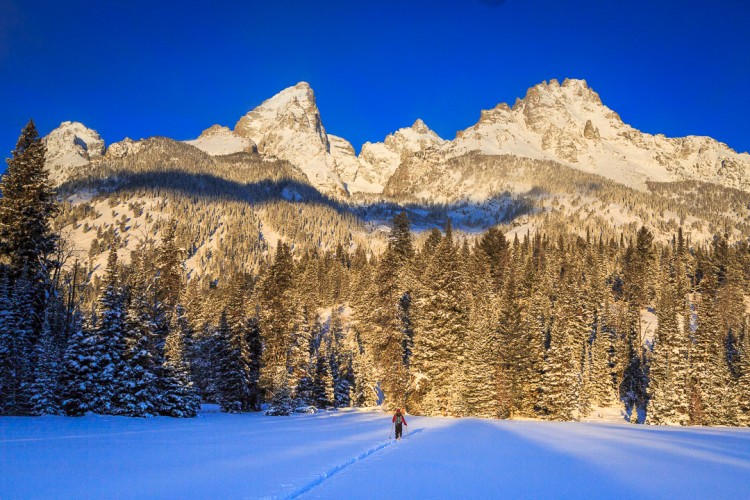 A skier explores Grand Teton National Park near the Lucas-Fabian Homestead.
Winter has come to Jackson Hole. The breathtaking peaks of the Teton Range are covered with a deepening snowpack, to the delight of downhill skiers and snowboarders at Jackson Hole Mountain Resort. Grizzly and black bears are hibernating beneath the snow, and herds of elk, bison, and mule deer are retreating to the southern end of the Jackson Hole valley, seeking out winter habitat.
As snow covers the valley of Grand Teton National Park, a winter wonderland has emerged, providing ample opportunities for exploration on cross country ski or snowshoes. The guides at Jackson Hole Ecotour Adventures have been out exploring the park on Ecotours, here are some of our favorite spots!
Time: 3-6 hrs.
Distance 1-10 miles
Difficulty: Moderate
Cross Country Skiing or Snowshoeing
Snowshoers on a tour with Jackson Hole Ecotour Adventures explore the Hermitage Point Area on a sunny day in Grand Teton National Park
Hermitage Point is at the end of a long peninsula on Jackson Lake, offering stunning views of Mount Moran and the northern Teton Range. The point is 3.5 miles one way from the parking lot at Colter Bay but opportunities exist for shorter loops to explore Heron and/or Swan Lakes. We enjoy looking for track and sign from foxes, coyotes, American martin, red pine squirrel, otter, and beavers along the way.
Teton Park Road
Time: 1-8 hrs
Distance 1 mile to 25 miles round trip, you choose the distance!
Difficulty Easy - Strenuous
Cross Country Skiing or Snowshoeing
Grand Teton National Parks inner loop road, is closed to vehicles in winter time, but, thanks to a grant from the Grand Teton National Park Foundation, is groomed for some of the most scenic Cross Country Skiing and Snowshoeing in North America. From the start of the seasonal road closure at the Bradley/Taggart Trailhead, follow the groomed track of the Teton Park Road as far as Signal Mountain, some 12.5 miles to the North! Explore this groomed trail for as long or short of a distance as you like, the nordic track and relatively flat gradient makes for perfect beginner skiing.
Time 4-6 hrs
Distance: 9.8 miles round trip
Difficulty Moderate - Strenuous
Cross Country Skiing recommended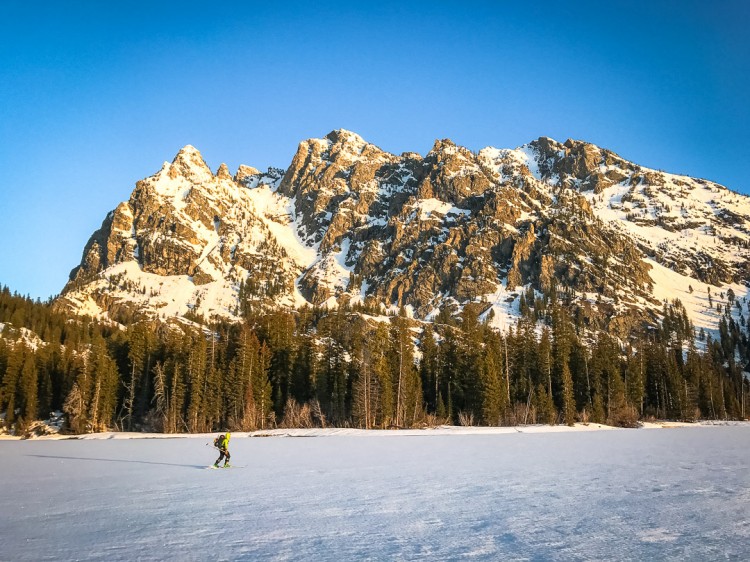 Thick ice on Jenny Lake can allow for fun skate skiing, especially in the spring
For those wanting to a longer ski tour to one of Grand Teton National Parks most scenic locations, Jenny Lake is the spot! In the summer it is one of the parks most popular areas but in winter you just might have it to yourself. Lake ice can be thin especially in early winter but eventually the lake freezes over with a thick supportable sheet of ice. Travel at your own risk.
Lucas-Fabian Homestead
Time: 4 hours
Distance: 4 miles round trip
Difficulty: Moderate
Cross Country Skiing Recommended, Snowshoeing possible
Watch this video of Cross Country Skiing to the Lucas-Fabian Homestead in Grand Teton National Park.
A shorter option from the Bradley-Taggart Trailhead is a visit to the beautiful Lucas-Fabian Homestead. Located two miles from the parking lot along the stunning Cottonwood Creek, this homestead could have become a subdivision if not for the work of Harold Fabian, Vice President of the Snake River Land Company. Throughout the 1920's, Philanthropist John D Rockefeller JR. used his fortune to purchase homesteads in the Jackson Hole Valley which were later added to Jackson Hole National Monument, which in 1950 was added to Grand Teton National Park. Read our blog post on the battle to save Jackson Hole and Grand Teton National Park here.
Granite Canyon
Time: 4 hours
Distance: 1-3 miles
Difficulty: Easy
Cross Country Skiing, or Snowshoeing
Looking for easy access to Grand Teton National Park from Jackson Hole Mountain Resort? Check out Granite Canyon and the Moose Wilson Road! Numerous loop and out and back options exist, we like winding trail to the mouth of Granite Canyon in particular. Along the trail you will pass through aspen forests, sagebrush meadows, mixed conifer forests, and cross the riparian area along Granite Creek, four of the five plant communities found in Grand Teton National Park. Look for track and sign from moose and elk, to foxes, coyotes, or even an elusive great gray owl, the largest owl in North America. Check out JHNordic.com for more options from the Granite Canyon Trailhead.
Time: 4-6 hours
Distance: 4 miles round trip
Difficulty: Moderate
Cross Country Skiing or Snowshoeing
Closed to motor vehicles in winter, the Moose-Wilson road is an ideal trail for beginner to advanced cross country skiing and snowshoeing. Start from the south at the Granite Canyon Trailhead or from the North end at the Death Canyon Trailhead. The snow packed road winds through conifer forest with plenty of options for loops and out and back treks. We like combining a ski up the road with a loop over to the mouth of Granite Canyon and back to the Trailhead, about 4 miles.
Two Ocean Lake
Time: 4-6 hours
Distance: 4 miles round trip
Difficulty: Moderate
Cross Country Skiing or Snowshoeing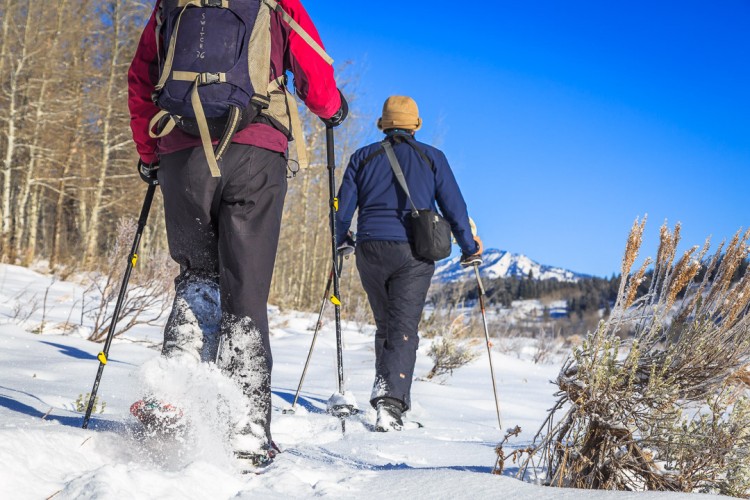 Snowshoers head toward Two Ocean Lake in northern Grand Teton National Park
This quiet corner of Grand Teton National Park offers opportunities for solitude, you might even be breaking your own trail through the powder snow! From a pullout on Pacific Creek Road, follow the Two Ocean Lake Road to the lake and views of the Northern Range of the Tetons. We like looking for tracks and exploring the woods around the lakes on tours. For a longer adventure, make the ski a loop and visit Emma Matilda Lake on the return trip.
Cross Country Skiing and Snowshoe Opportunities Abound in Jackson Hole and Grand Teton National Park
These are some of our favorite trips in the park, many more trip ideas exist from our friends at Jackson Hole Nordic. Please let us know if we can help with guiding your next adventure in Grand Teton or Yellowstone National Parks by calling us 307-690-9533 or emailing info@jhecotouradventures.com. Visit our website and click "Book Here" at the top right to see live availability on all of our tours. We'll take 10% off through January 31st 2018 if you use the code "Winter18" at checkout.
Now in our 11th year of operation, Jackson Hole Ecotour Adventures leads wildlife safaris, cross country skiing tours, and snowshoe tours in Grand Teton and Yellowstone National Parks 365 days a year. Let us help maximize your Jackson Hole Experience Today!