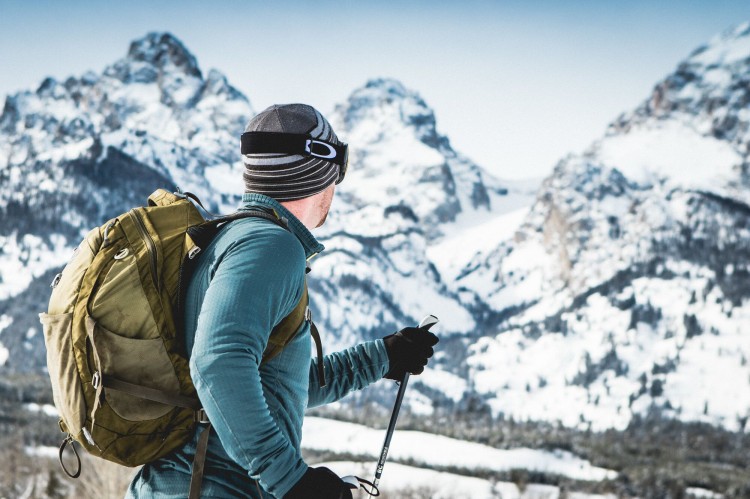 Winter is coming to Jackson Hole. Wildlife are concentrating by the thousands in the southern end of Grand Teton National Park and the National Elk Refuge. At the same time, winter snowsports enthusiasts are beginning to arrive in Jackson Hole, seeking out the slopes of Jackson Hole Mountain Resort and the trails of the National Park.
It's a combination of Adventure and Nature unmatched anywhere else in the United States. This year, in addition to our popular winter wildlife tours, the guides at Jackson Hole Ecotour Adventures are excited to announce the addition of ski and snowshoe tours of Grand Teton National Park to our tour offerings. Want to maximize your winter experience in Jackson Hole this winter? Here's what you need to know.
Snowshoe Tours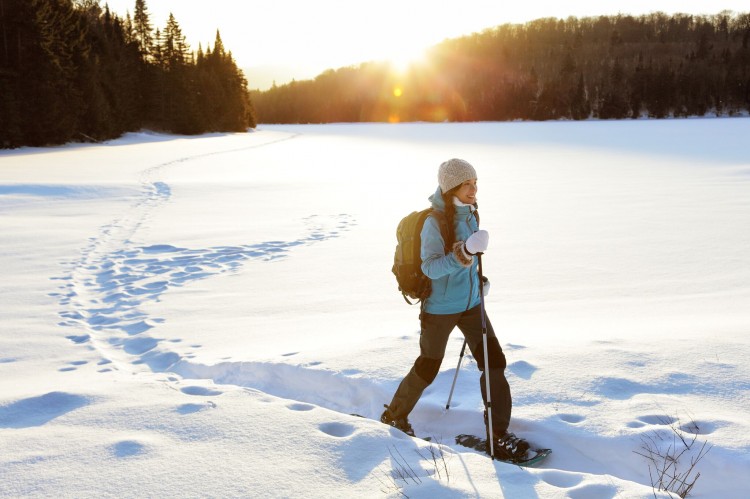 This winter we are offering both Half Day (4hr) and Full Day (6hr or 8hr) Snowshoe Tours of Grand Teton National Park. Our professional naturalists can accommodate any skill or activity level from beginners to experienced snowshoers looking for a customized and unparalleled experience. Expect to enjoy a day exploring the winter wonderland of Grand Teton National Park, learning about winter ecology, animal sign and track, and beautiful locations "off the beaten path." We provide snowshoes, other equipment, and snacks to enjoy throughout the duration of the trip. Full Day tours also include a field lunch complete with hot drinks. Visit our website to learn more about our half day, full day trips and other tour options.
Full Day XC Skiing Tour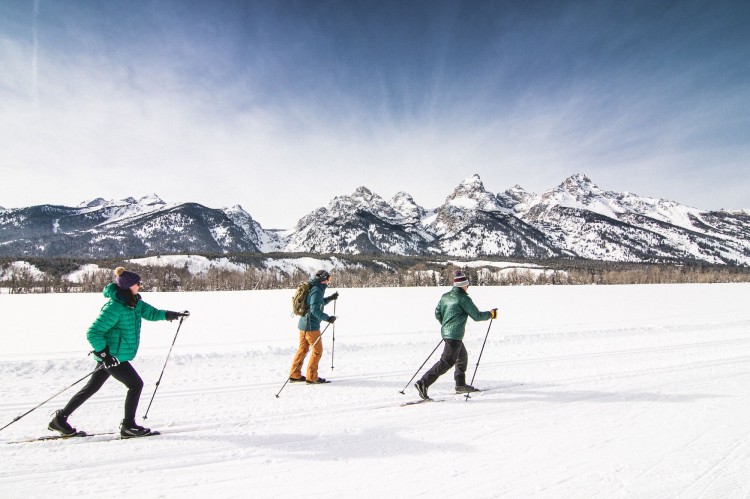 Experience Grand Teton National Park's phenomenal Nordic Trails with the guides from Jackson Hole Ecotour Adventures! This unique winter experience will take you into the depths of Grand Teton National Park with one of our experienced Naturalists to lead the way. Choose from the excellent groomed trails in the Park or for an "off the beaten path" excursion to the hidden gems of Grand Teton National Park in Winter where you and your guide will break trail. Our 6hr full day tour includes a field lunch with hot beverages. Learn more here.
Wildlife and Snowshoe Tour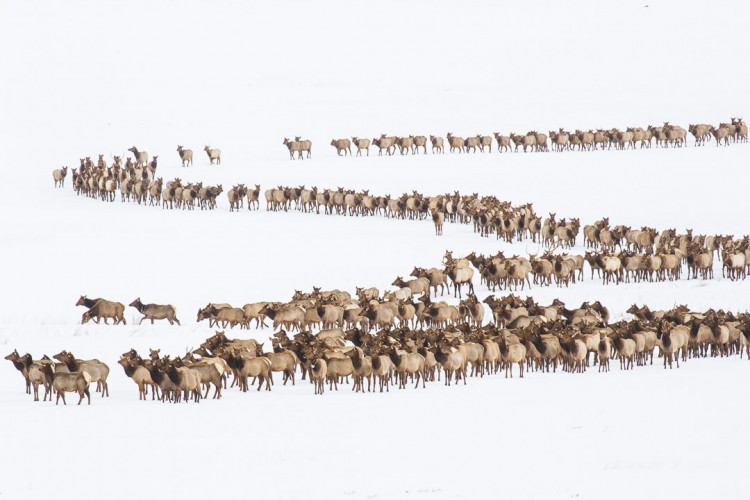 Maximize your winter experience in Jackson Hole with a combination wildlife and snowshoe tour in Grand Teton National Park and the National Elk Refuge! We will start in the morning on a half day snowshoe excursion to one of our favorite winter destinations in the park. Then, after a Lunch at the Famous Dornan's (or similar restaurant) we will complete the day with an afternoon wildlife safari, observing the abundant winter wildlife of Jackson Hole. It's an ideal combination of Nature and Adventure. Click here for tour info.
Experience the Winter Wonderland of Jackson Hole
Whether on a wildlife safari, snowshoe tour, or ski trip, a trip to Jackson Hole isn't complete without exploring the wild side of Grand Teton National Park and the National Elk Refuge. Let the experienced naturalists at Jackson Hole Ecotour Adventures help maximize your winter experience. Visit our website and click the Book Now! button for live availability or give us a call (307) 690-9533 to join us today!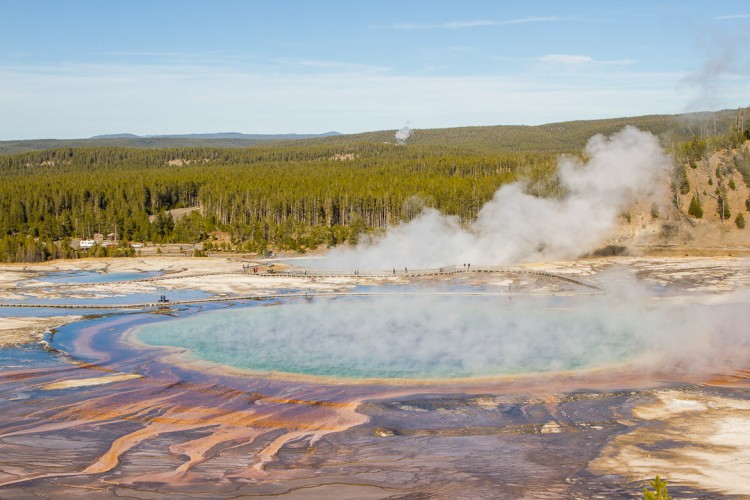 Located at the interior of over 20 million acres of diverse habitat, Grand Teton and Yellowstone National Parks are often seen as the core of what is called the Greater Yellowstone Ecosystem (GYE). As one of the last relatively intact temperate ecosystems left on earth, the GYE is home to massive mammal migrations, the largest remaining wild bison herd, diverse bird species, grizzly bears, wolves and more. This October, Jackson Hole Ecotour Adventures partnered with our friends at the Greater Yellowstone Coalition to share the GYE with Coalition members, an intimate three day exploration of Grand Teton and Yellowstone National Parks.
Migrations Fuel the Landscape
At around 310,000 acres, Grand Teton National Park is a small but mighty sister to the much larger Yellowstone National Park, just to the north. The towering peaks of the Teton Range rise 7000 feet out of the Jackson Hole Valley, a dramatic backdrop for the park's diverse wildlife.
Before dawn, Ecotour Adventures guides Mark Byall, and myself (Josh Metten) met with GYC Wildlife Program Coordinator Chris Colligan and 10 coalition members to begin our exploration of the Greater Yellowstone Ecosystem. Driving north in the predawn light, we passed the National Elk Refuge, winter range for over 9000 elk. In the coming months, herds will begin arriving on the Refuge, some migrating all the way across the valley from Yellowstone National Park.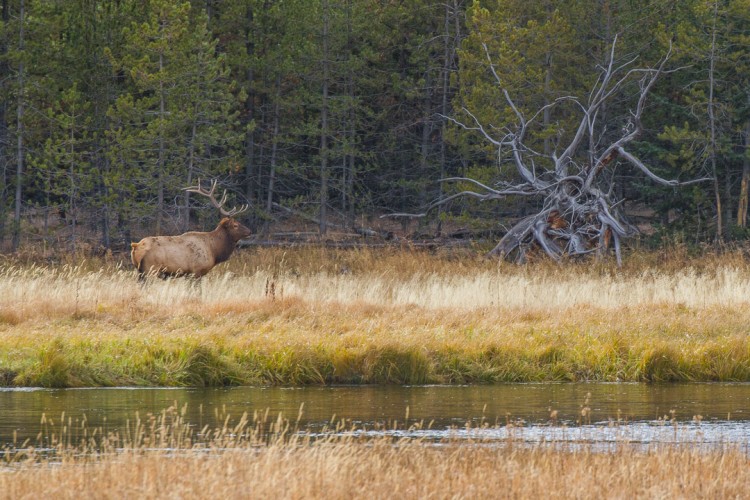 Bull elk along the Madison River of Yellowstone National Park. Elk migrate out of Yellowstone National Park in every direction in fall, seeking lower elevation habitat to endure the cold, snowy winters.
A tall fence separates the refuge from the highway, built to prevent wildlife collisions with vehicles. As Chris and I were talking about wildlife collisions we noticed a cow, calf, and bull moose running along the fence just off the road. The trio was attempting to access the Gros Ventre River but were on the wrong side of the fence. Eventually, led by the female they safely crossed the road in front of us, and ran down into the safety of the river bottom.
Highways represent major obstacles to wildlife across the globe, and thankfully many organizations, including the Greater Yellowstone Coalition, are working with state Transportation Departments to place wildlife crossings such as overpasses and underpasses in areas of high wildlife mortality.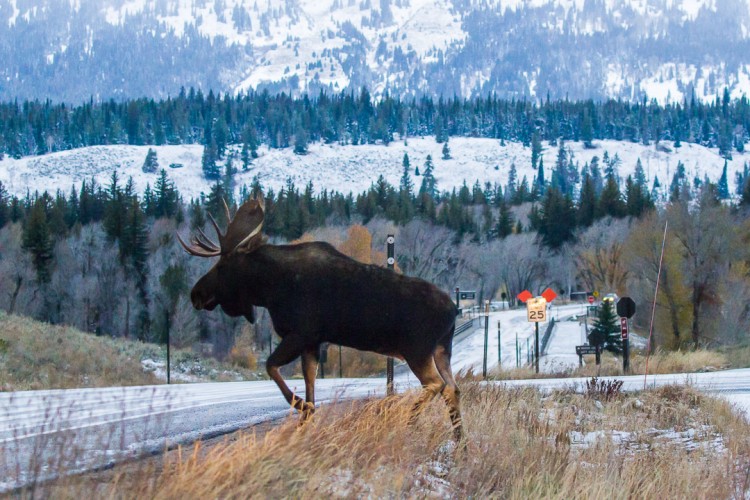 A bull moose crosses the road in Grand Teton National Park. Last year at least 18 moose were killed by cars in the Jackson Hole Valley alone.
Heading north through the Jackson Hole Valley we passed through summer range for pronghorn antelope, who winter 100 miles south of Grand Teton National Park. Traveling along the federally protected "Path of the Pronghorn," animals must navigate barb wire fences, private land development, rivers, and dangerous highways before arriving on a winter range increasingly under threat from oil and das development. But they persist, moving along a route which their ancestors have traveled for the last 6000 years.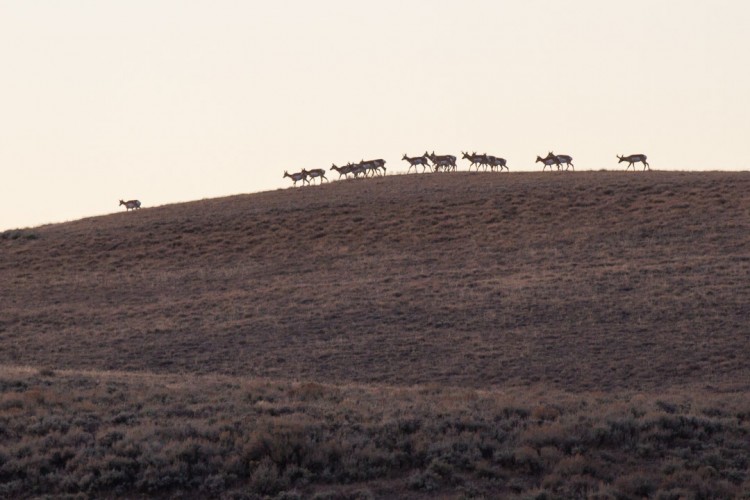 A female pronghorn leads the herd away from a highway overpass along the Path of the Pronghorn near Daniel Junction in Wyoming.
Migrations of the Greater Yellowstone Ecosystem aren't just on foot, they are also on the wing. On our way towards Yellowstone we observed a massive flock of American Coot, Redhead, Mallard, Wigeon, and other duck species. In a behavior known as 'rafting' the birds were concentrated in a tight clump on Jackson Lake. Their frightened behavior was justified, as three bald eagles were circling the group looking for an opportunity to strike. A juvenile eagle, lacking a white head dove down into the flock and grasped a bird in its talons. After struggling to take flight, the eagle was off with its prize, only to be chased down by a mature, 5 year old plus adult eagle who stole it out of midair.
Video: Watch as a juvenile bald eagle captures a duck, and then loses it to an adult eagle in mid air!
Northern Yellowstone, Mammoth Hot Springs
In search of more wildlife sightings, we headed towards the Lamar Valley for our second day. Just downstream of Mammoth Hot Springs, near the northern entrance of Yellowstone, we glassed up two herds of bighorn sheep on the slopes of Mount Everts. Alpine specialists, bighorn sheep are usually found in rugged terrain where they have an advantage over predators. We also found a herd of pronghorn antelope just north of the park boundary, presumably migrating towards lower elevation habitat in Montana's Paradise Valley.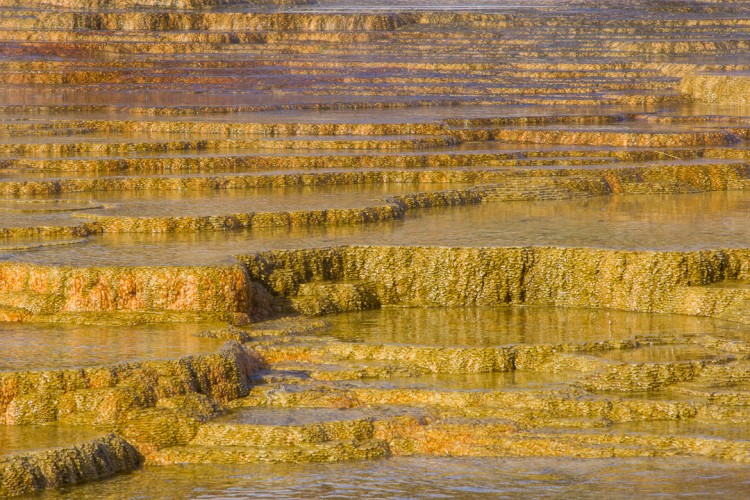 A combination of minerals and microbial life create a dazzling display of color at Mammoth Hot Springs in Yellowstone National Park.
Giving Bison the Freedom to Roam
As the road heads east from Mammoth, the landscape opens up into large meadows with forested mountain ridgelines above. This rugged landscape holds a dense concentration of wildlife with the Lamar Valley holding the highest numbers of bison in Yellowstone. It was here, beginning in the late 1800's that the U.S. military began a captive breeding program to restore bison herds which had been nearly wiped out. Bison have made a spectacular recovery and the GYC is now working to expand their habitat to over 400,000 acres beyond the park boundaries, much of which currently is off limits.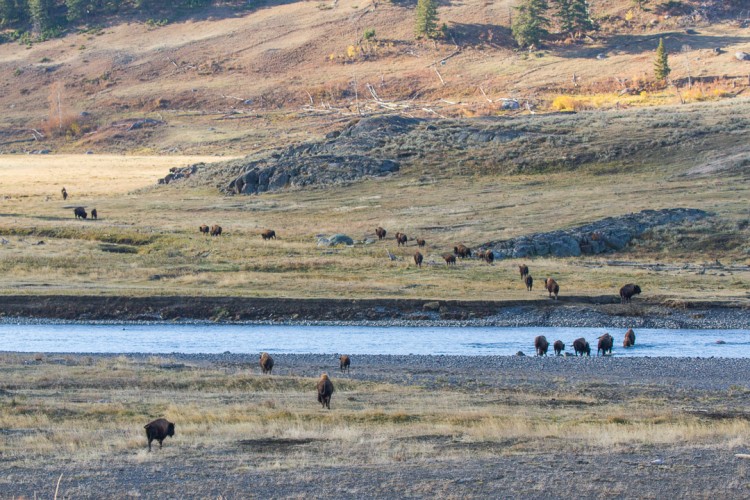 Bison in Yellowstone National Park have recovered from around 22 animals to over 4000 today.
Howling Wolves, the Call of the Wild
Just as the Lamar Valley was a home for bison restoration, it is also a home for wolf restoration. Wolves were reintroduced here in 1995 after a 60 year absence, and are now thriving across the Greater Yellowstone Ecosystem. As the sun rose over the Absaroka Mountains to the east on our third morning we stopped to glass for wolves and enjoy breakfast in the field. Elk and bison herds grazed in the distance, and a juvenile bald eagle landed in nearby tree. We noticed some black spots across the valley, too small to be bison. Spotting scopes confirmed our hopes, we had found wolves! Three members of the Junction Butte Pack, including the alpha female were socializing on a far hillside, their howls audible in the still morning air. Yellowstone contains around 100 wolves, and over 1600 roam the Northern Rockies.
Keeping the Ecosystem Whole
The resilience of all wildlife within the Greater Yellowstone Ecosystem is what makes this place whole, and the restoration of wolves was an important step. Today the GYC is working to keep other large predators, including grizzly bears thriving. In the 1970's grizzly populations crashed down to an estimated 135 animals, leading to their listing as a Threatened Species. Today populations have rebounded to over 700 and the bears were recently delisted. Towards the end of our third day, back in Grand Teton National Park, we spotted a sow and two cubs foraging in the sagebrush flats. Protecting habitat, reducing conflict and ensuring the connectivity of these bears to other populations in the Northern Rockies will be critical to their continued survival.
Watch this video summary of the trip to learn more about our experience!
As we completed our three day journey across the Greater Yellowstone Ecosystem I pondered the founding premise of the Greater Yellowstone Coalition: "An ecosystem will remain healthy and wild only if it is kept whole." The return of bison, bears and wolves to the ecosystem is a part of the ecosystem. Protecting the migration corridors of elk, pronghorn, mule deer and bighorn sheep is another. So is conserving our watersheds, and the overall preservation of the wild landscapes around us. When it comes down to it the fate of the Greater Yellowstone Ecosystem rests with people, the final part of this ecosystem.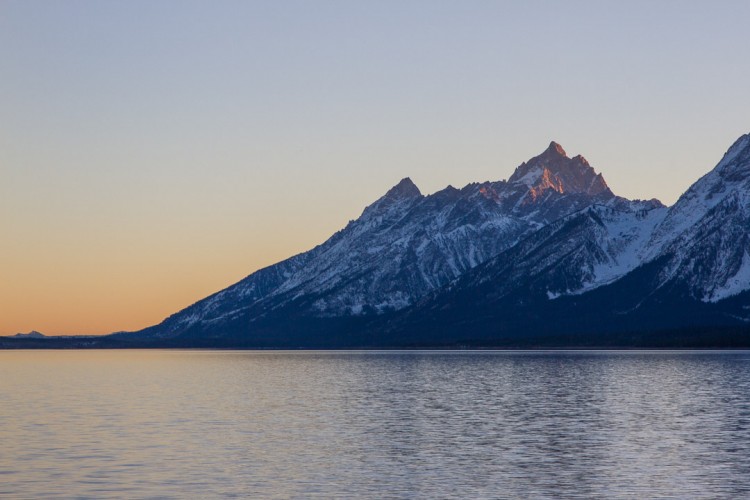 Sunset over Jackson Lake, Grand Teton National Park
To learn more about our "Commitment to Conservation" or joining a safari with Jackson Hole Ecotour Adventures visit our website or give us a call at (307) 690-9533. We hope to see you soon!

Photos and blog by Naturalist Josh Metten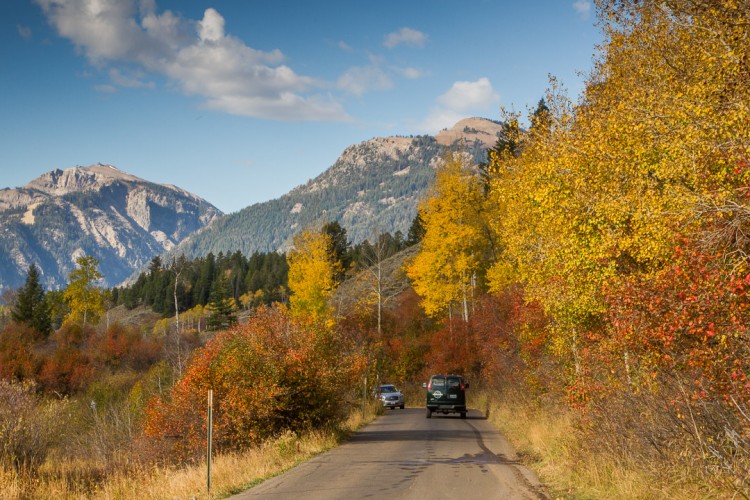 Fall along the Moose-Wilson Road of Grand Teton National Park
There is a crispness in the air today Jackson Hole. Mornings are cold and leaves are starting to change. It begins with fireweed flowers and smaller shrubs, before peaking with aspens and cottonwoods, our two major deciduous trees species. The fall has always been a special time to me, with fond memories of still evenings listening for the bugling of elk beneath golden aspen groves. Right now there is something for everyone in Grand Teton and Yellowstone National Parks, from rutting elk to active black and grizzly bears preparing for hibernation.
Fall Foliage
Are you a leaf peeper? If you like gazing at and photographing fall foliage you just might be! It's an informal name for folks who travel to observe the changing of fall colors. Here in Jackson Hole, fall colors astound, beginning first at higher elevations and then coursing downstream, following cottonwood groves along the Snake River. Grand Teton National Park has countless photography locations to capture the sights.
What is happening in fall anyway? Plants contain a green colored pigment called chlorophyll which is responsible for photosynthesis, the process which converts sunlight to sugars. As days shorten plant leaves slow down the production of chlorophyll which allows other pigments, called carotenoids, to become visible. The stunning reds, oranges, and yellows we see in fall have been present all along! Read more about the Science of Fall Foliage Here!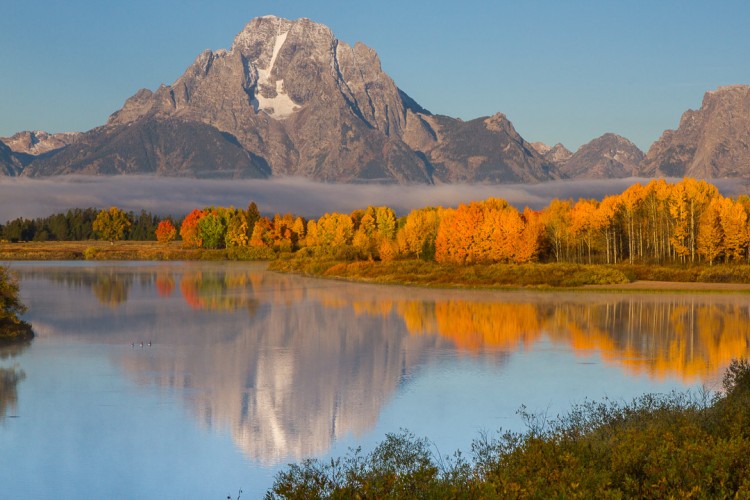 Fall at Oxbow Bend, Grand Teton National Park
Deciduous plants drop their leaves to save energy in winter when they would be otherwise unable to photosynthesize due to freezing temperatures. With out liquid water the chemical reaction cannot occur. In stark contrast to aspens and cottonwoods, our pine, spruce, and fir trees are known as evergreens, appearing to never lose leaves. (they are constantly dropping needles, just not all at once!) Evergreens produce sturdy needles which can resist winters chill, this allows them to begin photosynthesis as soon as water is once again available in the spring. Two unique strategies for surviving in the Greater Yellowstone Ecosystem.
Sparring Bull Elk, the Rut!
When aspen leaves begin to yellow, it is a sure sign the rut has, or is about to start. Sit quietly beneath one of these trees at dawn and you may hear an eerie sound echo across the forest. It's a bugle, a loud scream large bull elk make to proclaim their dominance for mating rights. One of North America's most spectacular wildlife behaviors, bull elk will call back and forth, issuing challenges. If you are lucky the next bugle you hear may be close enough to see the performers meet. They will stand tall, broadside to each other. Breathing heavily, water vapor will form in the frosty air. If one does not retreat the two will bow antlers and then lock them together, wrestling back and forth until one gives up and flees. The victor may often attempt to gore the loser while in pursuit.
A bull elk bugles during the Fall Rut, Grand Teton National Park

All of our ungulates, or hoofed mammals, mate in fall so that their offspring will be born in spring. And elk aren't the only ones to aggressively establish dominance; moose, deer, pronghorn, and bison will also be in rut this fall, a unique spectacle to experience beneath the shadow of the Tetons.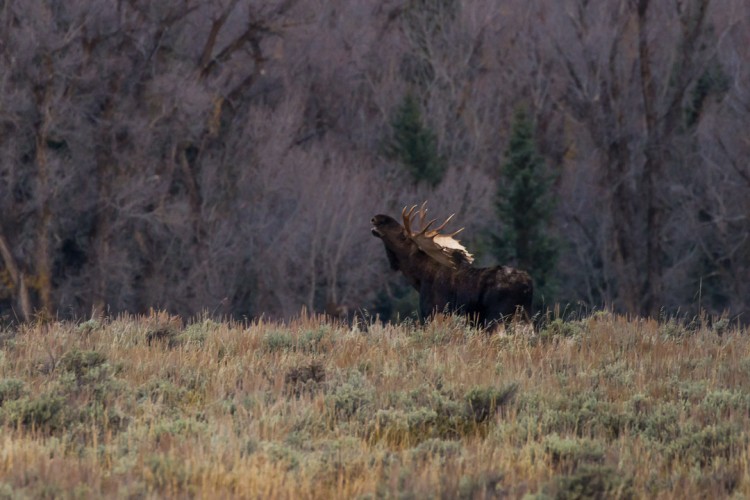 Rutting Bull Moose observed on a wildlife tour of Grand Teton National Park.
Preparing for Hibernation
Animals use three primary strategies to survive in the Greater Yellowstone Ecosystem, Adapt, Migrate, or Hibernate. One of our most popular animals to see, bears, are experts at the third. Throughout the summer bears build up fat reserves, preparing for winter. As omnivores, they will eat just about everything, grasses, roots, berries, elk calves, carrion, ants, and even moths roosting in high elevation boulder fields! Towards the end of summer foraging picks up, entering a stage called Hyperphagia or over eating. Foraging constantly, bears will eat upwards of 20,000 calories a day! Right now in Grand Teton National Park much of this calorie budget is coming from the berries of the hawthorn, a thorny bush often found near water.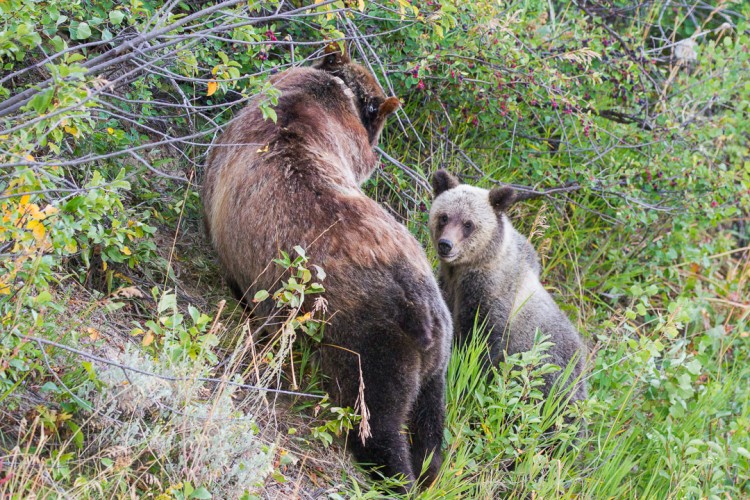 A Grizzly Sow and Cubs feed on serviceberry during a recent Grand Teton Wildlife Safari.
Transitioning to Winter
Fall is a transitional time, with our over 1000 plant species shutting down photosynthesis, in preparation for the long winter. Many drop their colored leaves or die back to the ground where insulated snow cover protects the living roots. Our rutting mammals complete the mating season and begin migrations out of high elevations to more protected valley floors, often concentrating in huge numbers such as elk on the National Elk Refuge. As two thirds of our bird species leave the valley for warmer climates and bears disappear to hibernate, we welcome new arrivals to winter in Jackson Hole. Raptors like the Rough Legged Hawk will soon arrive from the Arctic Circle, and mighty bighorn sheep will return from the rugged Gros Ventre Mountains, beginning their late fall rut just outside the town of Jackson.
Bighorn Sheep Butt Heads in early December on the National Elk Refuge near Jackson, WY.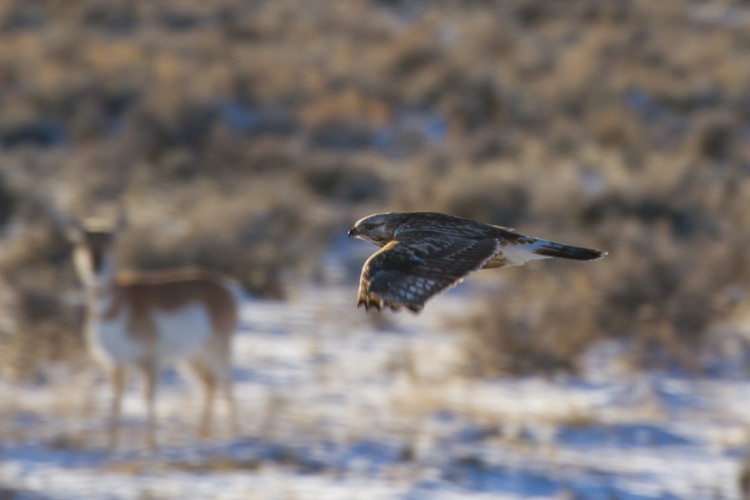 Rough Legged Hawks Migrate through the Jackson Hole Valley in Winter from the Arctic Circle!
The magic of fall in the west is something I was introduced to as a young child growing up near Rocky Mountain National Park. Let the experienced guides at Jackson Hole Ecotour Adventures share this story when you visit Grand Teton and Yellowstone National Parks this fall. Join us on a half day, full day, or multi day trip through fall (check out this multi day trip report!) in the Greater Yellowstone Ecosystem, it's one you wont soon forget. Trips from now until October 15th are 10% off using the code ETAFALL2017! Visit our website and click the Book Now! Button or give us a call at (307) 690-9533 to book. We hope to see you soon!
Guide Josh Metten has spent his entire life exploring and living in the Rocky Mountains of Colorado and Wyoming. He is an Ecotour Adventures Naturalist, photographer, conservationist, and outdoor enthusiast. Josh lives in Jackson, WY.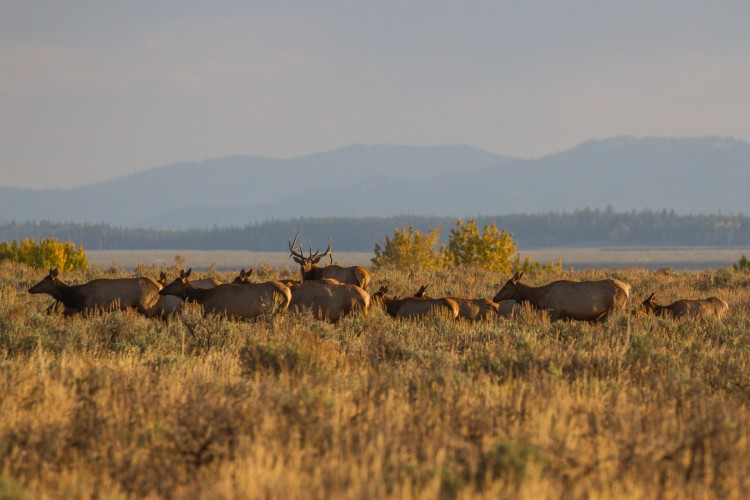 A bull elk herds a group of cows during the rut, or mating season in the Jackson Hole Valley, Grand Teton National Park
It's Autumn in Grand Teton and Yellowstone National Parks. Now is the time to experience one of North Americas most spectacular wildlife displays.
Arrive early, before dawn lights up the mountains. Open meadows near forested areas are ideal. Listen. From the still morning air a loud bugle may echo through the forest. It's a master bull elk, calling to his harem of female, or cow elk. He's also challenging other males. This is elk mating season, also known as rut, and the scenery of golden aspen trees beneath jagged peaks provide the perfect backdrop.
A Bull elk bugles in Grand Teton National Park during a Grand Teton Wildlife Safari.
What is the Rut
With our long harsh winters, animals in the Greater Yellowstone Ecosystem must time reproduction exactly to make the most of the summer bounty. Large herbivores like elk, deer, moose, bison, pronghorn antelope and bighorn sheep all mate in fall, during the rut. Starting in August, antlers, concealed beneath fuzzy velvet begin to harden. Blood supply to the developing bone gradually cuts off and by September elk have begun rubbing off the velvet. Young conifer trees can be stripped of branches and bark from top to bottom due to this behavior which stains the antlers dark brown.
Now polished smooth, dominant bull elk begin locating herds of females, bugling to attract them. Females are both attracted to and fearful of bull elk. Throughout the year bulls act very aggressive, even chasing females away from desirable forage. However, during the rut, as cows are approaching estrus, the attraction towards bull elk ends up overpowering any apprehension they may have. Bull elk also attract females through scent marking. They thrash young aspen trees while urinating, spreading their scent in the process.
The biggest bulls do most of the mating, their antler size a direct result of how well they foraged during the summer months. Energy expenditures from growing antlers as well as the rut are massive, and dominant bulls rarely maintain their status for more than a few years. Paradoxically, bulls are far more likely to die in winter due to losing up to 10% of their body weight during the rut! Wolf predation is one factor and scientists with Grand Teton National Park have found bull elk comprise the majority of animals killed in winter.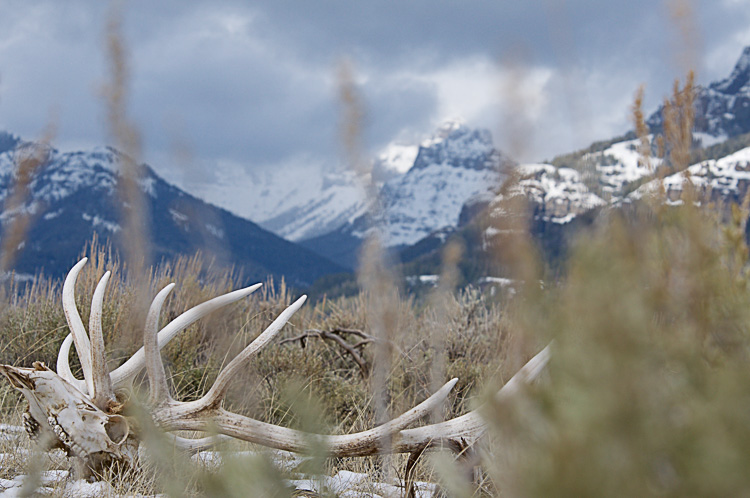 Due to the high energy expenditure required, master bulls rarely maintain their dominance over other bulls for many years. Photo Taylor Phillips
Winter Survival
When the rut is completed and snow begins piling up elk begin spectacular migrations, descending into valleys where snow cover is manageable. At 8,000 feet, the Yellowstone Plateau, is no place for an elk in winter. Exiting the park in all directions, some end up close to 80 miles south of Yellowstone, in the National Elk Refuge. In one of the largest gatherings of elk in the world, upwards of 9,000 will winter here, just steps from downtown Jackson, WY.
Elk have always used low elevation valleys like Jackson Hole in winter, but in the late 1800's encountered a new competitor for food. Homesteaders brought cattle to the valley, occupying valuable winter range. The Jackson Hole Herd began starving in large numbers, alarming conservationists like Stephen Leek. Leek photographed the plight of elk in the valley, leading to the establishment of the Elk Refuge in 1912. With a winter range now set aside from livestock, elk have a place to spend the winter. Refuge staff continue to provide supplemental feed, a practice started to keep elk off of private property. Elk aren't the only ones on the refuge in winter however. They are joined by hundreds of bison, bighorn sheep, a small herd of pronghorn antelope, eagles, hawks, coyotes and even wolves.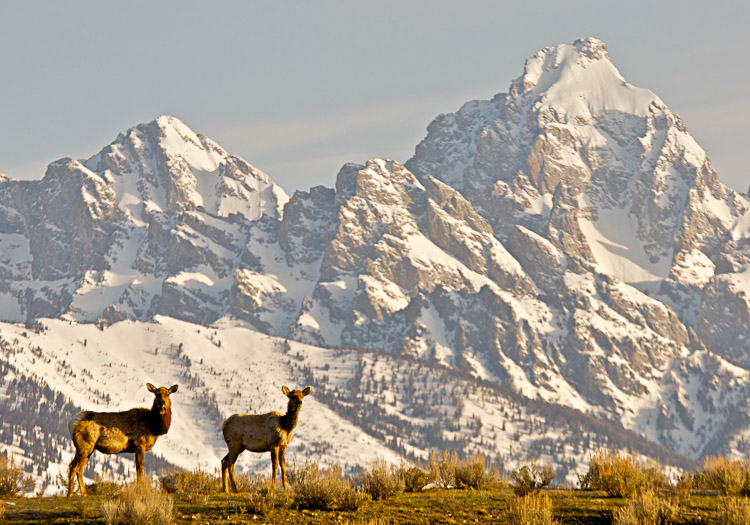 A cow and calf elk follow receeding snows out of the National Elk Refuge to Grand Teton National Park. Photo: Taylor Phillips
Spring Reproduction
In spring, when melting snow awakens plants dormant from winter, elk begin following this greening up of the landscape, reversing the great migrations of fall. Wary of predators, female herds choose sheltered terrain over habitat with good forage, to better increase the chances of their calves surviving. Since the cows all mated at approximately the same time, calves are born in a flush of life. With wobbly legs they spend much of their first few weeks of life bedded down, hoping to avoid predators. As they grow, calves become more active and will excitedly jump and run around herds of adult cows throughout the summer. Fall bugling is not the only sound elk make, and herds are often quite audible as the cows and calves call back and forth to each other.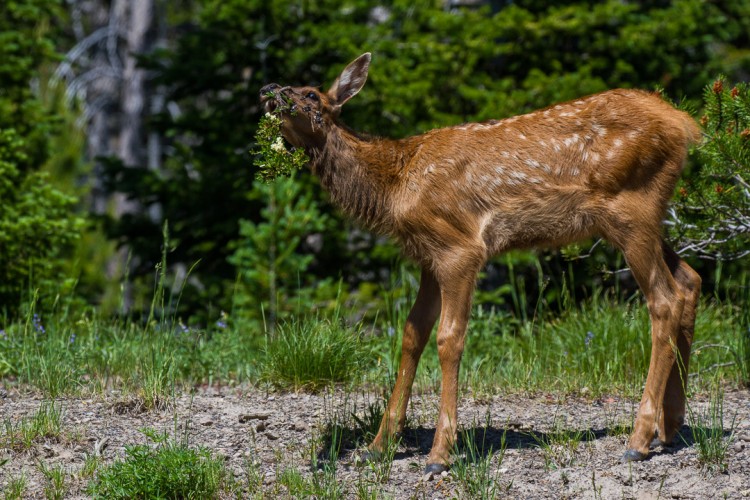 We observed this spotted elk calf playing with its food on full day tour of Yellowstone National Park.
Into Summer
During this time, adult bulls have moved a different direction, seeking out high quality forage to start regrowing antlers for the next rut. Their previous ones are now lying on the forest floor. If discovered outside of the National Parks after April 30th, they may be harvested by those who are willing to look. Left on the ground, small mammals and even elk themselves will chew on the ends obtaining valuable calcium.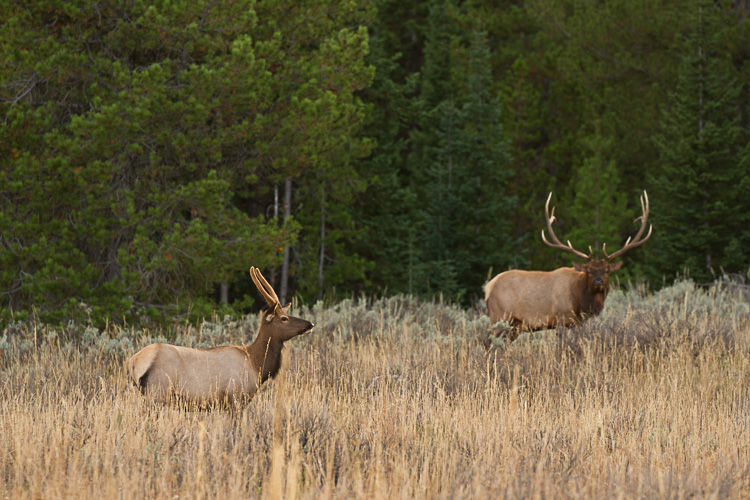 Compare the velvet covered antlers of this spike bull to the adult bull in the background. He has stripped off velvet and is pursuing female herds as part of the fall rut.
Antler growth peaks in early summer, as the flush of high nutrient vegetation is abundant. At nearly an inch per day they are the fastest growing bones in the animal kingdom. Male elk first grow antlers during their second summer. Called 'spikes' due to the lack of forks in the antlers, these young bulls will remain with their mothers until being chased off by aggressive males in fall. In just a few years they to may be big enough to challenge other bulls with a bugle that pierces the stillness of cold mornings in the Greater Yellowstone Ecosystem.
Now is your chance to experience this amazing spectacle in Grand Teton and Yellowstone National Parks! From now until October 15th Wildlife Safaris are 10% off when you use the code ETAFALL2017 while booking! To join a safari with Jackson Hole Ecotour Adventures visit our website and click the Book Now! Button or give us a call at (307) 690-9533. We hope to see you soon!
Josh Metten has spent his entire life exploring and living in the Rocky Mountains of Colorado and Wyoming. He is an Ecotour Adventures naturalist, photographer, conservationist, and outdoor enthusiast. Josh lives in Jackson, WY.