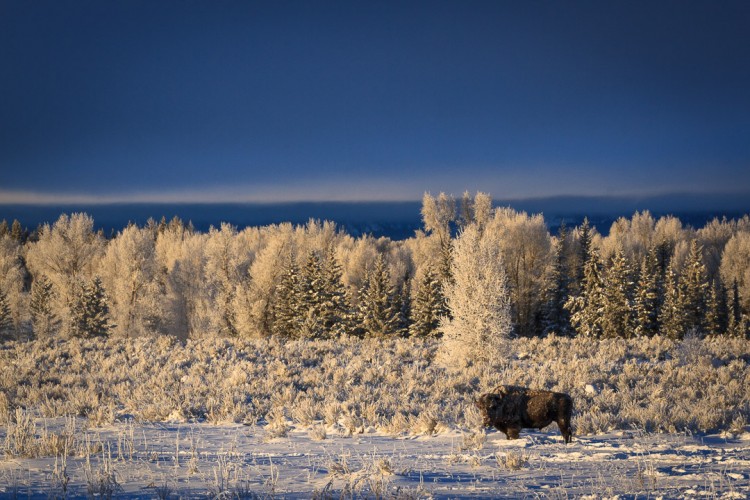 It's the heart of winter in Jackson Hole. Deep snows have filled the high country of Grand Teton and Yellowstone National Parks. Insulated by the snowy blanket, grizzly and black bears, sleeping away the winter. Large ungulates, such as elk and bighorn sheep have migrated into the valleys to escape the worst of winter. Camouflaged in white, ermine bound across the landscape, adapting to the winter world.
Our recent multi day tour of Grand Teton and Yellowstone National Parks provided an intimate portrait of the strategies wildlife use to survive winter in the Greater Yellowstone Ecosystem. It's one of the wildest landscapes left in the Lower 48 States, read on to learn more!
Migrating out of Yellowstone
In Winter, deep snows in the heart of Yellowstone National Park send herds of elk down off the plateau and surrounding high country towards low elevation valleys like Jackson Hole, where we began our trip. They travel through the valley beneath the mountain range of Grand Teton National Park, moving south towards the National Elk Refuge as winter snows deepen.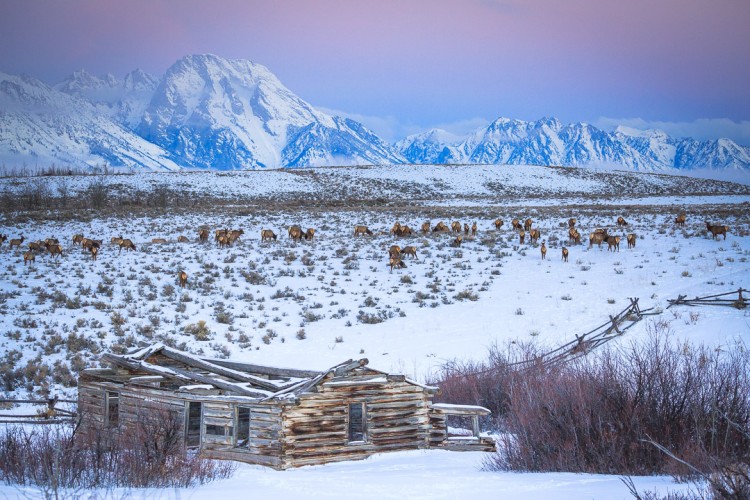 Beginning in the 1880's homesteaders arrived in the Jackson Hole Valley, intending to settle the land. Harsh winters discouraged most, who left behind remnants of cabins like these ones now reclaimed by elk and other wildlife.
Mule deer, pronghorn antelope, and bighorn sheep have also retreated from their summer range in the high country of Grand Teton and Yellowstone National Parks. Relying on dried grasses and plants at ground level, all of these species struggle to survive in snow more than a foot deep.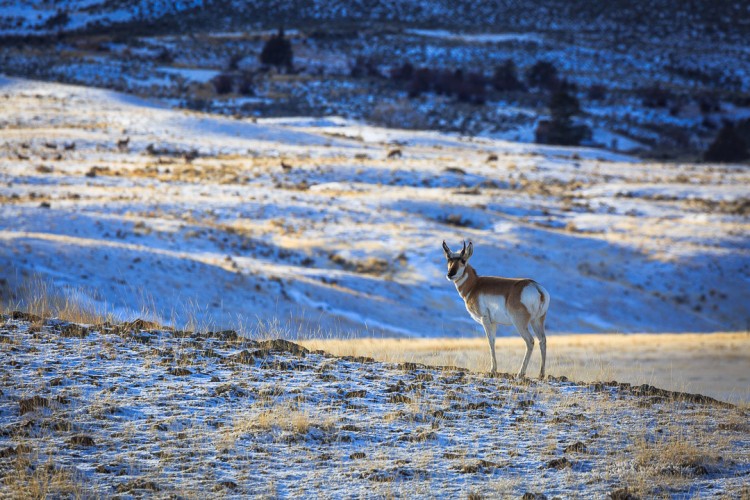 With a herd of elk in the background, a young buck pronghorn stands on winter range in the Paradise Valley north of Yellowstone National Park. With much of the valley under increasing pressure of development, the future of this buck is tied to the fate of the land he stands upon.
Though moose also migrate into the valley floor, the body mechanics of these 6 foot tall giants enable them to walk through deep snow with relative ease. However, this winter, moose have benefited from the shallow valley snow depth, continuing to forage on bitterbrush in the sagebrush flats of Grand Teton National Park for much longer than in past years.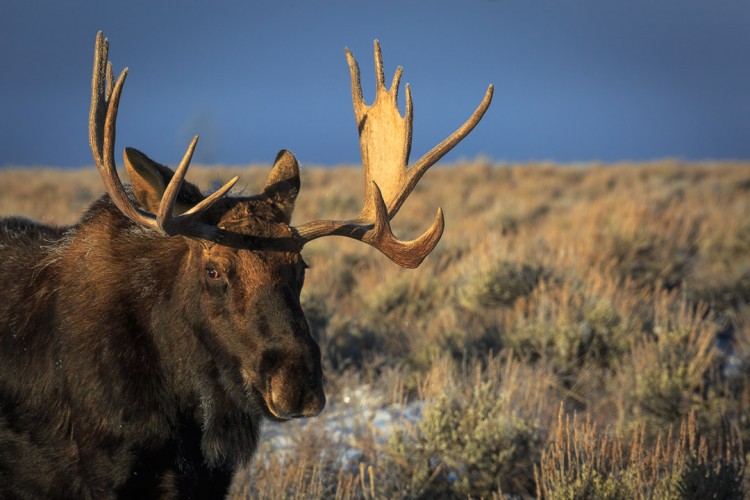 We observed close to 20 moose in Grand Teton National Park to start off our multiday tour.
While many of the big mammals of Yellowstone retreat from its boundaries in winter, its thermally heated waters offer winter habitat for other migrants in winter. Over a thousand Trumpeter Swans congregate to feed on open water such as the Yellowstone, Firehole and Madison Rivers in Yellowstone National Park. To the south, just outside of the town of Jackson, swans are joined by other waterfowl species and sometimes otters in the spring fed Flat Creek, which winds its way through the National Elk Refuge.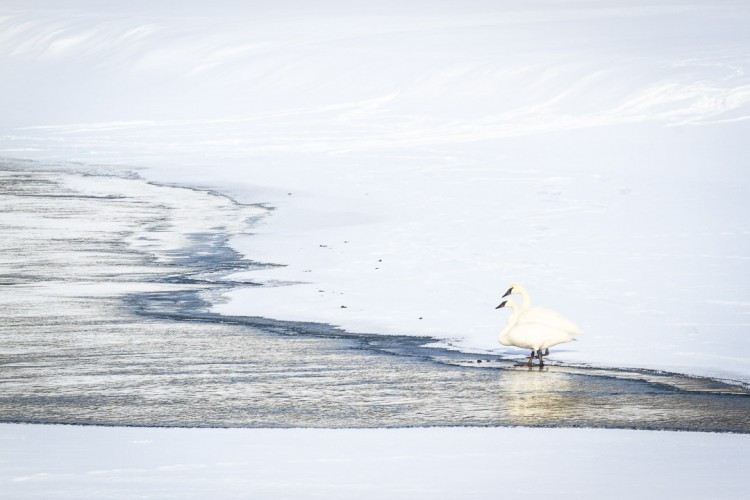 It's lush grasses dormant beneath a blanket of snow, the Hayden Valley becomes quiet in winter, providing habitat for small flocks of waterfowl including these trumpeter swans.
Sleeping away Winter
Many animals in Grand Teton and Yellowstone National Parks are hibernating however. Grizzlies and Black Bears have entered a near hibernating state known as Torpor, where their body temperature, metabolism, respiratory rate, and other body functions slow. It is possible for a bear to rise in winter and go for a stroll, unlike true hibernators like ground squirrels and some other rodent species. Some can even reach near freezing temperatures while they sleep!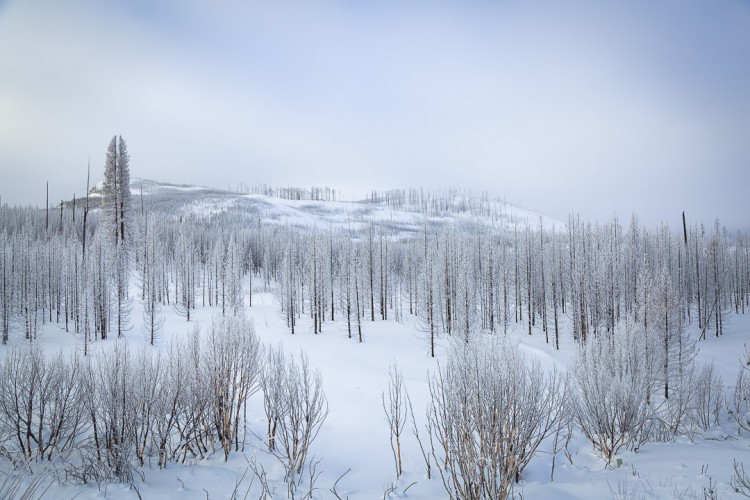 The trip north out of Grand Teton National Park took us through the Berry Creek Burn Area, a wildfire from the summer of 2016. This habitat provides abundant nesting opportunities for songbirds, as well as lush grasses for deer, elk, and even grizzly bears!
Adapting to Winter's Grasp
Not all animals can migrate or hibernate, and those who remain in this wintery world must adapt. Bison, still dependant on ground level vegetation, rely on strong neck and shoulder muscles to power the sweeping motion of their heads which can plow downward through up to three feet of snow. Their thick coats provide superior insulation well below zero.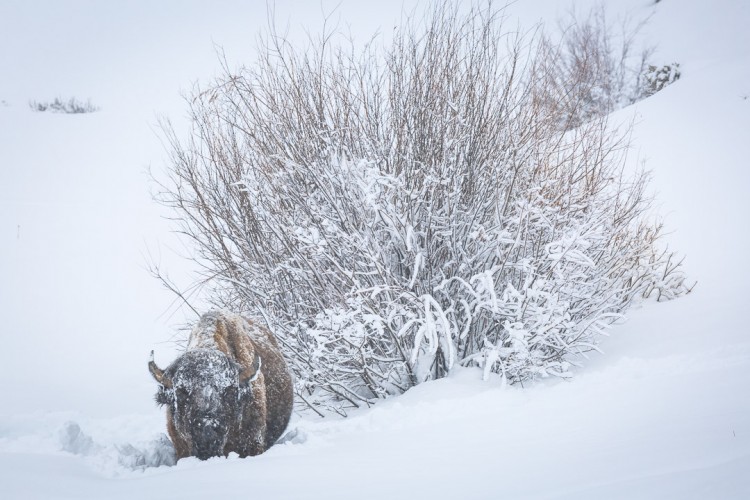 We observed this bison plowing through several feet of snow to access dried grasses below in the Lamar Valley of Yellowstone National Park.
Wolves, restored to the ecosystem in 1995 after a 60 year absence are widespread across the park, and winter is their time. Elk are the primary food source of wolves but several packs in Yellowstone have learned to hunt bison, a more dangerous but higher reward prey species. We found several members of the Wapiti Lake Pack which currently numbers around 20 animals, on a bison kill along the Madison River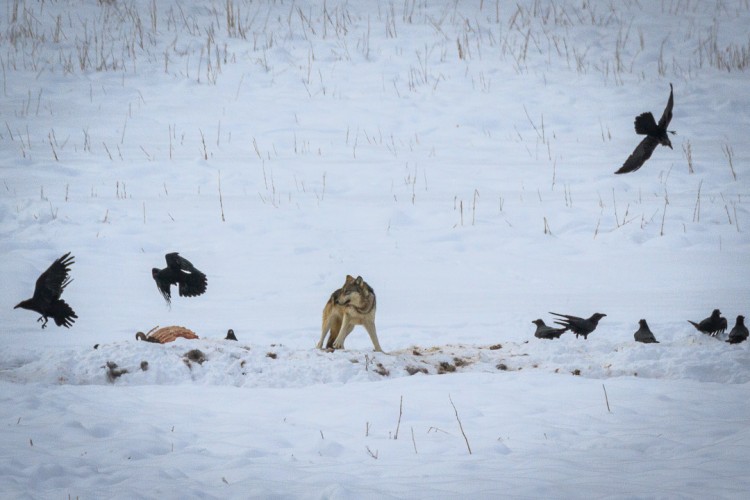 A Yellowstone wolf stands over a bison carcass, accompanied by ravens, magpies, and eagles (not pictured). Kills like this one also provide food for numerous species of small birds, other small mammals, and eventually fertilize the soil with what remains.
Though many consider wolves or bears to be the top carnivore in the Greater Yellowstone Ecosystem, the fiercest proportional to size may be the ermine, a type of weasel. Ermine have opted for a sleek, athletic body and a high metabolism to keep warm, meaning they must constantly hunt. Their small size makes them a potential prey species for raptors, and ermine grow a white coat as camouflage in the winter snow.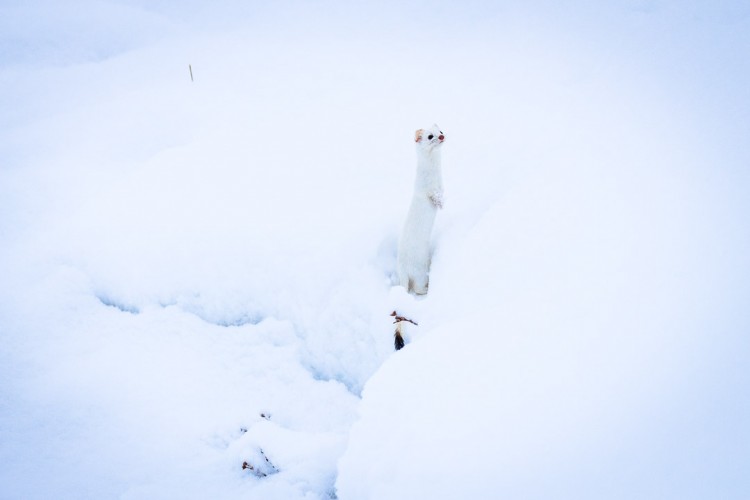 Spotting one of these fast moving ermine is hard enough, we lucked out with two in one day as we toured the Northern Range of Yellowstone National Park.
Observing an Intact Ecosystem at Work
Over our six day journey through Grand Teton and Yellowstone National Parks, we had opportunities to observe the major strategies wildlife in this ecosystem use to not only survive, but thrive. We watched elk migrating across the Jackson Hole Valley, cut tracks of fox, coyote, and ermine hunting across the snow in Yellowstone. Along the Madison river, wolves had learned to hunt an impressive quarry, the American Bison, who uses his strength to find grasses buried deep beneath the snow. And we visited the diverse microbe packed mini ecosystems of Yellowstone's geyser basins.
Wildlife of all shapes and sizes have figured out how to persist on this landscape, an impressive reminder of the tenacity of nature. Want to join us on a Winter Multi Day next year? Ecotour Adventures is currently planning group and private trips, please send us an email info@jhecotouradventures.com with your interest! Check out this year's itinerary below to learn more about this trip of a lifetime.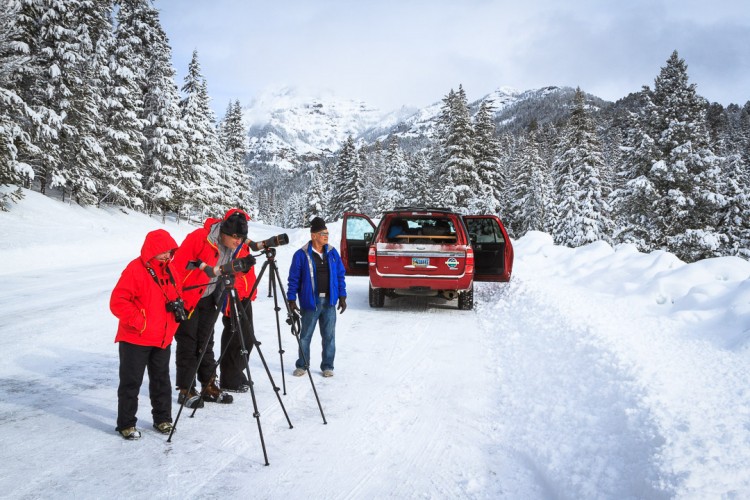 Grand Teton And Yellowstone National Park Winter Multi Day Itinerary
Day 1: Grand Teton National Park and the National Elk Refuge. Lodging in Jackson, WY
Day 2: Grand Teton National Park, Jackson Lake. Snowcoach to Yellowstone National Park, West Thumb Geyser Basin and Old Faithful Area, Lodging At Snow Lodge
Day 3: Lower Loop of Yellowstone: Snowcoach to Madison River, Canyon Village, Hayden Valley. Lodging at Snow Lodge
Day 4: Old Faithful to Mammoth Hot Springs: Madison River wolf watching, Grand Prismatic Spring Lodging at Mammoth Hotel
Day 5: Lamar Valley, Northern Range of Yellowstone. Lodging at Mammoth Hotel
Day 6: Lamar Valley, Northern Range of Yellowstone. Transfer to Bozeman, MT.
Now in our 11th year of operation, Jackson Hole Ecotour Adventures leads wildlife, cross country skiing, and snowshoe tours in both Grand Teton and Yellowstone National Parks. Join us for 10% off through March 31st when you book online (click "Book Now" at top left for live trip availability!) and use the code "Winter18" at checkout.