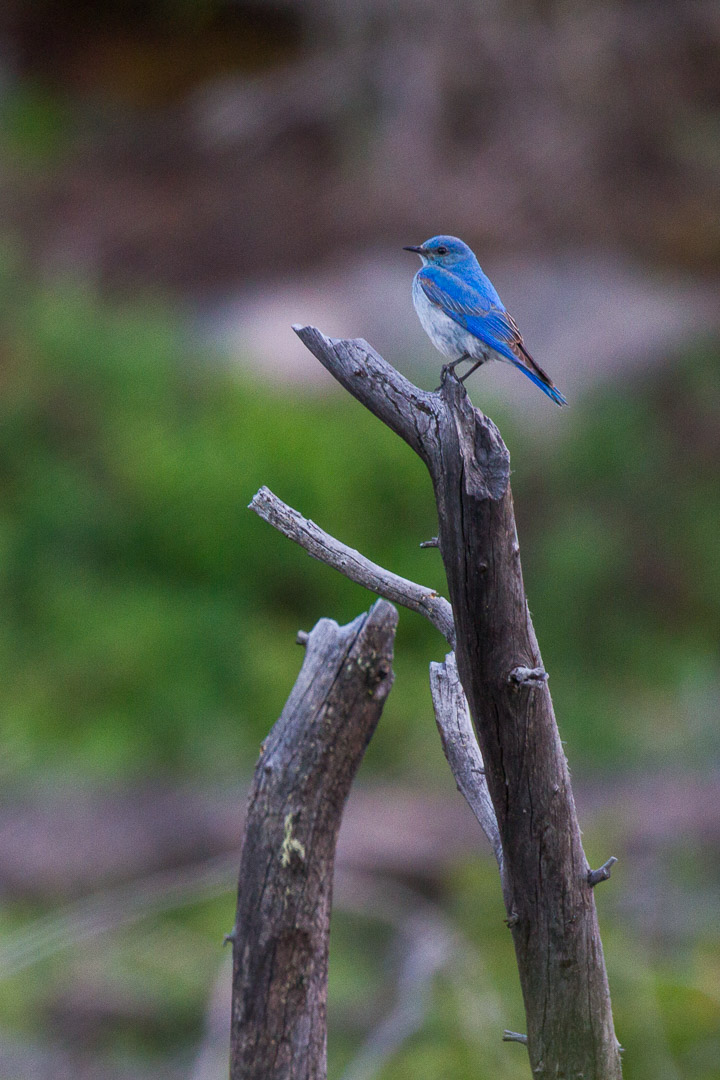 Mountain Bluebirds are some of the first migratory birds to return to the Jackson Hole Valley. These vibrant songbirds are now nesting in cavities across the Greater Yellowstone Ecosystem.
There's a secret hiding in plain view across the Jackson Hole Valley. If you look closely beneath the stunning Teton Range, past the giant bison, elk, and grizzly bears, you will find that Grand Teton National Park holds an incredible diversity of bird life. With close to 300 bird species, Jackson Hole is an underrated birding hotspot which comes alive in summer as hundreds of species return to nest.
The diverse landscapes and habitats of Grand Teton National Park provide an abundance of "off the beaten path" bird watching opportunities. And, at the 100 year anniversary of the Migratory Bird Treaty Act, 2018 has been named the "Year of the Bird" by the National Geographic Society, Audubon Society and others. What better reason to come experience the diverse avian fauna of Grand Teton National Park?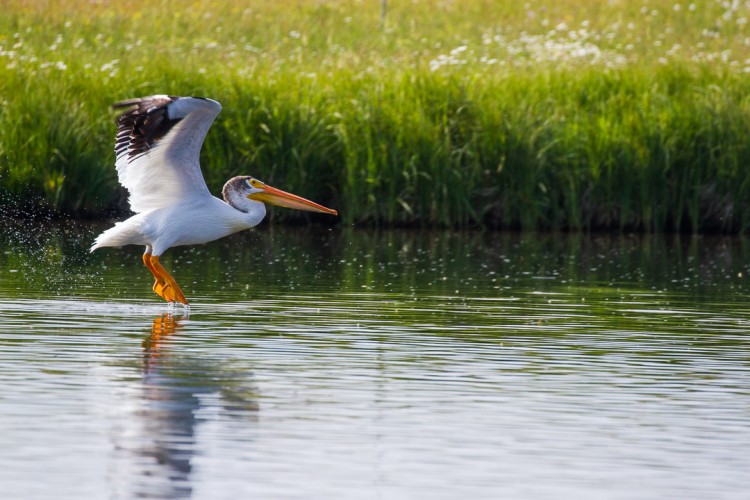 Many guests to Grand Teton National Park are surprised to observe American White Pelicans, who arrive here in summer to mate and raise chicks. Did you know a group of pelicans are known as a "scoop"?
We're excited to announce the addition of Birding Specific tours to our lineup, come join the experienced Avian Biologists of Jackson Hole EcoTour Adventures and find out how amazing birding can be in Jackson Hole!
Migrations Bring Birds to Jackson Hole from Near and Far
Though birds can be found in the Jackson Hole Valley year round, summer is when their diversity really shines. 2/3rds of our bird species migrate here in summer, arriving just in time for the bounty of insects, berries, seeds, and other forage made available by lush plant growth. Yellow Warblers and White Crowned Sparrows are now singing from nesting territories in wetland habitats such as the Moose-Wilson Road Corridor. These species and many others have arrived from winter habitat in Central America.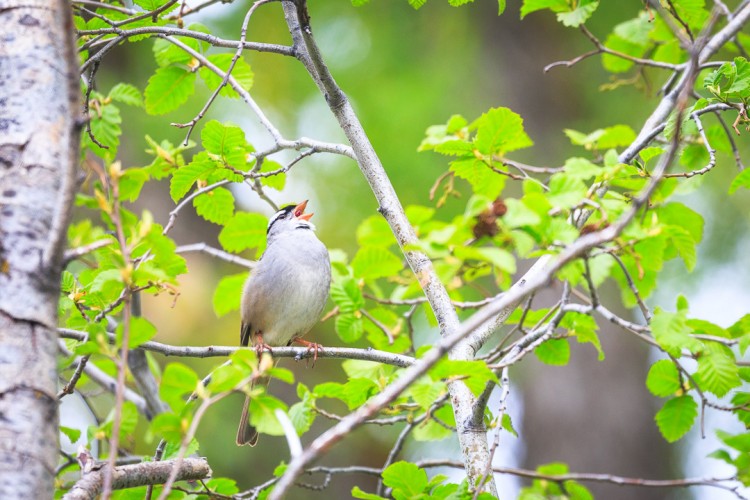 Look at the top of bushes or signposts along wetland corridors for the male white crowned sparrows singing throughout the month of June in Grand Teton National Park.
Out in the sagebrush flats of Grand Teton National Park, look up and you may see a Swainson's hawk, look for the dark tailing edge of their wings as a diagnostic feature. In just two months these hawks have made the 2000 mile plus return journey from southern Argentina! Swainson's Hawks are often called "Locust" or "Grasshopper Hawks" due to their preference for hunting insects of the same name.
Conserving Bird Migrations - the 100th Anniversary of the Migratory Bird Treaty Act
Whether long or short, migrations sustain many of the bird species found in the Greater Yellowstone Ecosystem. Without these long distance movements the forests, meadows, and wetlands of Jackson Hole could go silent, which is why were celebrating the 100th Anniversary of the Migratory Bird Treaty Act.
In the late 1800s and early 1900s, many birds across North America were in trouble. Unregulated hunting was decimating game bird populations, many of which migrated across international boundaries. Our more vibrant and colorful birds, from egrets to small songbirds were being killed for their feathers, which were used in fashion.
In response to the near destruction of many of our bird species the Migratory Bird Treaty Act was passed in 1918, codifying a previous treaty with Canada. The act was later expanded to include other countries including Mexico, Russia and Japan. Today the Act protects over 1000 bird species, and has been credited with the recovery of many birds we see here in Jackson such as sandhill cranes.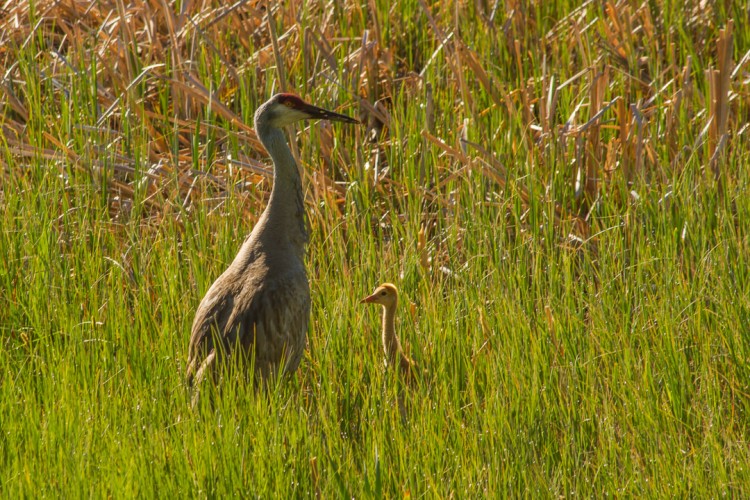 Sandhill Crane pairs return to the Jackson Hole Valley in summer to raise their chicks, known as colts.
"IF YOU TAKE CARE OF the BIRDS, YOU TAKE CARE OF MOST OF THE BIG PROBLEMS IN THE WORLD."

Thomas Lovejoy
Biologist and Godfather of Biodiversity
Experiencing the Birds of Jackson Hole
The expansion of Grand Teton National Park(LINK) into the diverse plant communities of the Jackson Hole Valley has protected critical habitats for many of the species that have thrived under the Migratory Bird Treaty Act, and we couldn't be more excited to share them with you.
Every birder knows great optics are key to great observations which is why we use 8x42 Maven B.1 binoculars and S.1 spotting scopes on every tour. Our half day birding tours run at dawn or dusk, maximizing the peak activity period of most of our bird species. Or, join a full day tour to cover more ground, including observations of sagebrush species whom are more active throughout the day.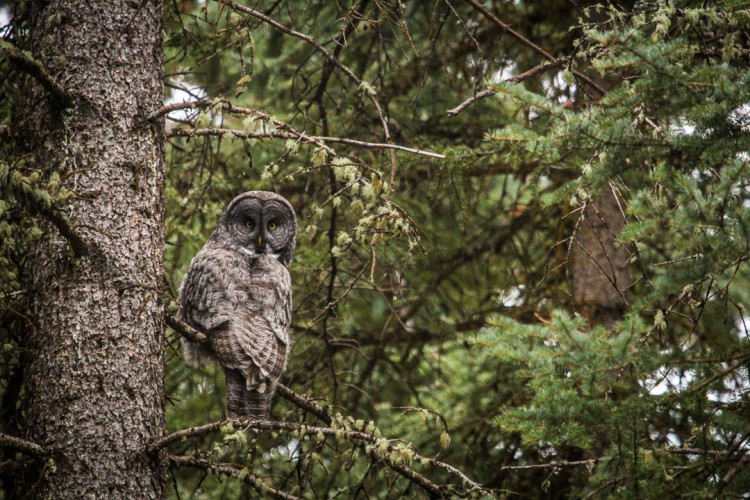 Great Gray Owl - The largest owl in North America makes its home in the conifer forests below the Teton Range.
At the heart of a great birding tour are the experienced Avian Naturalists at EcoTour Adventures such as guide Shaun Martin. Prior to joining the Ecotour Adventures team, Shaun monitored songbird populations along oil pipelines in Eastern Wyoming and worked as a Naturalist for the Audubon Society. Learn more about Shaun here.
In celebration of the Migratory Bird Treaty Act Centennial, EcoTour Adventures will be donating 5% of all birding tours to our friends at the Teton Raptor Center.
Now is the time to explore the diverse habitats of Grand Teton National Park, experiencing our numerous bird species. Find out how you can join a birding tour with Jackson Hole Ecotour Adventures by calling us 307-690-9533 or emailing info@jhecotouradventures.com. Click "Book Here" at the top right of our website to see live availability on all of our tours.
Trumpeter swans are a rare but exciting sighting in the Jackson Hole Valley during the summer months. Join us in the winter for a chance to see greater numbers who spend the colder months here!
Now in our 11th year of operation, Jackson Hole Ecotour Adventures leads wildlife safaris, in Grand Teton and Yellowstone National Parks 365 days a year. Let us help maximize your Jackson Hole Experience Today!