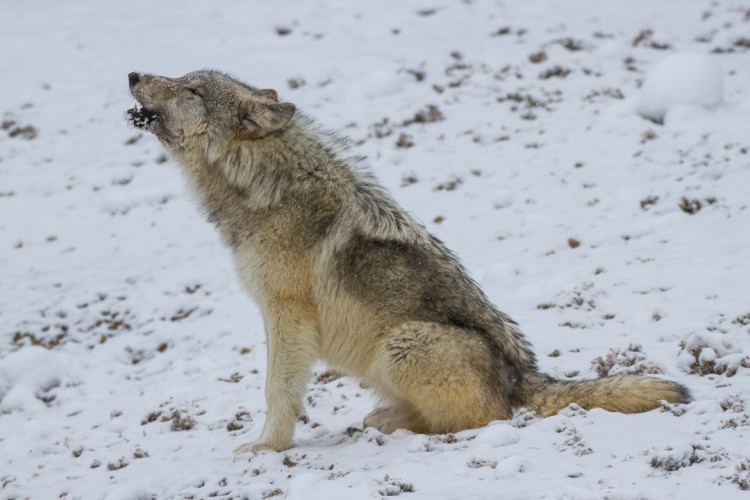 Finding the Wild Wolves of Yellowstone
23 Years of Research and Conservation in the World's first National Park
We're five miles into the Bechler area of Yellowstone National Park, crossing a flat meadow of yellow grasses between forested hummocks. It's late August, and the Teton Range, visible behind us, is white from the first snowstorm of the year. Yellowstone Wolf Project Research Associate Kira Cassidy and I are collecting a trail camera that's been up for nearly a year. With any luck, it will yield images of the Bechler Wolf Pack, one of the least known packs in the park.
Cassidy is part of a long-term study of the park's wolves, reintroduced here 23 years ago after over 60 years of extirpation. "Last time I was up here, it finally clicked" she says, explaining why we aren't seeing any ungulate sign in the lush meadows. "The Bechler area is right below the Pitchstone Plateau, when early snows melt the water all pools here, flooding and freezing these meadows solid."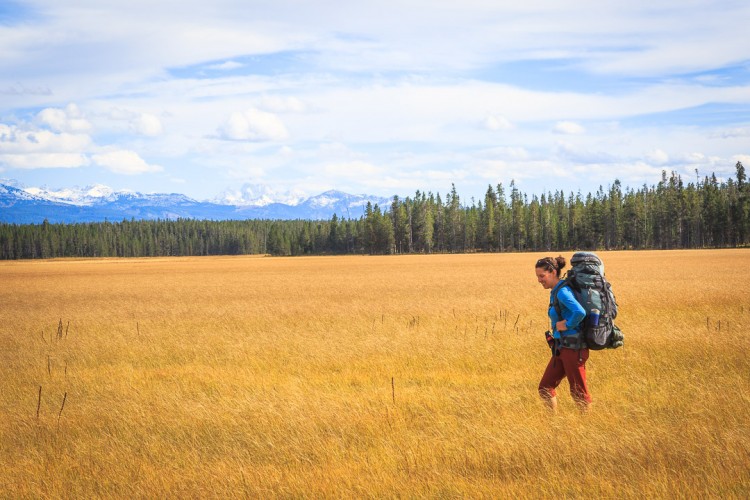 Backpacking through Wolf Habitat in the Bechler area of Yellowstone National Park.
The Bechler pack has chosen an unusual area to make a living, prey are limited but so is competition from other packs. They're too remote for the intensive study which occurs on other packs and so each year biologists set up trail cameras in hopes of getting a few glimpses into the lives of these apex predators.
We reach the camera, still fixed to a snag where Kira and her sister Brenna, also a biologist with the park, left it months before. "Trail cameras are like opening a wrapped present, you have no idea what might be inside" Kira says as we flip through over 800 photos from the past year. A black bear walks through the camera, then a moose, a fox, sandhill cranes, and a red pine squirrel. We laugh with excitement when the first image of a wolf appears.
The black wolf, with a graying muzzle and yellow eyes, curiously stares straight into the camera. A few photos (and weeks) later a gray wolf strolls through, looking back at the camera. It's followed by a beautiful white wolf. The Bechler Pack, it seems, is alive and well.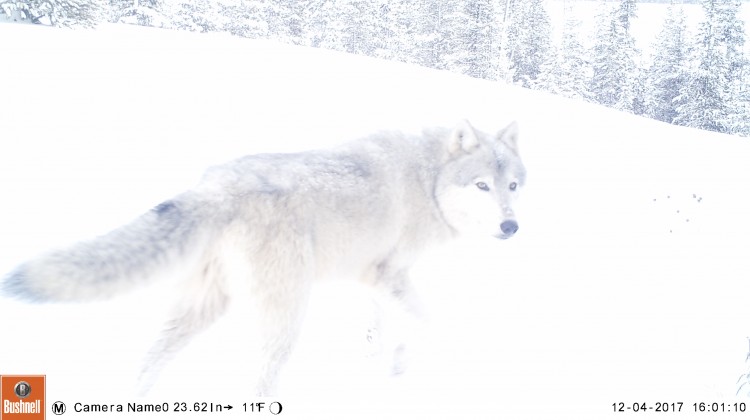 Bechler Wolf - Photo Courtesy NPS and Kira Cassidy
The Return of Yellowstone's Wolves
Once widespread across North America and other parts of the globe, wolves are skilled at adapting to the dynamic world around them. Even with centuries of human persecution wolves have continued to persist across parts of their historic range. However, coordinated efforts throughout the 1800's led to mass eradication, by the early 1900's wolves had disappeared from much of the continental US, including Yellowstone National Park.
In the 1970's a wave of environmental enthusiasm swept across the country, including bipartisan passage of the Endangered Species Act. This overwhelmingly popular bill received a unanimous vote in the Senate and 390-12 vote in the House, recognizing our moral and legal obligation to prevent human-caused extinction of other species.
With passage of the act, reintroduction in Yellowstone was a logical step. The 2.5 million acres of National Parks and over 11 million acres of surrounding national forest of the Greater Yellowstone Ecosystem contains the large intact landscapes and massive herds of elk wolves need to thrive. And Yellowstone, at the core of the ecosystem, would be the living laboratory for scientists and the public to observe the return of a long lost apex predator.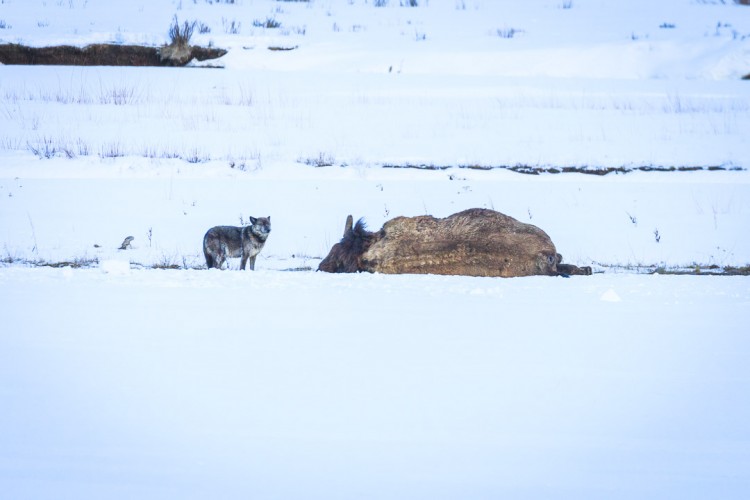 926F scavenging a bison carcass in spring 2018. Before being killed by a trophy hunter just outside the park boundary in Late November 2018, 926F was one of the oldest wolves in the park at over 7.5 years of age. Wolf hunting is legal outside of park boundaries.
Studying the Yellowstone Wolf
Each year, for 30 days from mid-November to mid-December and again in the month of March, winter study crews arrive at the Yellowstone Center for Resources in Mammoth to observe and document wolf behavior. This long term study, coordinated by the Yellowstone Wolf Project and National Park Service, has been going on since reintroduction 23 years ago. Each crew is assigned a different pack, following them from first light until dark. GPS collars on some of the wolves report hourly location fixes, beamed to a satellite every four, aiding in the monitoring of the packs.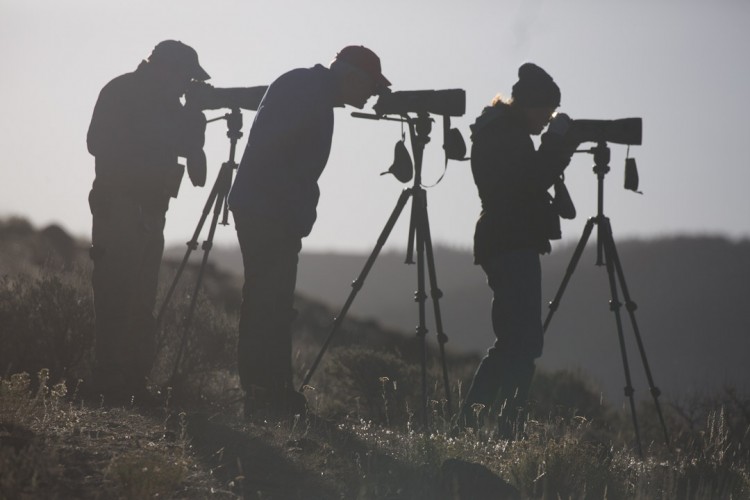 Observing wolves in Yellowstone. Wolf related tourism generates $35 million annually to the Greater Yellowstone Economy.
But much of the crew's time is spent gazing through spotting scopes, staring at little dots in the distance, jotting down behavioral observations as they occur. Other crews identify potential carcass locations by clustered GPSgps points, visiting them after the wolves have departed to identify and study the remains.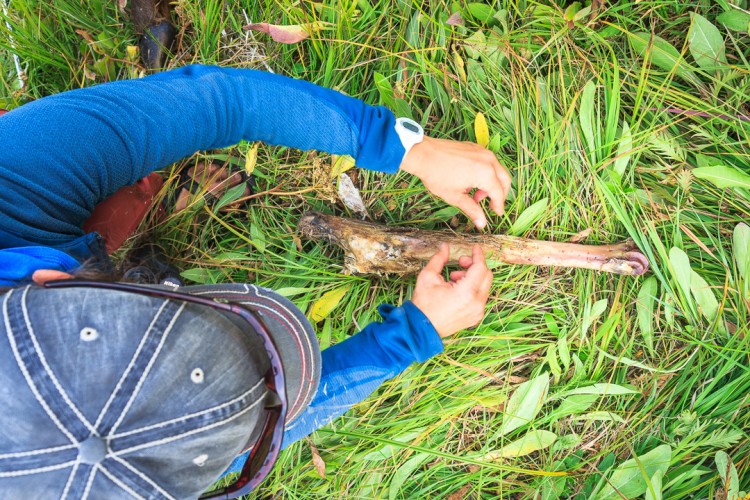 Kira labels an elk metatarsus sample from a wolf kill site. The metatarsus is the last long bone to develop in a fetus, when Kira's team measures it back at the lab they will gain valuable insights as to the health of this elks mother when it was developing!
The volumes of data collected over the last 23 years are just beginning tell us the story of the return of wolves to Yellowstone. Wolves, and their predation and interactions with herbivores like elk are changing rivers in some areas of the park. The impact is less pronounced in others. They've attracted a dedicated following of wildlife enthusiasts, estimated at over 150,000 annually who visit the park with the express intention of seeing a wild wolf.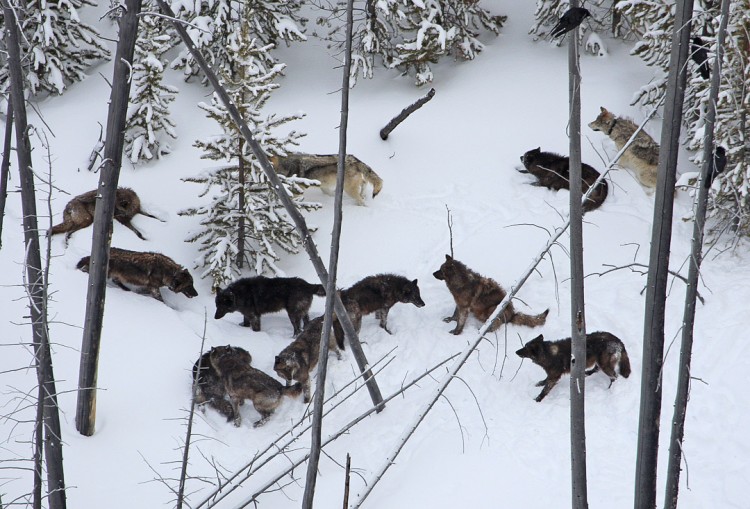 Like humans and other highly social species, wolves benefit from close pack bonds and the strength of experienced members in the pack. Photo Courtesy NPS/Kira Cassidy
But it may be what we've learned about the social nature of wolves and how that relates to other species including humans which is the most significant. In her Master's work on Yellowstone wolves, Kira looked at pack aggression, what happens when two packs interact. Often these highly territorial animals fight, being killed by another wolf is the leading cause of death in Yellowstone. As she analyzed over a decade of data on wolf interactions Kira expected packs with the strongest wolves, younger adults in their prime to be the biggest factor in pack survival.
Though important, the most significant variable in all of her tests were the elders, wolves over 6 years old. The wisdom of these experienced wolves guide the packs to success, whether in a battle over territory, hunting, or otherwise adapting to the landscape they depend upon.
Wildlife biologists see the same importance of elders in other social animals across the planet. Post reproductive female orcas are relied upon by the pod to find salmon runs in thin times. In extreme drought, elephant matriarchs remember waterholes from 50 years prior. Old wolves guide their packs to success, knowing when to fight, and when to run.
"To keep every cog and wheel is the first rule of intelligent tinkering"
Aldo Leopold's famous quote, written in the 1930's is a reflection of the idea that Living Laboratories like Yellowstone have lessons to share with us if we are willing to patiently observe and listen. When we let a species like wolves disappear from the landscape that voice, and it's wisdom, falls silent. The return of wolves to the Greater Yellowstone Ecosystem is the return of ancient knowledge, and a missing cog integral this wild landscape.
Josh Metten is a Senior Naturalist with Jackson Hole Ecotour Adventures with nearly a decade of experience guiding and sharing stories of the Greater Yellowstone Ecosystem.
Jackson Hole Ecotour Adventures Experience Winter in Jackson Hole Giveway - OFFICIAL RULES

NO PURCHASE NECESSARY TO ENTER OR WIN. MAKING A PURCHASE OR PAYMENT OF ANY KIND WILL NOT INCREASE YOUR CHANCES OF WINNING. VOID WHERE PROHIBITED OR RESTRICTED BY LAW.

1. PROMOTION DESCRIPTION: The Jackson Hole Ecotour Adventures Experience Winter in Jackson Hole Giveway (\"Sweepstakes\") begins on Tuesday, December 4th 10:00am MST and Ends Tuesday December 18th at 11:59pm MST. (the \"Promotion Period\").

The sponsor of this Sweepstakes is Jackson Hole Ecotour Adventures ("Sponsor"). By participating in the Sweepstakes, each Entrant unconditionally accepts and agrees to comply with and abide by these Official Rules and the decisions of Sponsor, which shall be final and binding in all respects. Sponsor is responsible for the collection, submission or processing of Entries and the overall administration of the Sweepstakes. Entrants should look solely to Sponsor with any questions, comments or problems related to the Sweepstakes. Sponsor may be reached by email at info@jhecotouradventures.com during the Promotion Period.

2. ELIGIBILITY: Open to legal residents of the United States of America who are 21 and older (the \"Entrant\"). Sponsor, and their respective parents, subsidiaries, affiliates, distributors, retailers, sales representatives, advertising and promotion agencies and each of their respective officers, directors and employees (the \"Promotion Entities\"), are ineligible to enter the Sweepstakes or win a prize. Household Members and Immediate Family Members of such individuals are also not eligible to enter or win. "Household Members" shall mean those people who share the same residence at least three months a year. "Immediate Family Members" shall mean parents, step-parents, legal guardians, children, step-children, siblings, step-siblings, or spouses. This Sweepstakes is subject to all applicable federal, state and local laws and regulations and is void where prohibited or restricted by law.

3. PRIZES: Grand Prize: One (1) winner will receive 1- full day snowshoe & wildlife tour and 1-half day Nordic Skiing Tour from @JacksonHoleEcoTours, 4 nights lodging at the @AnvilHotel, a $100 dining credit to @GloriettaJackson, two (2) admissions to a Raptor Encounter Program from the @TetonRaptorCenter, one (1) C.1 Binocular from @Mavenbuilt, two (2) admissions to the National Museum of Wildlife Art @WildlifeArtJH, lunch for 2 at Palate, 2 nordic Buffs from @JHNordic, two (two) Nordic Ski Rentals from @TetonMountaineering and two (2) Sleigh Ride admissions to the National Elk Refuge. (ARV $2000.00): Winners responsible for inquiring with Jackson Hole Ecotour Adventures and other partners to determine available dates. Flights, travel to or from experiences, or any additional out of pocket expenses not included. Tours valid January 2nd - March 31st 2019. Teton Raptor Center Encounter Valid through December 31st 2019.

Only one prize per person and per household will be awarded. Gift cards and gift certificates are subject to the terms and conditions of the issuer. Prizes cannot be transferred, redeemed for cash or substituted by winner. Sponsor reserves the right in its sole and absolute discretion to award a substitute prize of equal or greater value if a prize described in these Official Rules is unavailable or cannot be awarded, in whole or in part, for any reason. The ARV of the prize represents Sponsor's good faith determination. That determination is final and binding and cannot be appealed. If the actual value of the prize turns out to be less than the stated ARV, the difference will not be awarded in cash. Sponsor makes no representation or warranty concerning the appearance, safety or performance of any prize awarded. Restrictions, conditions, and limitations may apply. Sponsor will not replace any lost or stolen prize items.

This Sweepstakes is open to legal residents of the United States of America and Prize will only be awarded during the Tour departing from Jackson, WY. Winners are responsible for all travel, lodging, food, and other expenses outside of tours with Jackson Hole Ecotour Adventures. All federal, state and/or local taxes, fees, and surcharges are the sole responsibility of the prize winner. Failure to comply with the Official Rules will result in forfeiture of the prize.


4. HOW TO ENTER: Enter the Sweepstakes during the Promotion Period via the following ways:
Following all contest sponsor social media pages and tagging three friends in our Instagram and Facebook Contest Posts for one entry per social media platform post.
Go to Ecotour Adventures or Anvil Hotel Website Contest Page and register your information for an additional entry.

Automated or robotic Entries submitted by individuals or organizations will be disqualified. Internet entry must be made by the Entrant. Any attempt by Entrant to obtain more than the stated number of Entries by using multiple/different email addresses, identities, registrations, logins or any other methods, including, but not limited to, commercial contest/sweepstakes subscription notification and/or entering services, will void Entrant's Entries and that Entrant may be disqualified. Sponsor is not responsible for late, incomplete, or inaccurate votes. If there is a dispute as to the identity of an online entrant, the prize will be awarded to the authorized account holder of the e-mail address. The "authorized account holder" is defined as the natural person to whom the e-mail address is assigned by an Internet service provider, online service provider, or other organization (e.g., business, educational institution, etc.) that is responsible for assigning email addresses for the domain associated with the submitted email address. Final eligibility for the award of any prize is subject to eligibility verification as set forth below. All Entries must be posted by the end of the Promotion Period in order to participate. Sponsor's database clock will be the official timekeeper for this Sweepstakes.

5. WINNER SELECTION: The Winner(s) of the Sweepstakes will be selected in a random drawing from among all eligible Entries received throughout the Promotion Period. The random drawing will be conducted about December 19th, 2018 after the Promotion Period by Sponsor or its designated representatives, whose decisions are final. Odds of winning will vary depending on the number of eligible Entries received.

6. WINNER NOTIFICATION: Winner will be notified by email at the email address provided in the Entry Information approximately one week after the random drawing. Potential Winner must accept a prize by email as directed by Sponsor within one week of notification. Sponsor is not responsible for any delay or failure to receive notification for any reason, including inactive email account(s), technical difficulties associated therewith, or Winner's failure to adequately monitor any email account.

Any winner notification not responded to or returned as undeliverable may result in prize forfeiture. The potential prize winner may be required to sign and return an affidavit of eligibility and release of liability, and a Publicity Release (collectively \"the Prize Claim Documents\"). No substitution or transfer of a prize is permitted except by Sponsor.


7. PRIVACY: By entering the Sweepstakes, you grant Sponsor permission to share your email address and any other personally identifiable information with the other Sweepstakes Entities for the purpose of administration and prize fulfillment, and addition to the Jackson Hole Ecotour Adventures email list.

8. LIMITATION OF LIABILITY: Sponsor assumes no responsibility or liability for (a) any incorrect or inaccurate entry information, or for any faulty or failed electronic data transmissions; (b) any unauthorized access to, or theft, destruction or alteration of entries at any point in the operation of this Sweepstakes; (c) any technical malfunction, failure, error, omission, interruption, deletion, defect, delay in operation or communications line failure, regardless of cause, with regard to any equipment, systems, networks, lines, satellites, servers, camera, computers or providers utilized in any aspect of the operation of the Sweepstakes; (d) inaccessibility or unavailability of any network or wireless service, the Internet or website or any combination thereof; (e) suspended or discontinued Internet, wireless or landline phone service; or (f) any injury or damage to participant's or to any other person's computer or mobile device which may be related to or resulting from any attempt to participate in the Sweepstakes or download of any materials in the Sweepstakes.

If, for any reason, the Sweepstakes is not capable of running as planned for reasons which may include without limitation, infection by computer virus, tampering, unauthorized intervention, fraud, technical failures, or any other causes which may corrupt or affect the administration, security, fairness, integrity or proper conduct of this Sweepstakes, the Sponsor reserves the right at its sole discretion to cancel, terminate, modify or suspend the Sweepstakes in whole or in part. In such event, Sponsor shall immediately suspend all drawings and prize awards, and Sponsor reserves the right to award any remaining prizes (up to the total ARV as set forth in these Official Rules) in a manner deemed fair and equitable by Sponsor. Sponsor and Released Parties shall not have any further liability to any participant in connection with the Sweepstakes.
Acceptance of the prize constitutes permission for Sponsor and its agencies to use winner's name and/or likeness, biographical material, and/or entry (including an altered form of the entry) for advertising and promotional purposes without additional compensation, unless prohibited by law. By accepting prize, winner agrees to hold Sponsor, its advertising and promotion agencies and their respective parent companies, subsidiaries, affiliates, partners, representative agents, successors, assigns, officers, directors, and employees harmless for any injury or damage caused or claimed to be caused by participation in the Promotion or acceptance or use of the prize. Sponsor is not responsible for any printing, typographical, mechanical, or other error in the printing of the offer, administration of the Promotion or in the announcement of the prize.

9. SOCIAL NETWORK DISCLAIMER: A Facebook and Instagram account may be required to enter. If you don't already have a Facebook or instagram account, visit www.facebook.com or download the instagram account to your smartphone to create one. It is free to create an account. This promotion is in no way sponsored, endorsed or administered by, or associated with Facebook or Instagram. You understand that you are providing your information to the Sponsor and not to Facebook. By participating via the Facebook or Instagram platform, participants are also subject to Facebook's data policy and terms of use, which can be found at https://www.facebook.com/about/privacy and https://www.facebook.com/legal/terms/update.

10. WINNER LIST/OFFICIAL RULES: Winners list will be posted to the Jackson Hole Ecotour Adventures Facebook Page

11. SPONSOR: Jackson Hole Ecotour Adventures 1300 S Carol Ln, Jackson, WY 83001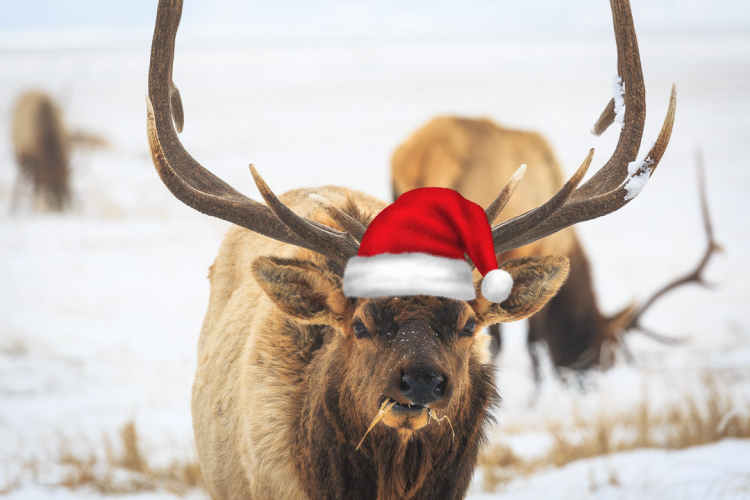 Share the Gift of the Greater Yellowstone Ecosystem
Thinking about what to get your loved ones for the holidays? Give them the gift of the Greater Yellowstone Ecosystem with EcoTour Adventures!
Gift Cards can be used towards any of our trips.
Winter Wildlife Enthusiasts Will Love:

Grand Teton Half Day Winter Wildlife Tour - With thousands of animals concentrated in the Jackson Hole Valley, winter is one of our favorite times to observe wildlife without the crowds of summer! Join us as we observe Elk, Bison, Bighorn Sheep, Wolves, Moose, Bald Eagles, Trumpeter Swans and more beneath the majestic Teton Range. -----> Learn More Here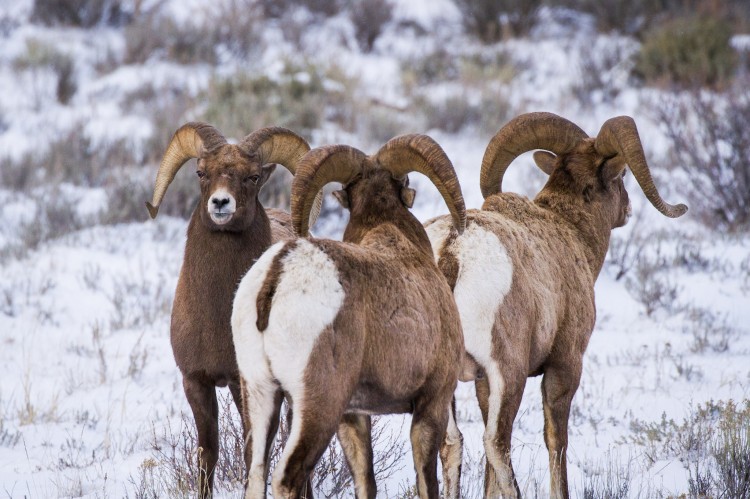 Winter Wolves and Wildlife of Yellowstone Multi Day Tour - Join us this winter exploring Yellowstone's Northern Range, home to four wolf packs and hundreds of wintering bison, elk, bighorn sheep and other diverse wildlife. Departure dates coincide with peak wildlife activity and the quietest time of year for visitors, meaning Yellowstone is ours to explore free of crowds! We'll also enjoy an evening dinner with a Yellowstone Wolf Biologist.
Click here for full tour information.
2019 Departure Dates January 16-21 2019 and February 23-28 2019
Check Availability: 307-690-9533 or info@jhecotouradventures.com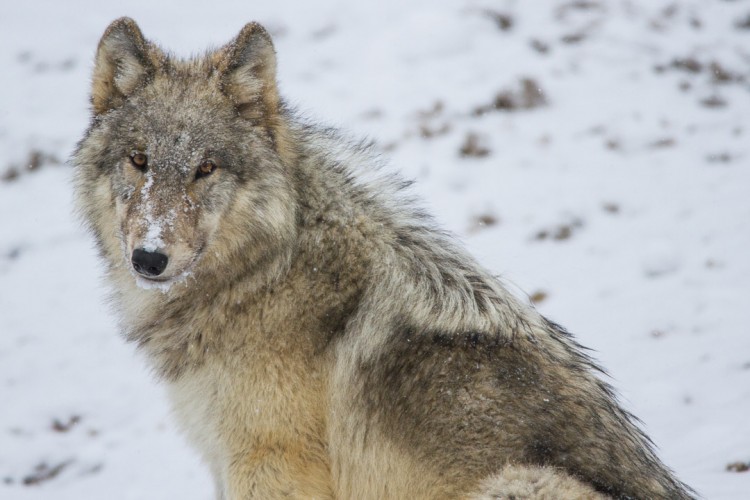 Winter Adventures in Grand Teton:

Grand Teton Half Day Snowshoeing Tour - Explore the Winter Wonderland of Grand Teton National Park on snowshoes with our experienced naturalists. We'll study track and sign, winter ecology, and snow science as we make fresh tracks beneath the majestic Teton Range. All ability levels are welcome, and we provide all of the necessary snowshoeing equipment. -----> Learn More Here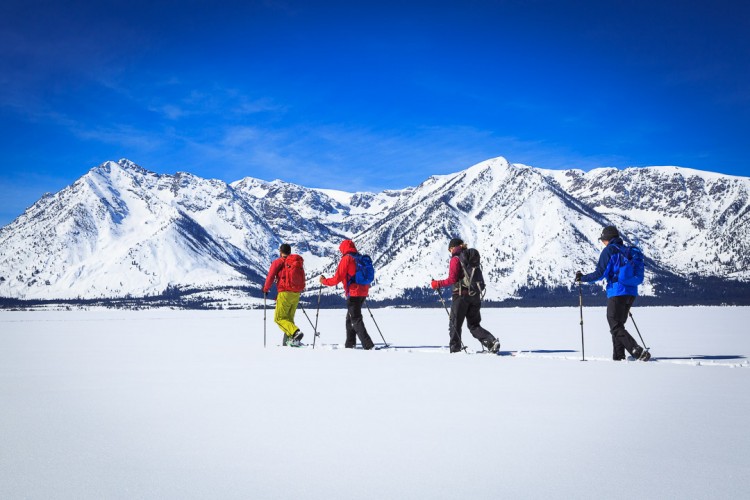 Grand Teton Half Day Cross Country Ski Tour - New to Cross-Country Skiing and want to learn how while taking a tour with an expert Naturalist? Join one of our PSIA Certified Naturalist Guides on a snowy adventure through Grand Teton National Park!
Click here for full tour information.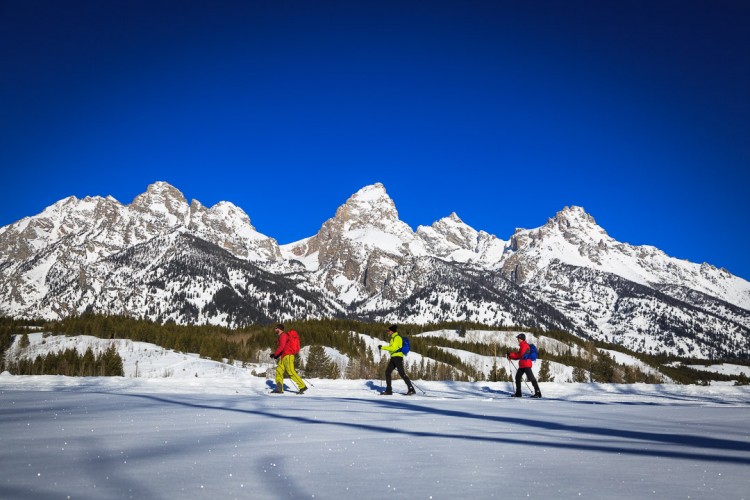 Gift Cards are also available here!
Summer Tours for the Whole Family

Grand Teton Half Day Wildlife Tour - Explore the best wildlife hotspots in Grand Teton National Park with our skilled naturalists. We'll search for moose, elk, bison, pronghorn antelope, mule deer, wolves, black bears, grizzly bears, bald eagles, trumpeter swans and more on this 4 our sunrise or sunset tour. -----> Learn More Here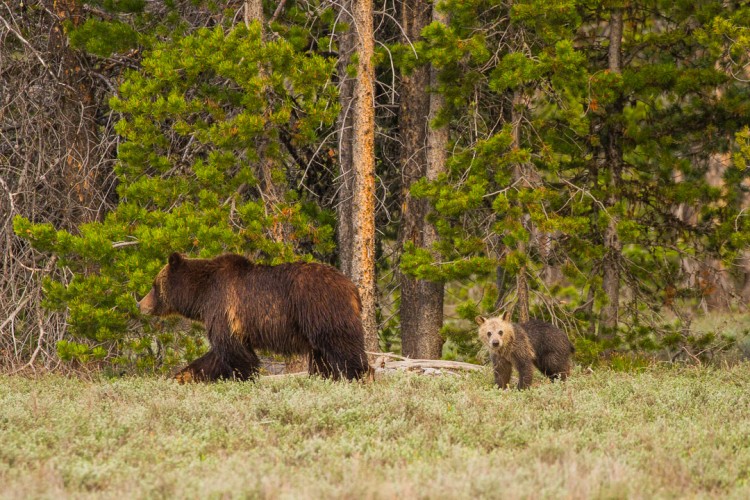 Yellowstone Full Day Tour - Explore the worlds first National Park on our full day Yellowstone Tour. Our experienced guides are local experts on the regions geology, ecology and wildlife with an unmatched passion for the Greater Yellowstone Ecosystem.
Click here for full tour information.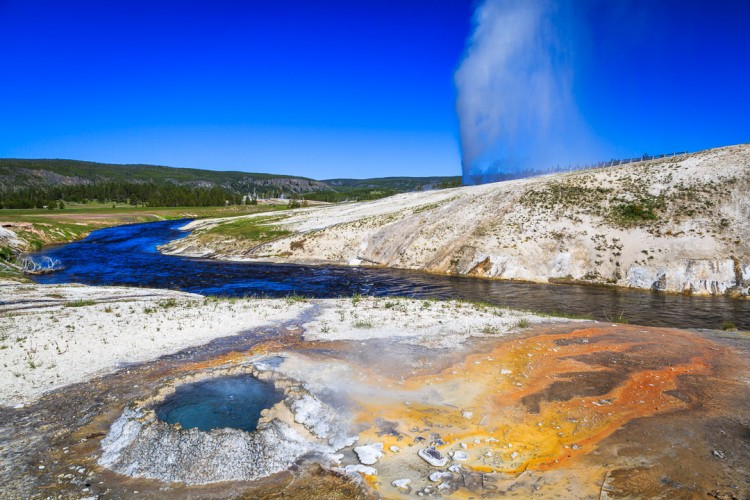 Grand Teton/Yellowstone Multi Day Tour - Discover the best of the Greater Yellowstone Ecosystem on a Multi Day Tour with EcoTour Adventures, Starting in Jackson Hole, we'll explore the geology and wildlife of Grand Teton National Park before embarking into the interior of Yellowstone. 10,000 thermal features, the largest wild bison herd in the world, wolves, bears, and diverse wildlife await.
Click here for full tour information.
Check Availability: 307-690-9533 or info@jhecotouradventures.com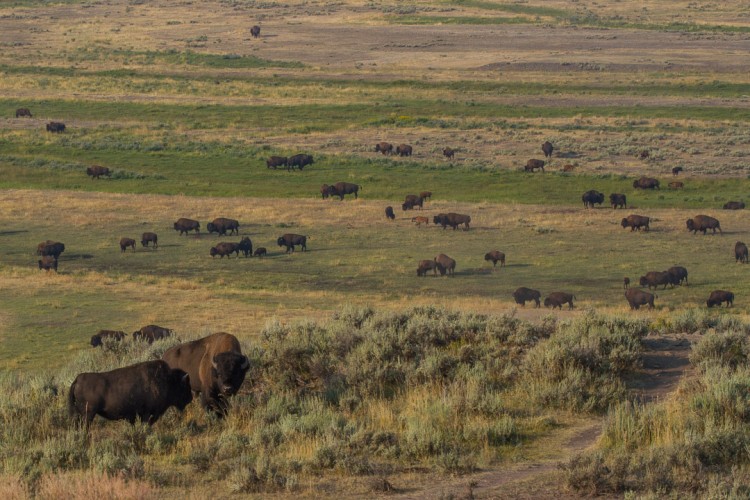 Let them Choose with a Gift Card!
Let your loved one decide the best trip for them with an EcoTour Adventures Gift Card! Choose your amount here!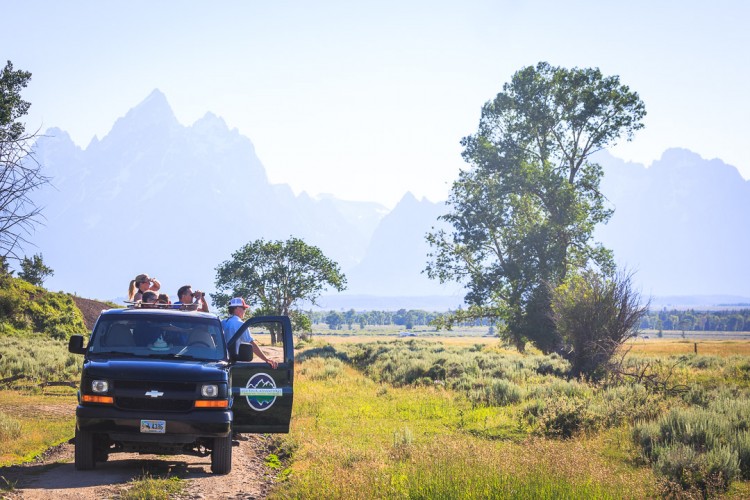 Now in our 11th year of operation, Jackson Hole Ecotour Adventures leads wildlife safaris, cross country skiing tours, and snowshoe tours in Grand Teton and Yellowstone National Parks 365 days a year. Let us help maximize your Jackson Hole Experience Today! 307-690-9533 info@jhecotouradventures.com
New Winter Wildlife, Cross Country Ski and Snowshoe Tours of Grand Teton and Yellowstone National Park
Winter in Jackson Hole offers a start contrast to the hustle of summer. With the crowds of summer long gone, a peaceful silence falls across the snow covered landscape of Grand Teton National Park, perfect for exploration on cross country ski or snowshoe. Wildlife are concentrated in the valleys across the Greater Yellowstone Ecosystem, offering unparalleled opportunities for viewing species like wolves, elk, bison, moose, bighorn sheep, bald eagles and more.
Just in time for winter, the guides at Jackson Hole EcoTour Adventures are excited to announce three brand new tours for the Winter 2018-2019 season, learn more about how to maximize your winter vacation to Jackson Hole!
Guided Cross Country Skiing and Snowshoeing beneath the Teton Range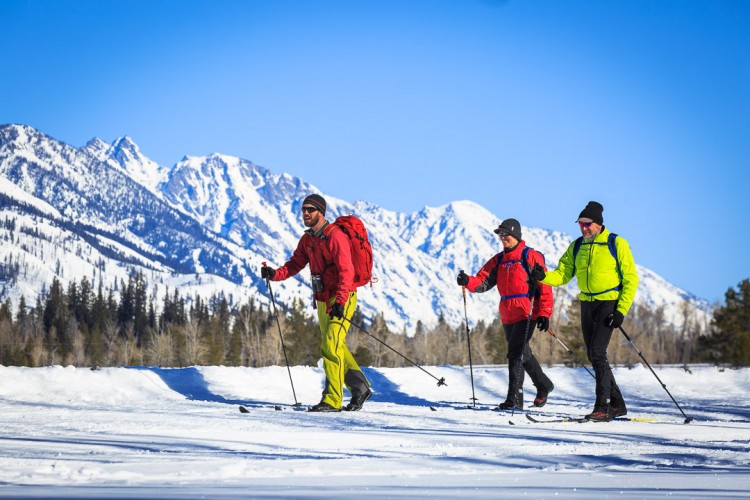 Though already renowned as a downhill skiing destination, Jackson Hole is a hidden gem with miles of world class cross-country skiing opportunities. Thanks to our friends at the Grand Teton National Park Foundation, 14 miles of the Teton Park Road are groomed for skiing from the Bradley-Taggart Trailhead all the way to Signal Mountain Lodge. Dozens of additional miles of ungroomed trails and thousands of acres of untouched powder snow exist for those who wish to explore off the beaten path. Grand Teton National Park is a nordic skiing and snowshoeing paradise!

This year we're adding a Half Day Beginner Ski Tour to our lineup of Grand Teton National Park and National Elk Refuge tours. As you learn to ski, one of our experienced naturalist guides will teach you about the wildlife and winter ecology of the Greater Yellowstone Ecosystem, deepening your connection to the landscape. More Information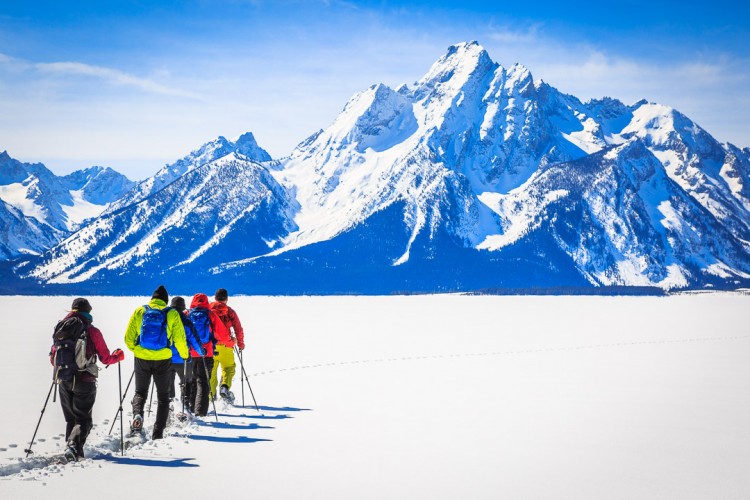 Skiing not your thing? Follow the trail of our Naturalists into the backcountry of Jackson Hole on a Four Hour Snowshoe Tour. We'll explore wildlife track and sign, snow science, and enjoy an off the beaten path experience exploring Grand Teton National Park. These trips are designed for all abilities, if you can walk you can snowshoe! All necessary snowshoe equipment provided. More Information
Winter Wolves and Wildlife of Yellowstone!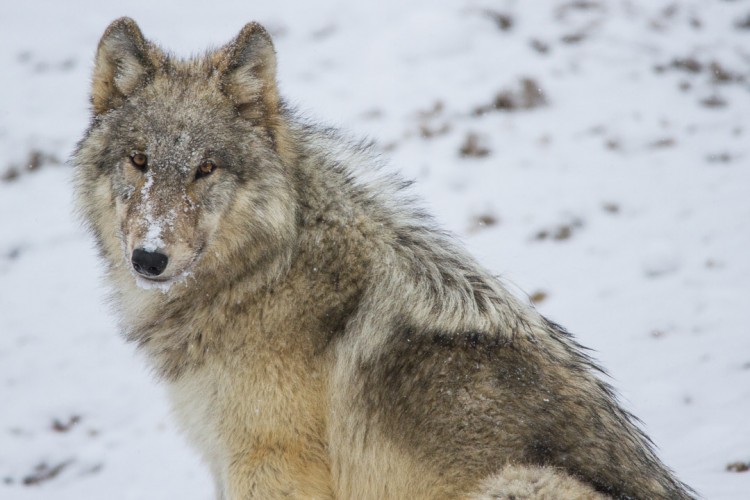 Have you ever seen wolves in the wild? Now's your chance.
Join Jackson Hole EcoTour Adventures on an unforgettable Multi Day Winter Wolf and Wildlife Safari in the heart of the American Serengeti! We'll spend 4 full days exploring the Greater Yellowstone Ecosystem, focusing on the Northern Range of Yellowstone National Park, some of the best wolf habitat in the lower 48 States. With concentrated elk and bison herds in the Lamar Valley, winter is the best time of year to observe wolves in their natural habitat.
January and February departure dates coincide with peak wildlife activity and one of the quietest times of year for tourism, meaning Yellowstone is ours to explore free of crowds! We'll also enjoy an evening dinner with a Yellowstone Wolf Biologist, getting the latest updates on wolf research in the Park.

ETA donates 5% of wolf watching tours to Wolf and Wildlife Conservation with our friends at the Greater Yellowstone Coalition
January 16-21 2019
February 23-28 2019

Check Availability: 307-690-9533 or info@jhecotouradventures.com
Other Winter Tours
For an extended experience exploring winter in Grand Teton National Park, visitors to Jackson Hole can join us on a full day snowshoe or full day cross country ski tour. Or join us on a half or full day tour observing the diverse and concentrated wildlife of Grand Teton National Park and the National Elk Refuge.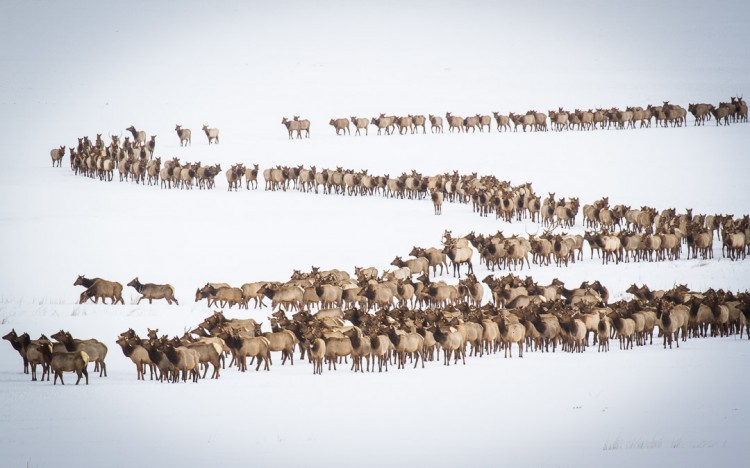 Now in our 11th year of operation, Jackson Hole Ecotour Adventures leads half day, full day, and multi day wildlife, cross country ski, and snowshoe tours in Grand Teton and Yellowstone National Parks 365 days a year. Let us help maximize your Jackson Hole Experience Today! www.jhecotouradventures.com 307-690-9533 or info@jhecotouradventures.com