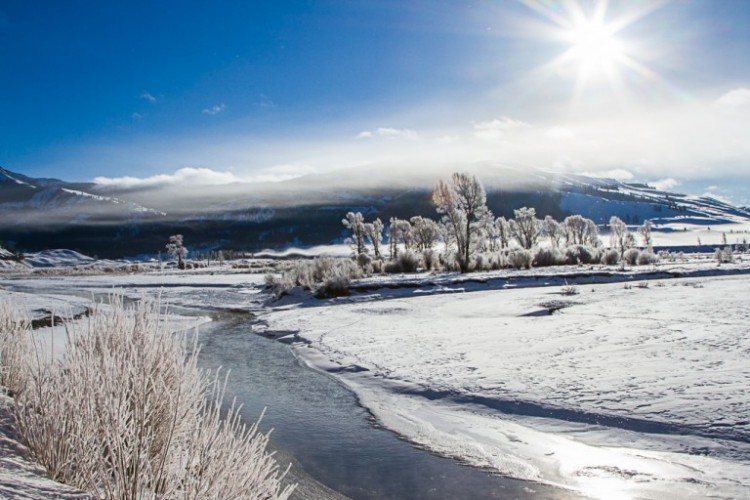 Morning in the Lamar Valley, Yellowstone National Park.
Winter in Jackson Hole
is renowned for the deep powder skiing of Jackson Hole Mountain Resort. With over 450 inches of snow annually, the resort is one of the best places in the world for the powder seeker. Everyone from brand new skiers to the best outdoor athletes can test themselves on the slopes of JHMR. However, people aren't the only athletic ones at home in Jackson Hole and winter is an ideal time to search for our wild athletes. Read on to learn more about one of our winter multi day adventures in Grand Teton and Yellowstone National Parks.
Day One: Grand Teton National Park
Starting with a 7am pickup at the Snake River Lodge, I met Stephan, Susan, and their 11 year-old daughter Sophie, the inspiration for this trip. Our ultimate destination was Yellowstone's Lamar Valley, home to some of the best opportunities for wolf watching in the country, but first we would see what the Tetons had to offer. Traveling along the Gros Ventre River, we soon located a bull moose traversing across the landscape, outlined by the early morning light. Keenly adapted to deep snow, we watched as he lifted his long legs out of the snow to efficiently travel between the willow shrubs he was feeding on.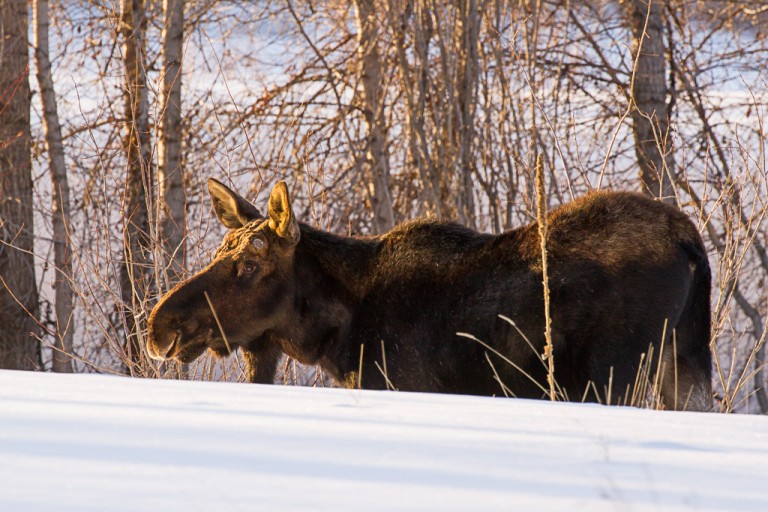 We continued into the Park and visited an elk carcass I had been observing and monitoring for the past week. Until that morning, few animals other than ravens and magpies had discovered the meal, but upon our arrival we found two red foxes. Likely a mating pair, the foxes basked in the morning sun as they ate their fill. This elk, who was now feeding a family of foxes, had likely migrated to the Jackson Hole valley from the Gros Ventre mountain range, which rises to the east. Though many elk had already made their migrations, we also observed a group bedded on a ridge above the river. Elk can travel close to 100 miles from their summer range to suitable winter range—some have been documented on the National Elk Refuge from as far north as Yellowstone Lake!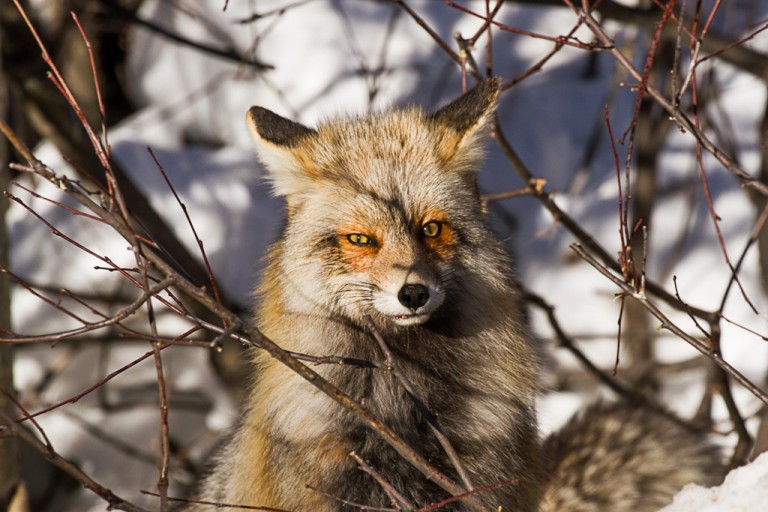 Day Two: Into Yellowstone
Our next stop was Gardiner, Montana and the Lamar Valley of Yellowstone. Winter road closures necessitated a beautiful drive past Big Sky, Bozeman, and south through the aptly named Paradise Valley, where we passed large herds of whitetail and mule deer, pronghorn antelope, elk, and bison. We settled into a hotel for the evening to prepare for a first-light visit to the Lamar. Early mornings are essential for wildlife tours as many animals found in the GYE are crepuscular, or mostly active at dawn and dusk.
Dawn revealed a crisp morning in the Lamar Valley. Surrounded by timbered peaks and sagebrush hillsides, the Lamar River is fed by numerous creeks, which create optimal forage for elk and bison—wolves' preferred prey. Yellowstone tours have an objective of a "Triple Dog Day," where we are able to find foxes, coyotes, and wolves, and this day would not disappoint. Wildlife often use roads and trails in the winter to make travel easier, and one of our first sightings was a fox trotting down the road. A second fox was found hunting rodents beneath the snow surface near the Bison Ranch. Foxes, coyotes, and great gray owls can all locate and capture rodents below several feet of snow using their keen sense of hearing.
Sunrise at Buffalo Ranch in the Lamar Valley of Yellowstone National Park
Wolves!
As we passed the Bison Ranch, a large black animal came into view on the hillside above the road. A wolf! We found a viewing area and set up spotting scopes to get a closer look. We had located 'Mottled,' a male member of the Lamar Canyon Pack. With a carcass nearby, 'Mottled' was joined by two coyotes, which completed our Triple Dog Day—all before 10am! Several bald eagles were also roosting nearby. Eagle sightings dramatically increase in the winter, as the valleys of the GYE become homes for eagles who summer in Canada and Alaska. The coyotes, ever wary, kept eyes on 'Mottled' the entire time.
"Mottled" a male wolf from the Lamar Canyon Pack (Right) stares down a coyote (right) who later retreated.
Later that day, we found a second black wolf walking through a herd of bison on a sunny flat where Pebble Creek confluences with Soda Butte Creek. We watched as 993, a male wolf from the Lamar Canyon pack, travelled past several uninterested bison, howling on occasion until he passed out of view. I turned to my group and said, "We may be able to get another look at him from up the road. Want to give it a shot?" Sophie and her parents nodded excitedly and we headed to a small pull out about a mile up the road. A small snow-covered creek was flowing through some thin trees into the open meadow where we had last seen him. When we heard his deep lonesome howl, we knew he was close. We waited, and our patience was rewarded as a black shape emerged through the trees. 993 stepped into full view at less than 100 yards and then faded into the trees.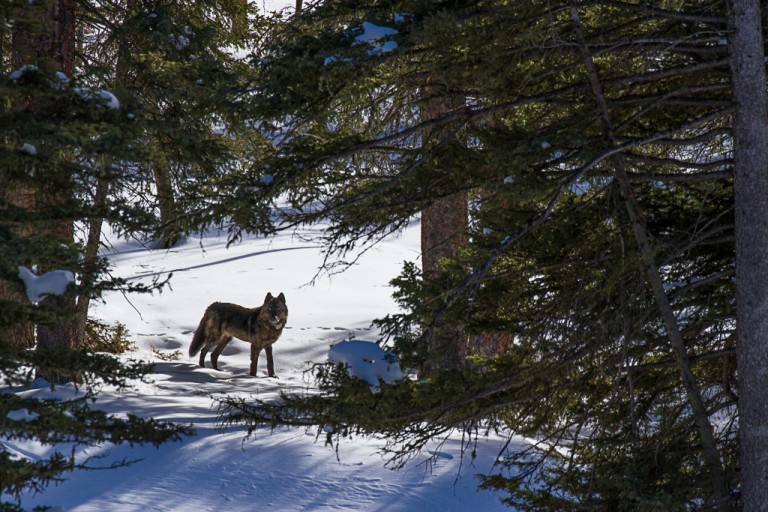 An up close encounter with a wild wolf is a rare one, and we were lucky to have had the opportunity. Sophie, Stefan, and Susan were thrilled and enthusiastically searched for more wildlife as we continued our tour. Our day also included more coyote sightings, mountain goats atop the Thunderer, a rugged peak to the south of Soda Butte, and bison on the road, but there was more to come. Heading west, we were alerted by YNP wolf biologist Rick Mcyintyre that a pack of ELEVEN wolves—the Junction Butte Pack—was on a far ridge line across the valley. Observing the Junction Butte Pack with spotting scopes, we could see seven grays and four blacks. As they played in the snow, we learned that the alphas had mated earlier that day. The wolves soon entered the woods as the sun began to set and we headed back toward Gardiner.
Winter Sunset in Yellowstone's northern Range.
Yellowstone Day 2: Bighorn, Mountain Goats, and More Wolves
The next morning, Fog in the Lamar valley kept visibility to a minimum, but as it lifted, a winter wonderland emerged with frost covered trees sparkling in the sunlight. Bighorn rams were foraging along the road, and we located an even larger group of Mountain goats than the day before on the Thunderer. To our delight, the Junction Butte Pack was out again. They were near some bison, who, as a precaution had surrounded their calves to protect them. Most wolves will avoid preying on bison, but the alpha female of this pack grew up in the famous Mollies Pack, known for their ability to successfully hunt bison.
Agile in steep terrain, these bighorn rams were foraging on a south facing slope, taking advantage of the thin snow cover.
A trip to remember
We left the Lamar valley that morning to the sound of wolves howling, a fantastically successful winter trip to Yellowstone. As we made the return trip to Jackson the sun set in Teton Valley, Idaho, bathing the Tetons in pink light. I thought about back in the parking area earlier in the day where we had spoken with Wolf Project Technician Lizzie Cato, who like me, graduated from Colorado State University's Warner College of Natural Resources. Seeing this passionate young woman pursuing her dreams as a wildlife biologist was an inspiration to me and most certainly to Sophie. At 11 years old, the world is open to her, and I know this experience has had a lasting impact. There are very few wild places left in the world, and we are fortunate to still have the Greater Yellowstone. It was a trip none of us will ever forget.
Photos and Blog by Josh Metten
Josh Metten has spent his entire life exploring and living in the Rocky Mountains of Colorado and Wyoming. He is an Ecotour Adventures Naturalist, photographer, conservationist, and outdoor enthusiast. Josh lives in Jackson, WY.
Eco Tour Adventures was created with the idea of helping people connect with the natural world through wildlife observation and natural history interpretation. We believe that when one is more familiar with the intricate workings of the ecosystem, he or she has a deeper appreciation and connection with their environment. Join us on an Ecotour today!