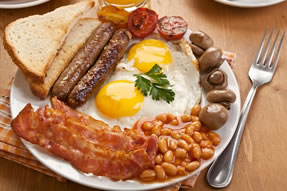 For the foodie in you, I have complied a list of some of our favorite restaurants. From high end to budget experiences, there is something for everyone. It's amazing for our little Wyoming Valley how many options we have.
Breakfast:
Breakfast Wilson Option: This very well might be my favorite meal of the day. Hands down you have to check out Nora's Fish Creek Inn. This lovely spot is on HWY 22 at the bottom of Teton Pass. It's just 6 miles from Jackson. My favorite dish is their Huevos Rancheros with the sausage addition! Their Banana Bread French Toast and Breakfast Burrito are also on the top of my list. Ever thought of a breakfast appetizer? Their Sweet Roll is quite decadent! If, "It's 12:Noon Somewhere", is your motto, check out their signature Bloody Mary! 307-733-8288 No reservations for breakfast needed; for dinner it doesn't hurt (The Trout is a favorite!)
Jackson Option: For a great greasy spoon and a local favorite, check out Bubba's! They provide quick service to get you outside and into the mountains ASAP! An insider's note is to ask about the Workers Special, Mon-Fri (you didn't hear it from us as it is not on the menu). $6.00 for a solid breakfast that will last you well into the afternoon. They also provide an affordable dinner BBQ option. http://www.bubbasjh.com 307-733-2288 No reservations needed, some weekend mornings there can be a little wait, but it's worth it.
Jackson Option: For you Nor'Easters out there Café Genevieve serves Pure Vermont Maple Syrup. The warm ambiance is perfect for a slow morning, as the restaurant has been incorporated into a historic log cabin. Look for the Spanish Frittata or Cajun Benedict on their "Inspired Home Cooked" menu. You might just have to come back to try their house made Chorizo. Enjoy! 307-732-1910 No reservations needed
Lunch:
Wilson Option: For a quick bagel sandwich "to go" find Pearl Street Bagel. This fine local chain, their other location is in town, boasts healthy and quick options if you are in a rush to get into the mountains. They have a fine selection of deli meats, cheeses, veggies and salads for you to choose from to "Make Your Own"; It's a tough choice, but I think my favorite just might be their Smoked Salmon, Wild Caught of course, lunch bagel. For an extra warm-up in the winter, they have a tasty soup that changes daily. 307-739-1261
Jackson Option: Most locals would point you to the Snake River Brew Pub for some great food in what is called Jackson's "living room". You just might find some of the same faces pulled up at the bar day after day, conversing with the Brew Master about the next Bev' to be released. Aside from the great beer, it's not happy hour yet! Check out the $8 lunch menu for everyone's favorite, the flavorful Pulled Pork Tacos. They have specialty pizza pies that are top notch and the Cobb Salad is perfect if you are mindful about what you eat. If you are looking to try some, good'ol local Wyoming meat, look no farther than the beef or tasty bison burger. I would recommend eating outside during the summer. Their fireplace tables might be a better fit during our long and snowy winters. 307-739-2337
Moose, Wy Option: Yes it is true that in Moose, WY, while you are seated at Dornan's Pizza and Past Co. you might get a glimpse of a moose browsing outside of their fine establishment. It is quite possibly the restaurant in Jackson Hole with the best view, with the Tetons and Snake River to the West! There is seating outside on top of the building or inside next to the oversized windows looking towards the Tetons. For a bit of true Wyoming History you have to check this place out. The Dornan family homesteaded in 1916 before Grand Teton National Park was established. The Dornan's are still in the area and take an active role in managing the business. If you look closely I bet you can pick these friendly folks out to say 'Hi'. Food wise, they are known for their pizzas, sandwiches, and salads. Enjoy! 307-733-2415
Dinner:
Jackson Option: I will have to throw in a plug for Lotus Café here. This is your one stop shop for the area's best organic, vegan, gluten free, dairy free, vegetarian, and raw food delights. They are proud to serve the local-est of ingredients, from meats to veggies. They are as earth conscious as it gets. Look at sampling their Bombay Bowl, the wonderful Beef Carpaccio, or the Bison Tacos – a definite favorite. I have never tried it but their Elk Lasagna is a big hit with many. If you don't mind spending a few bucks on a fine beverage you might want to start with their Blood Orange Lime Margarita. Reservations are a good idea, however you can often walk in for lunch, grab a menu, and seat yourself! 307-734-0882
Jackson Option: Our favorite, The Blue Lion, is just one of those restaurants that will not go away. As restaurants come and go in Jackson, the "Lion" is true and tested and a favorite of the locals. Pay close attention as you drive: you might mistake for someone's residence, as it is a converted home. In the summertime, be sure to be seated outside. There is frequently a guitarist strumming "Hotel California" or other tunes that will take you back in time. The music is nice, but folks come for Chef Tim Libassi's excellent Rack of Lamb. Guaranteed, this is best rack you will ever have. It's a full rack so come with your appetite. The Crab Stuffed Mushrooms, Grilled Elk Tenderloin, and the Port Balsamic Beef Tenderloin are all excellent choices. Start with their signature Shakedown Street cocktail and finish with their top of the line Russian Cream desert. Don't be afraid to talk skiing with Ned the owner. He might just share some of his favorite ski lines with you. Tell Ned that EcoTour Adventures sent you, be seated before 6:00, and you might be lucky enough to get 20% off your entire bill. Reservations recommended. 307-733-3912
Jackson Option: Our choice for the best burger in town is the Cowboy Steakhouse. Positioned right on the town square and under the World Famous Cowboy Bar. The do have some of the best steaks in town, but ask for their Burger and a Beer special. $6 Bucks gets you a fine burger (that comes from steak trimmings) and a PBR beer. For $1 dollar more, you can upgrade your beer and get fries. This special is NOT on their menu and is only available from 5:30-7 on most days. Reservations not needed for the burger deal. 307-733-4790
Jackson Option: If you are looking for a very fine dining experience with fancy sauces to satisfy your distinguished pallet, look no further than the Snake River Grill. The Rare Ahi Tuna Au Poivre and the Wild Game Korean Hot Bowl are favorites. Take your friend's credit card for this dining experience, as it is one of the more costly dining experiences in the valley, but well worth it. Side Note: EcoTour Adventures' guides love gift certificates to this fine restaurant! 307-733-0557
Grocery Delivery Service
If going out is not your thing, and you would like to arrive at your comfy hotel room with the fridge and cabinets stocked, look into Mountains Of Groceries. This grocery delivery service will shop till they drop for whatever you would like. Ashley Watson and her faithful dog, Georgia, will make sure you are treated like royalty. (307) 699-4901