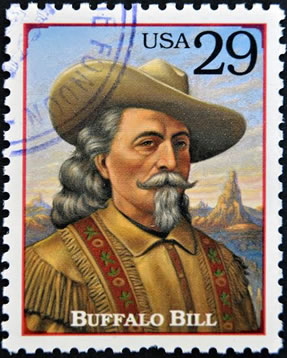 Buffalo Bill Museum
There are several great attractions around the Yellowstone region to check out if you have the time. If you are ever in Cody, WY make sure to check out the Buffalo Bill Museum. The Buffalo Bill Museum's focuses on the life and time of William F. "Buffalo Bill" Cody (1846-1917), the noted guide, scout, frontiersman, showman, actor, entrepreneur, and American icon. In addition to documenting the life and interests of William F. Cody and the history and operations of Buffalo Bill's Wild West, the museum's collection interprets the history of the American cowboy, dude ranching, western conservation, frontier entrepreneurship, and the source of our concepts about the West. The museum is actually 4 museums under one roof. Spend a full day, hopefully a rainy one, exploring the firearms, natural history, Buffalo Bill Cody, and the art museum. 307-587-4771
Grizzly and Wolf Discovery Center
If you are interested in the predators of the Greater Yellowstone Ecosystem you must explore The Grizzly and Wolf Discovery Center (GWDC) in West Yellowstone. The Discovery Center is a not-for-profit facility dedicated to providing visitors to the Yellowstone area an opportunity to learn about, view, and ultimately appreciate the grizzly bear and gray wolf.
The grizzly bears that reside at the GWDC are animals unable to live in the wild for different reasons. Many were orphaned in the wild and rescued from certain death. Others had become nuisance bears and were destined for destruction. These animals have a second chance at the Center and, by helping with the education of visitors, their lives may help other bears remain in the wild.
The wolves at GWDC were all captive-born. The GWDC agreed to take pups from different litters, and have since formed two wolf packs. Wolves possess a dynamic and strong family structure that can be observed as these animals interact through their day. Watch for body posturing, ear and tail position, and each animal's location in the habitat. 406- 646 - 7001
Beartooth Highway
Heralded as one of the most scenic drives in the United States, the Beartooth Highway, a National Scenic Byways All-American Road, features breathtaking views of the Absaroka and Beartooth Mountains, and open high alpine plateaus dotted with countless glacial lakes, forested valleys, waterfalls and wildlife.
Traveling the highway, you have the rare opportunity to experience and explore pristine, untouched alpine and montane landscapes, lush forests, and alpine tundra in the space of a few miles. It is one of the highest and most rugged areas in the lower 48 states, with 20 peaks reaching over 12,000 feet in elevation. In the surrounding mountains, glaciers are found on the north flank of nearly every mountain peak over 11,500 feet high. The road itself is the highest elevation highway in Wyoming and the Northern Rockies at 10,947 feet.