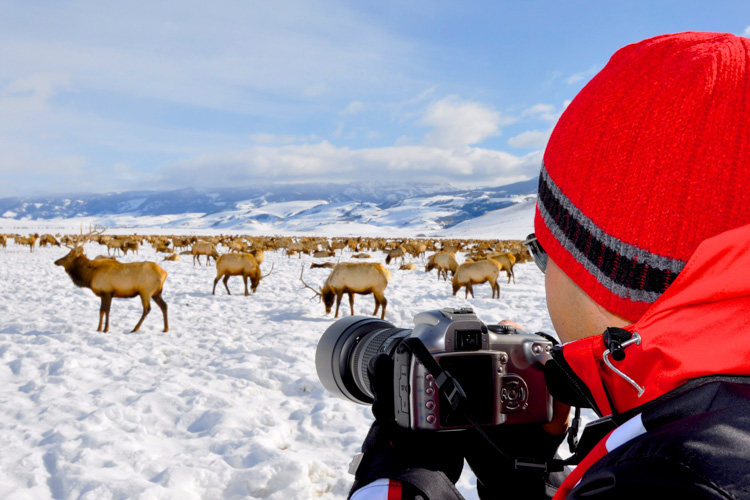 With abundant snowfall and stunning mountains, Jackson Hole is a winter paradise. From world class ski resorts to two of the world's best National Parks there is something for everyone here, these are some of our favorites!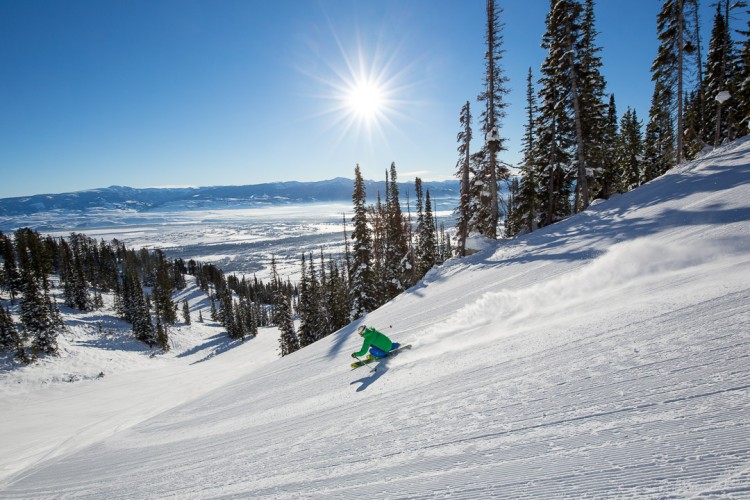 World Class skiing awaits at Jackson Hole Mountain Resort. Photo courtesy of Jackson Hole Mountain Resort
1. Skiing at Jackson Hole Mountain Resort, Grand Targhee and Snow King
Rated the best ski resort in America for the second year running by Forbes Magazine, Jackson Hole Mountain Resort lies at the eastern edge of Grand Teton National Park. Riding the tram over 4000' vertical feet takes you to the high alpine, complete with views of the Grand Teton. This is the home of the wolverine, perhaps North America's toughest athlete, though thrill seekers at the resort will attempt to keep up!
Head to the western slope of the Tetons to ski at Grand Targhee, which offers its own view of the Tetons. Those staying in Jackson may want to explore the slopes of Snow King, or the town hill. Snow King also offers tubing, ice skating, a mountain coaster and more.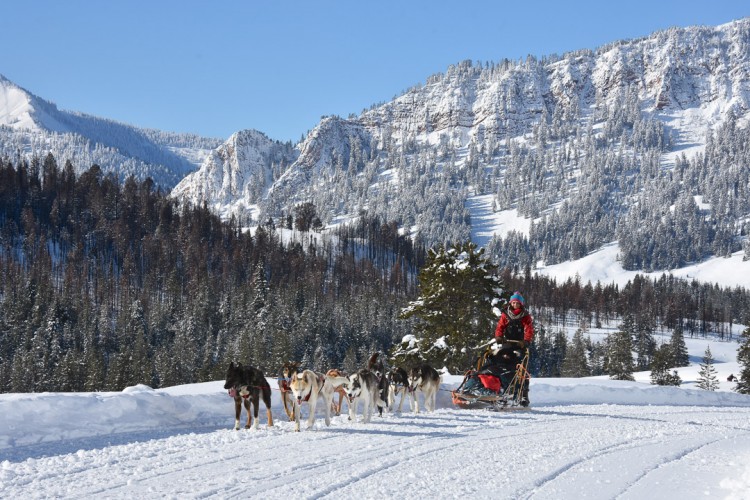 Visit the stunning Gros Ventre Mountains near Jackson Hole via Frank Teasly's dogsled teams! Photo Courtesy J-Hole Photo
2. Dog Sledding with Iditarod racer Frank Teasly.
Want to explore some other nearby mountains by dogsled? Iditarod racer Frank Teasly offers guided dogsled trips into the Gros Ventre Mountains and Granite Hot springs! The beautiful route takes you 9 miles up Granite Creek in the Bridger Teton National Forest. Call 307 733-7388 to book!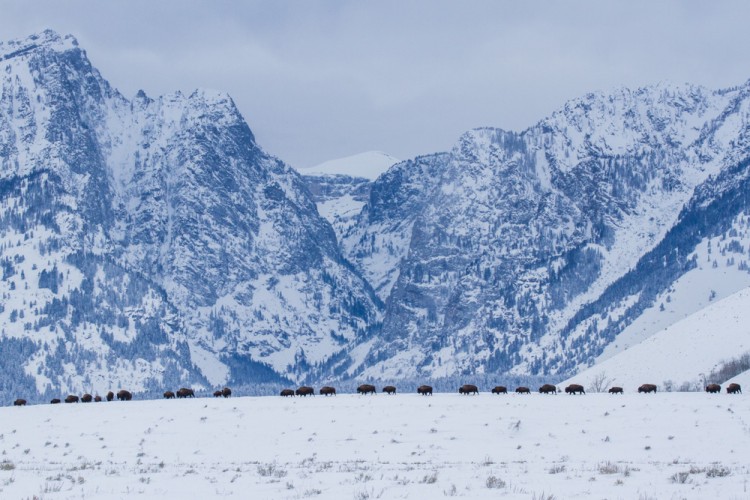 A bison herd walks along a ridge in Grand Teton National Park on a recent Ecotour. Photo: Josh Metten
3. Winter Wildlife Tours
With world class skiing and world class wildlife residing in the same valley, Jackson Hole is like no where else on earth. The valley floor provides critical winter range to large herds of wildlife, including elk, mule deer, bighorn sheep, moose, bison, and pronghorn antelope. Wolf activity and viewing opportunities increase in winter, as prey species concentrate in the valley. Likewise, eagles, both golden and bald, arrive in large numbers to scavenge on those unable to survive winter's grasp. Waterfowl, including trumpeter swans and many species of ducks congregate on the spring fed waters of Flat Creek. Let the experienced naturalists at Jackson Hole Ecotour Adventures show you the best the "American Serengeti" has to offer in a half day, full day, or multi day trip! Call us 307-690-9533 for an adventure today!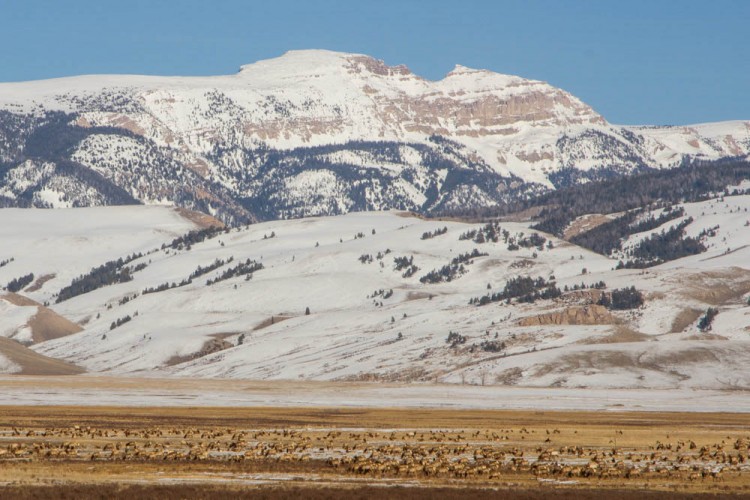 Over 7000 elk winter on the National Elk Refuge, just minutes from Jackson Town Square. Photo: Josh Metten
4. National Elk Refuge
Established in 1912, the National Elk Refuge is a winter refuge for thousands of elk, some from as far north as Yellowstone National Park. Many other animals are found on the refuge as well ranging from abundant bird life to bison, pronghorn antelope bighorn sheep, and wolves! Sleigh Rides can be arranged by visiting the Greater Yellowstone Visitor Center, which currently has a fantastic exhibit on winter adaptations, and beginning on the 26th of December, the pronghorn migration. Ecotour Adventures also offers a Winter Wildlife Experience which includes a morning safari in Grand Teton National Park and the Refuge, a sleigh ride out to the elk herd, and a visit to the nearby National Museum of Wildlife Art!
Children 4 and under: free
Contact: Double H Bar, Inc. 307.733.0277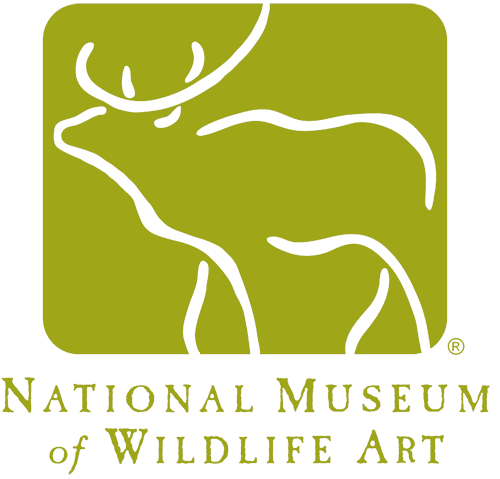 5. National Museum of Wildlife Art
One of the best collections of wildlife art in the world is found right here in Jackson, WY. The National Museum of Wildlife Art, designed to blend into the surrounding hillside of the East Gros Ventre Butte, overlooks the National Elk Refuge. Winter wildlife are often abundant surrounding the museum, we've even seen elk and deer walking amongst their own likenesses in the sculpture garden! The museum is a welcome respite from winter's chill, and visits can be combined with a refuge sleigh ride and morning wildlife safari from Jackson Hole Ecotour Adventures for a complete winter wildlife experience.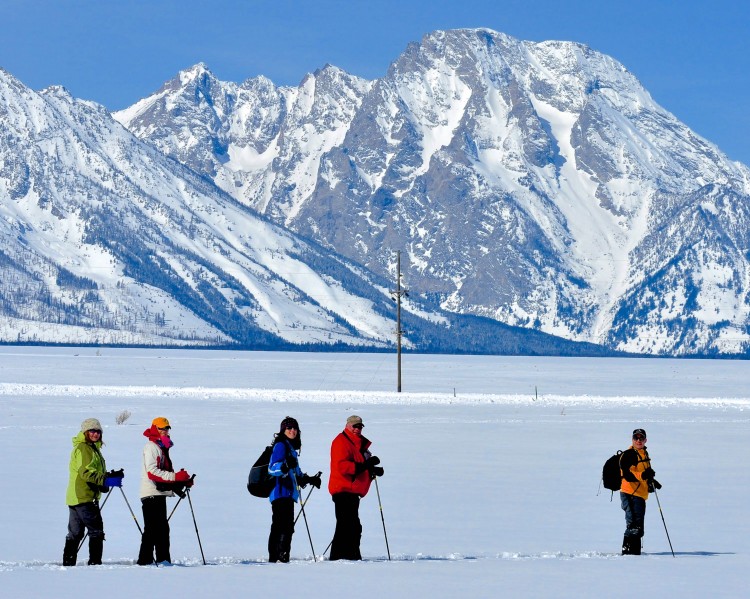 Winter snowshoe or cross-country ski trips in Grand Teton National Park offer unparalled scenery and solitude. Photo Taylor Phillips
6. Snowshoeing/xc skiing in Grand Teton National Park
Experience the peacefulness of winter by venturing out into Grand Teton National Park for cross country skiing or snowshoeing. For snowshoeing we recommend trips to Bradley or Taggart Lakes which offer stunning views of the Tetons (5.5 miles round trip). Using the same parking lot, cross-country skiers can access the groomed Teton Park Road for a 12 mile round trip ski to Jenny Lake. Granite Canyon, located just north of Jackson Hole Mountain Resort is another good option especially for those staying at Teton Village. Our friends at Teton Mountaineering can get you set up with equipment and more information on trails. Call 307-733-3595 for more information.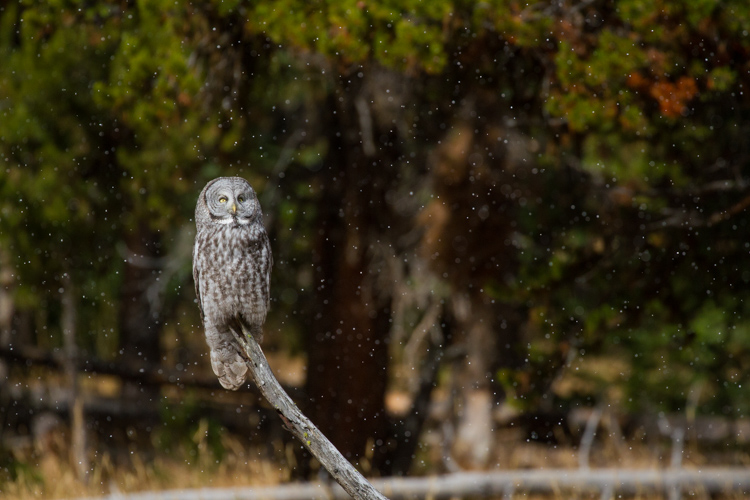 Great Gray Owls are just one of the species of Educational birds you may find at the Teton Raptor Center. We found this wild one on a snowy fall day in Yellowstone earlier this year! Photo: Josh Metten
7. Raptor Encounters with the Teton Raptor Center
Enjoy an hour-long educational experience with live raptors at the historic Hardeman Ranch in Wilson, Wyoming, suitable for all ages. Meet our resident raptors and learn about birds of prey in the Greater Yellowstone Ecosystem. A portion of the program is outside, so please dress accordingly. As proud financial supporters of the Teton Raptor Center, Ecotour Adventures is offering one free Raptor Encounter admission to each group that books a wildlife tour directly with us. Raptor Encounters are Saturdays at 2pm and reservations are required.
$15 for children ages 4-12 & seniors 65+
From Skiing to Wildlife, these are our favorite winter activities in Jackson hole. See you out in wonderland this winter!
Josh Metten has spent his entire life exploring and living in the Rocky Mountains of Colorado and Wyoming. He is an Ecotour Adventures naturalist, photographer, conservationist, and outdoor enthusiast. Josh lives in Jackson, WY.
Eco Tour Adventures was created with the idea of helping people connect with the natural world through wildlife observation and natural history interpretation. We believe that when one is more familiar with the intricate workings of the ecosystem, he or she has a deeper appreciation and connection with their environment. Join us on an adventure today!