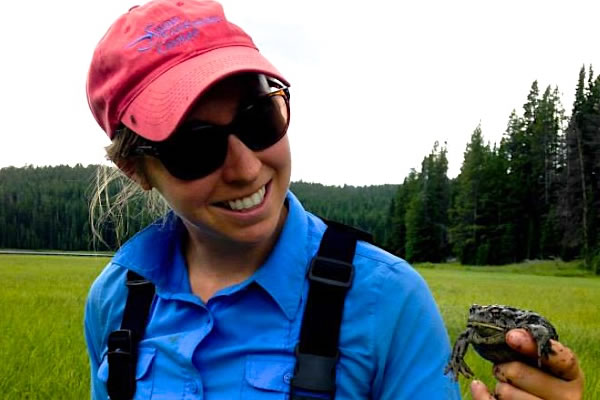 Mariah grew up in rural Montana where she learned to backpack, fly-fish, hunt, and pick huckleberries at an early age. This upbringing instilled in Mariah a love of the outdoors and inspired her to pursue Ecology when she attended the University of Montana. She graduated from UM with a degree in Ecology and Organismal Biology in 2010.
After graduating, Mariah worked for several years in the Montana Conservation Genetics Lab where she conducted lab and field work for a variety of studies. Her main projects focused on bighorn sheep pneumonia in Rocky Mountain National Park, stream salamander evolution in Hubbard Brook, New Hampshire, and elk brucellosis in the Greater Yellowstone Ecosystem. It was during her work in Yellowstone, the Tetons, and on the National Elk Refuge for the brucellosis project that she decided to move to Jackson if the opportunity arose.
In 2013, Mariah joined the Peace Corps and became a Natural Resource Conservation Volunteer in Ecuador for two years. During this experience she discovered a passion for teaching, especially about biodiversity and wildlife conservation. She taught Natural Resources and English the full two years she lived in Ecuador. Upon returning to the states in 2015 she worked again in Yellowstone, this time conducting amphibian surveys in backcountry sites throughout the park. After the season ended she moved to Jackson where she currently enjoys living in a vibrant community with easy access to the mountains.
Guiding is a perfect fit for Mariah because it combines her interests in biology and education. She loves learning about our unique ecosystems and finds it rewarding to share that information with others. She enjoys helping people get to know and appreciate the beautiful area we live in.
When not on the job Mariah is usually snowboarding, hiking, mountain biking, in dance class, traveling, or reading a book.
Book Your Trip Today!
Call (307) 690 - 9533
for more details or customized private trips.