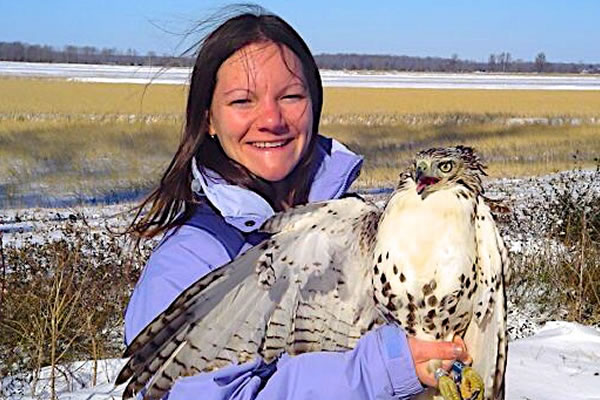 Kat was born in Pemberton, British Columbia where her love for wildlife and the outdoors all started. She grew up on a farm and the daughter of a Conservation officer, she spent her early childhood accompanying her father to live trap problem bears for relocation, as well as viewing the diverse wildlife that were brought home for rehabilitation. Knowing that nature and wildlife were here passion, Kat acquired her Bachelors of Wildlife Biology degree at the University of Northern British Columbia. Throughout her college years she traveled to the United States for wildlife biology jobs in Minnesota, Iowa and eventually Arkansas. Working with songbirds, black bears and other wildlife, Kat really established her passion as a researcher and teacher. Kat attended Arkansas State University, where she complete her Masters of Science in Biology while studying sibling aggression in Red-shouldered Hawks. During her time there she worked on several different research projects capturing various raptors and migratory songbirds.
After completing her Masters Degree Kat moved back to Canada and has worked as a professional wildlife biologist for the past 11 years. Her job has taken her all over western Canada studying birds, mammals and amphibians. She has walked in the grasslands of Saskatchewan, trudged through the forests of Alberta and British Columbia, has helicoptered through the high artic of Nunavut and explored the Yukon wilderness.
Kat has volunteered on several raptor research projects in Montana and Jackson, Wyoming. Free time has always been dedicated to her love of wildlife and animals. She is an avid runner and equestrian, and loves exploring nature whether on her own two feet or on the back of a horse. Her love of the Tetons and Greater Yellowstone Ecosystem keeps bringing her back to the area at every opportunity.
Kat looks forward to sharing her knowledge and passion for birds and wildlife to anyone who will listen.
Book Your Trip Today!
Call (307) 690 - 9533
for more details or customized private trips.