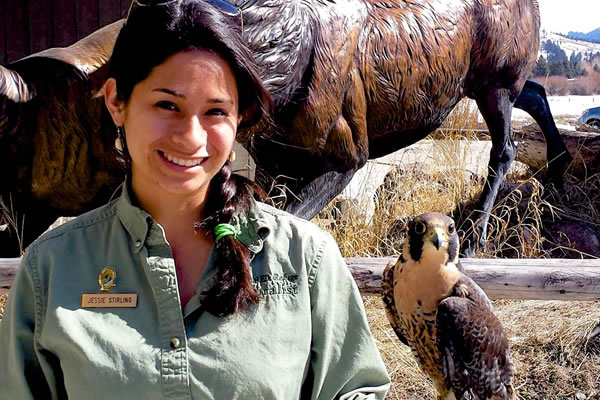 While growing up in the northeast corner of Oklahoma, Jessie would explore the woods and discover frogs croaking, birds singing, and new plants alongside the trails! At the tinder age of 3, Jessie discovered penguins and from then on told her parents she was going to work with penguins in the wild someday. She moved out west in 2006 to pursue a degree in Wildlife Biology from the University of Montana.
While in college, Jessie was a research technician for two years, on a snowshoe hare project in which she assisted with data collection and analyses, along with radio telemetry of the hares. Jessie's first exposure to the Tetons came in 2011, when she landed a job with a scenic float company. In 2012, she volunteered with the National Park Service in Moose and began leading interpretive programs. During the fall of 2012, Jessie completed her ultimate life goal and worked with African Black-footed Penguins in a penguin rehabilitation center in Cape Town, South Africa. It was the best 6 weeks she could imagine! Jessie began leading wildlife tours within the area in 2013 and loves sharing the beauty and ecology of the Greater Yellowstone Ecosystem. During the winter season, Jessie works on the National Elk Refuge as a Winter Naturalist and has done so for the past four years. Jessie is very active in the community and loves volunteering with several organizations in town.
When Jessie is not working, she enjoys volunteering, running, hiking, camping, being on the river, snowboarding, and cross-country skiing.
Book Your Trip Today!
Call (307) 690 - 9533
for more details or customized private trips.