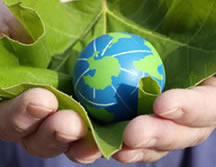 At Eco-Tour Adventures we strive to leave as little impact on the planet as possible. We are currently meeting international standards to qualify as an Eco-Tour operator.
Eco-Tour Guidelines
1. Reducing impact on resources as much as possible
We use Bio-diesel in our vehicles to limit our petroleum use.
We use existing trails on hikes to minimize visitor impacts.
We use reusable lunch ware to limit trash production and preserve resources .
We use organically grown produce and local items/services when possible.
We don't harass the wildlife and employ ethical viewing strategies.
We have partnered with the CarbonFund.org*
2. Support the local community
We use local services and buy local groceries when available to keep your money in the area; supporting the place that you have grown to love.
3. Educate about the local area and people
On tours a wealth of information will be presented. Some examples are but are not limited to are
Geology of the area
Ecology and wildlife of the area
Presence of Native Americans in the area
The Fur Trappers and early explorers
The Lewis and Clark expedition
The early homesteaders and the history of the famous elk herd
Current issues pertaining to the natural environment of the local area.
4. Contribute to the Preservation and Conservation of the local area
We hold a strong ethic when it comes to viewing wildlife and practicing "leave no trace" backcountry protocol.
We have developed and are engaged in our unique Dollars for Conservation Program
The travel is in the spirit of Appreciation, Participation, and Sensitivity
We at Eco-Tour Adventures will keep groups to a minimum to provide a
A personalized experience
A flow of questions and answers
Limited impact on local resources as possible
*Carbon Fund
Our Mission: toward a ZeroCarbon™ world Carbonfund.org is leading the fight against global warming climate change, making it easy and affordable for any individual, business or organization to eliminate their climate impact and hastening the transformation to a clean energy future. Carbonfund.org achieves its goals through:
- Climate change education
- Carbon offsets and reductions
- Public outreach
Reduce What You Can, Offset What You Can't™
We encourage everyone to continually strive to reduce their carbon footprint through sensible energy reductions combined with cost-effective carbon offsets to eliminate their overall carbon footprint.
Book Your Trip Today!
Call (307) 690 - 9533
for more details or customized private trips.