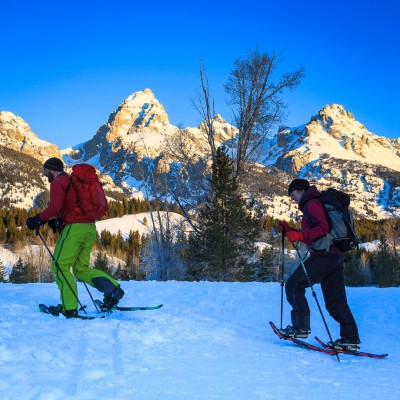 Become an adventurer as you follow the tracks of your local naturalist guide through rolling hills and snow covered forested groves at the base of the Grand Teton Mountain Range. Our half day (4hr) guided snowshoeing tour will give you a taste of the beauty and uniqueness that backcountry travel offers. Your guide will design the tour around your group's interests and desires, creating a customized and unparalleled experience. We are happy to accommodate any ability level and will provide all of the necessary snowshoeing equipment.
The Day
We'll get an early start to make the most of our time in Grand Teton National Park. Depending on the group's interests and desired energy level (see description below), we'll chose from one of our favorite snowshoeing destinations in Grand Teton National Park. We have access to snowshoeing locations in the park that are flat, rolling, open or heavily forested. If we are treated to a sunny bluebird day then we will enjoy traveling out in the open right below the majestic Teton Mountains. If the snow is falling, we will choose a location with a bit of cover. The stillness of the snowy forest when walking 5 feet above the ground is truly a special experience. Throughout the program your guide will present your group with a variety of high quality snacks to enjoy during your stops. As we explore the park's backcountry, we'll keep watch for animal signs, interpreting tracks and unique habitats. Your knowledgeable guide will share interesting facts about snow science and winter ecology to complete your experience in this winter wonderland. No previous experience is necessary to enjoy a day on snowshoes. We like to say "If you can walk, you can snowshoe" and your guide will happily share some tips and tricks to make the activity more efficient. These programs are offered as small groups with a maximum of 7 participants.
Choose your ideal Energy Level: (We will match guests that share a similar activity level)
When booking this program as a mixed group you have the option of booking it as a leisurely or moderate paced trip. We offer private programs that can cater to any activity level.
Leisure: This type of tour will focus on taking advantage of teaching moments to learn about winter ecology and interpret animal signs. We'll have plenty of time to stop and take photos and we'll be moving at a pace where you can easily hold a conversation with friends.
Moderate: Our moderate tours will move at a slightly faster pace, focusing on covering a little more ground so that we can experience more of the backcountry.
Aerobic: We offer the aerobic energy level for any of our tours that are booked privately. Aerobic style tours are great for our guests who are in top physical condition and don't mind breaking a sweat. We'll focus these tours on covering as much ground as possible and experiencing the depths of the backcountry.
What's included
Experienced and knowledgeable naturalist guide, dedicated to providing you with a safe, fun, educational and unforgettable day.
All guides are Wilderness First Responders, an intensive 80-hour first aid certification.
Pickup/Dropoff at a convenient Jackson location. Pickup at your hotel can be arranged as well.
Modern snowshoes, trekking poles and overboot gaiters.
Snacks to enjoy en route and during the experience.
Hot beverages for enjoyment after your excursion
Water to enjoy in one of our reusable take home water bottles.
Professional quality Binoculars and Spotting Scopes.
Visual aides for a hands-on learning approach.
Modern and comfortable safari style rig that is equipped with winter studded snow tires.
Window seats guaranteed for every guest.
What to Bring
Layers
Winter Hat
Gloves
Warm ski socks
Snow pants
Goggles or sunglasses
Half Day (appx. 4 hrs - Pick up to Drop Off) 8:00AM – 12:00PM & 1PM – 5PM) Season: December 15th- April 15th
Group size- Maximum of 7 guests per guide. Every guest is guarantee a window seat for travel. We can accommodate private groups that are larger.
Adults $130 for mixed group programs. We encourage booking private programs with children that are 10 and under.
Private program with 1-5 guests $650; 6-7 guests $910
Customize Your Tour
We can accommodate a variety of options - call us to find out what we can do for you: 307-690-9533
We are focused on creating the best experience possible for all of our guests. From hiring the best guides, providing the best foods, and making sure every detail is covered, we are here for you! You may be here only once, so lets do it right the first time. We are a small company with three vehicles. We like to keep our operation on the smaller side to keep quality high!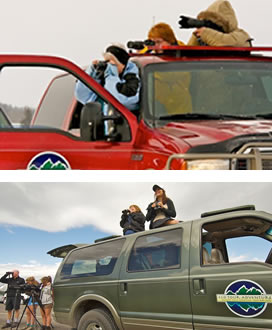 We provide vehicles with Roof Hatches for safe and unobstructed viewing.
All of our vehicles are 4 Wheel drive. This comes in handy for both winter and summer seasons. There are roads in Grand Teton National Park that in the summer require 4 Wheel Drive Vehicles. We don't want you to miss anything!
In all of vehicles everyone is granted a window seat! Everyone gets a great view. There is always plenty of room for jackets, camera gear, backpacks etc…
In our larger van there are no uncomfortable benches that are hard to get in and out of. We have installed comfortable captain chairs.
We use PA systems when needed, have installed cup holders, have stools for easier access, and our guides are always willing to help you in and out of the vehicle.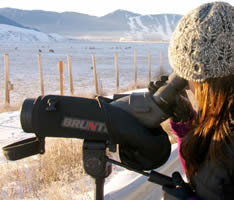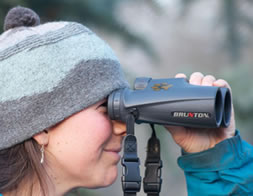 We use very high quality Brunton Optics. Brunton is based out of Boulder, Co. We chose to use this company because of the quality optics that they provide and because they are a regional company. We use their Eterna 8x45 for wildlife and their 11x45 for birding. These binoculars retail for $530, so they are not take home souvenirs. We feel, when it comes to optics, you get what you pay for. Everyone will get their own pair to use for the tour and we have children binoculars as well. When that wolf pack is at a distance we will set up one of our Brunton Full Size Eterna Spotting Scopes. This scope has a magnification from 20-60 power!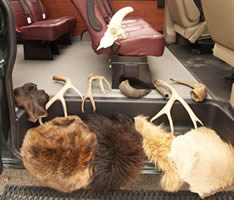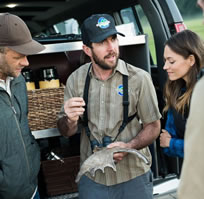 Some folks like a hands on learning approach! We provide teaching opportunity as well. On tours we like to use all our senses. Our naturalists kits help provide the opportunity to touch and see different items up-close without compromising safety. Our kits contain antlers, pelts, claws, horns, unique stones, reproduced Native American tools and artifacts for your exploratory side! All items were collected outside of the National Parks or purchased. It is prohibited to take anything out of the parks.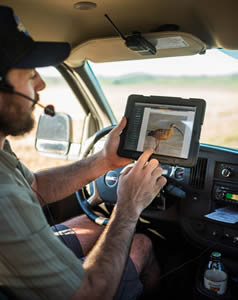 We provide a Wildlife Sightings List for the participants in your tour fill out if you like. You take home a copy and we keep a copy for our records.
Your Children will love our "Children's Activity book". They can work on this during the tour or take it home for latter. This book is filled with crosswords, coloring pages, matching games, wildlife bingo, and other engaging activities. You provide the child and we provide the book and crayons.
All of our guides carry CB Radios. As the day unfolds, we don't want you to miss any great wildlife sightings. All day long our guides are in contact sharing sightings with each other. When the location and timing is right we will head to that active wildlife hotspot for uninterrupted viewing.
We provide iPads on all tours that are filled with maps, wildlife photos, diagrams, animal sounds and other visual aids to enhance your learning experience.
We at EcoTour Adventures take our Coffee seriously. This is why we grind Jackson Hole Great Northern's organic beans for you every morning. We will serve your coffee from our vacuum insulated French Press Craft while in the park watching the sun to rise. Don't worry we also stock a selection of organic teas and hot chocolate.
Book Your Trip Today!
Call (307) 690 - 9533
for more details or customized private trips.