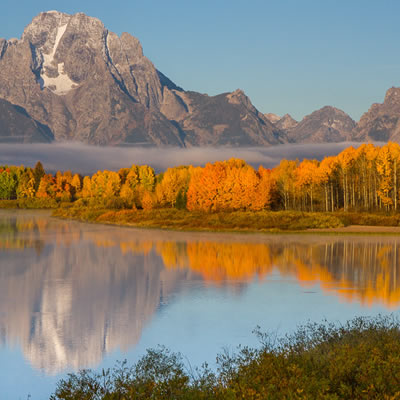 Itinerary
Day 1 Arrival Jackson: Dinner Orientation/Meet and Greet: Meet your guide and other guests for an arrival dinner where we will learn about our journey across the Greater Yellowstone Ecosystem.
Day 2 Grand Teton National Park: We begin our Journey through the Greater Yellowstone Ecosystem with sunrise at one of the spectacular mountain vistas of Grand Teton National Park. Moose may be spotted in the Snake River Bottom, foraging on their preferred diet of willow and cottonwood leaves.
Both Aspen and Cottonwood trees are beginning to "senesce" or lose their leaves, which will first turn a brilliant gold before covering the ground in a bright blanket of color. This is the arena of competing bull elk, who are now in full rut, challenging each other for mating rights.
As we explore the southern end of the park we will also look for black bears, who along with their larger cousins the grizzly are entering a stage of "hyperphagia" or over eating. At midday we will enjoy a picnic lunch (weather permitting) and search for a few more species before returning to town for a free afternoon and evening.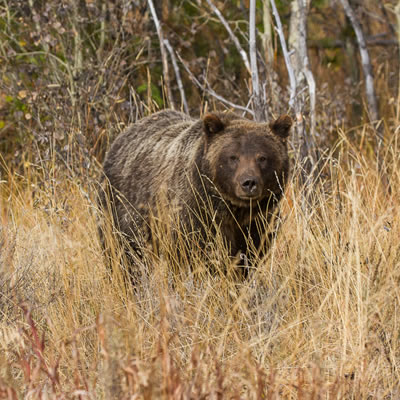 Day 3 Grand Teton To Yellowstone: After loading our bags in a Safari Style EcoTour Adventures Vehicle we will depart for a different sunrise stop in Grand Teton National Park. As we head north towards Yellowstone we will search the parks hotspots for Grizzly Bears and other wildlife.
At Oxbow Bend of the Snake River we will scan for waterfowl, eagles, otter and beaver while enjoying views of Mount Moran. Heading north past Jackson Lake we will enter the Berry Creek Burn area, a 2016 wildfire which enhanced wildlife habitat between Grand Teton and Yellowstone National Parks.
Entering Yellowstone, we will climb up along the stunning Lewis River Canyon crossing the continental divide at nearly 8000 feet in elevation! We'll head to the world Famous Old Faithful Geyser basin, enjoying an eruption and lunch at the Old Faithful Inn. Following lunch we'll continue north including a potential hike to the Grand Prismatic Spring overlook and some additional geyser basins before heading to our lodging in West Yellowstone for the evening. Dinner at your leisure.
Day 4 West Yellowstone to Mammoth Hotsprings: This morning we have a more leisurely start, meeting for breakfast at 8am before heading back into Yellowstone National Park. We'll choose our route depending on the latest wildlife activity, including possible visits to the Hayden or Lamar Valleys. Both locations are world renowned wildlife hotspots, including apex carnivores like wolves and grizzly bears.
In the afternoon we will head towards the North Entrance of Yellowstone, stopping to stretch our legs with a walk around the Travertine terraces of Mammoth Hot Springs, taking in the diverse micro-fauna and flora of these spectacular features which can grow close to a meter per year!
We will glass for Bighorn Sheep on Everts Peak and Pronghorn at the park entrance, arriving in the town of Gardiner for the evening.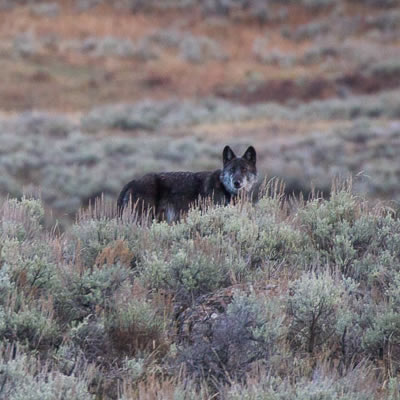 Day 5 Wolves and other wildlife of the Northern Range: Enjoy French Press Coffee and breakfast on the go as we head towards wolf watching hotspots in the park. We will coordinate with scientists from the Yellowstone Wolf Project to aid in locating packs while looking for other large mammals like bison, elk, and even grizzly bears. In the afternoon we'll head into the Lamar Valley, learning about the successful reintroduction of wolves in 1995. Our day concludes beneath the stunning Beartooth Mountains in nearby Cooke City.
Day 6 Sunrise in the Lamar Valley and Return To Jackson: It's our final day in Yellowstone, and we'll start with sunrise in the Lamar Valley. After some morning wildlife watching we climb over Dunraven Pass, heading towards the stunning Grand Canyon of the Yellowstone River for views of the impressive Lower Falls (306'). We'll pass bison herds and other wildlife in the Hayden Valley before driving south along Yellowstone Lake, one of the 7 largest high elevation lakes in the world!
We'll begin retracing our steps back to Jackson, enjoying numerous opportunities to stop for geyser basins and wildlife sightings along the way. Descending out of the Yellowstone Plateau the Teton Range will come into view as we complete our journey across the Greater Yellowstone Ecosystem. Enjoy a farewell dinner with your guide in town.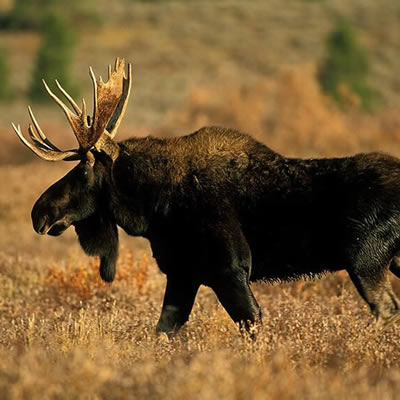 Day 7 Departure: For those departing Jackson, shuttle service can be arranged by your hotel.
Want to extend your trip?
We offer the following addons:
National Museum of Wildlife Art
Scenic Float Trip on the Snake River
Flyfishing on the Snake River
Aerial Tram at Jackson Hole Mountain Resort (ends October 7th)
Trip Highlights
What makes a multi day program with EcoTour Adventures so special
Safari Style Vehicles
Professional Naturalist Guides
Small Groups
Commitment to Conservation
Traveler Testimonials
The fall trip was amazing for both scenery and wildlife movements. The best part is you get to really enjoy the Parks without having the anxiety or distraction with driving yourself and the guides cater the trip to your interests and get you to your destinations safely. Highly recommended!

Our advice for anyone coming to the area would be to book a tour with Eco Tour Adventures. We travel quite a bit and this company is first class all the way. Without a doubt, our experience and the memories we took with us were better than we imagined thanks to our time with Eco Tours.

What to Bring
Please pack light to accommodate other travelers on this intimate journey through the Greater Yellowstone Ecosystem. We recommend the following packing list:
Clothing - fall in the GYE can range from beautiful sunny warm days to subfreezing temperatures in the snow, be prepared for anything!
Hat and Gloves, Rain Jacket/Pants, Insulated jacket, Long underwear, Long sleeve shirt, Pants, Wool socks, Waterproof boots
Equipment
Phone and charging accessories
Camera - charger, extra batteries, tripod, manual (if you are unfamiliar with it!)
toiletries
5 Day Tour.
Day 1 Arrival Jackson - Dinner Orientation/Meet and Greet
Day 2 Grand Teton National Park
Day 3 Grand Teton To Yellowstone
Day 4 West Yellowstone to Mammoth Hotsprings
Day 5 Wolves and other wildlife of the Northern Range
Day 6 Sunrise in the Lamar Valley and Return To Jackson for farewell dinner
Maximum of 7 guests per guide/vehicle everyone is guaranteed a window seat. A maximum of two vehicles and 14 participants per trip. Age minimum 12 years
Trip Cost: $3595 Per Person. Cost PP Double Occupancy. Single Supplement cost $1250
Tour includes: All lodging , All meals (with the exception of dinner on day 3), park passes and all of the information that your guide has to offer.
We are happy to customize your private trip: Call 307-690-9533
We are focused on creating the best experience possible for all of our guests. From hiring the best guides, providing the best foods, and making sure every detail is covered, we are here for you! You may be here only once, so lets do it right the first time. We are a small company with three vehicles. We like to keep our operation on the smaller side to keep quality high!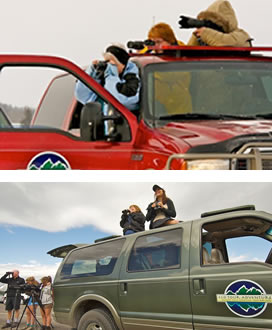 We provide vehicles with Roof Hatches for safe and unobstructed viewing.
All of our vehicles are 4 Wheel drive. This comes in handy for both winter and summer seasons. There are roads in Grand Teton National Park that in the summer require 4 Wheel Drive Vehicles. We don't want you to miss anything!
In all of vehicles everyone is granted a window seat! Everyone gets a great view. There is always plenty of room for jackets, camera gear, backpacks etc…
In our larger van there are no uncomfortable benches that are hard to get in and out of. We have installed comfortable captain chairs.
We use PA systems when needed, have installed cup holders, have stools for easier access, and our guides are always willing to help you in and out of the vehicle.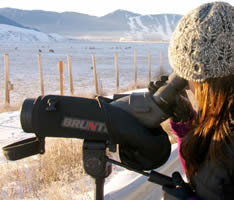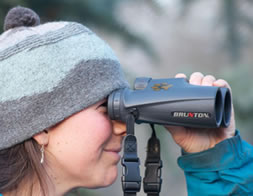 We use very high quality Brunton Optics. Brunton is based out of Boulder, Co. We chose to use this company because of the quality optics that they provide and because they are a regional company. We use their Eterna 8x45 for wildlife and their 11x45 for birding. These binoculars retail for $530, so they are not take home souvenirs. We feel, when it comes to optics, you get what you pay for. Everyone will get their own pair to use for the tour and we have children binoculars as well. When that wolf pack is at a distance we will set up one of our Brunton Full Size Eterna Spotting Scopes. This scope has a magnification from 20-60 power!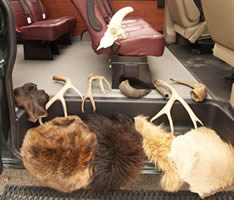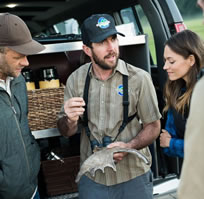 Some folks like a hands on learning approach! We provide teaching opportunity as well. On tours we like to use all our senses. Our naturalists kits help provide the opportunity to touch and see different items up-close without compromising safety. Our kits contain antlers, pelts, claws, horns, unique stones, reproduced Native American tools and artifacts for your exploratory side! All items were collected outside of the National Parks or purchased. It is prohibited to take anything out of the parks.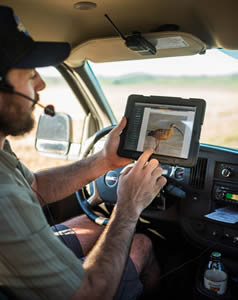 We provide a Wildlife Sightings List for the participants in your tour fill out if you like. You take home a copy and we keep a copy for our records.
Your Children will love our "Children's Activity book". They can work on this during the tour or take it home for latter. This book is filled with crosswords, coloring pages, matching games, wildlife bingo, and other engaging activities. You provide the child and we provide the book and crayons.
All of our guides carry CB Radios. As the day unfolds, we don't want you to miss any great wildlife sightings. All day long our guides are in contact sharing sightings with each other. When the location and timing is right we will head to that active wildlife hotspot for uninterrupted viewing.
We provide iPads on all tours that are filled with maps, wildlife photos, diagrams, animal sounds and other visual aids to enhance your learning experience.
We at EcoTour Adventures take our Coffee seriously. This is why we grind Jackson Hole Great Northern's organic beans for you every morning. We will serve your coffee from our vacuum insulated French Press Craft while in the park watching the sun to rise. Don't worry we also stock a selection of organic teas and hot chocolate.
Book Your Trip Today!
Call (307) 690 - 9533
for more details or customized private trips.